Schmidt: Michael Young is 'a strong candidate for the Hall of Fame'
Hall of Famer Mike Schmidt thinks Michael Young is 'a strong candidate' to one day join him in Cooperstown.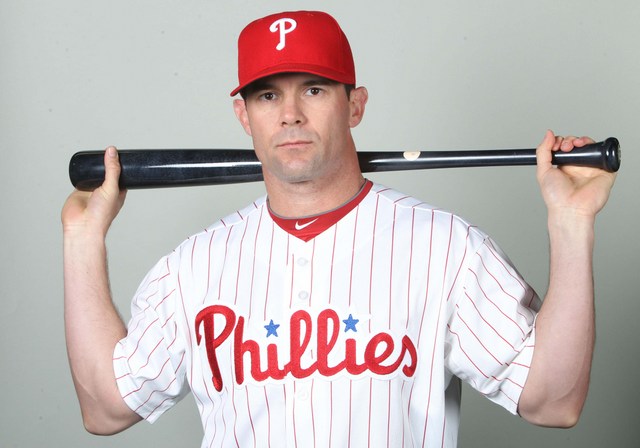 Hall of Very Good, if anything. (USATSI)
Long-time Rangers infielder and current Phillies third baseman Michael Young has had a long and splendid big-league career. He has played in parts of 13 seasons and amassed 2,230 career hits thanks to six 200-hit seasons. He has been to seven All-Star Games, won a Gold Glove, won a batting title and received a handful of MVP votes in five different years.
It's an impressive resume, no doubt about it, and Hall of Famer Mike Schmidt told Bob Brookover of the Philadelphia Inquirer that it should garner Young serious consideration for Cooperstown:
"Michael Young could retire tomorrow, and he would be a strong candidate for the Hall of Fame. He's probably two Michael Young years away from being a first-ballot Hall of Famer. I don't know what his career hitting numbers are, but he's a little like Derek Jeter. Is he not? If he played in New York, imagine what people would be saying about Michael Young's career. Somebody would have mentioned the Hall of Fame a long time ago."
Young, 36, is very unlikely to put together two more vintage Michael Young years. He managed a 78 OPS+ in 651 plate appearances as a DH/super-sub last season, making him one of the worst players in baseball. In fact, Baseball-Reference.com says he was the second-worst player in the game (-2.4 WAR) in 2012, ahead of only Jeff Francoeur (-2.7 WAR). Can Young rebound? Of course, it's always possible. The odds are stacked against him, however.
With that said, is Young a "strong candidate" for the Hall of Fame? I don't think so. Not even close, really. He's a lifetime .301 hitter with 2,000+ hits and that's pretty much it; that is his Hall of Fame case right there. Young never hit for power (177 HR), never drew many walks (.347 OBP), never stole bases (89 SB), never was particularly good on defense, doesn't have a great postseason track record and he was never really the best player on his own team for an extended stretch of time. His best attributes are his batting average and surpreme durability. That's all.
Hall of Fame voting is trivial for the most part, and it won't be any kind of great travesty if Young receives a handful of votes and hangs around on the ballot for a few years. He's had a great career that like 95 percent of ballplayers would kill to have, but the Hall of Fame is reserved for the best of the very best. With all due respect, not many people outside of Texas are going to sit down with their grandkids in 30 years to talk about what a privilege it was to watch Michael Young play.
For more baseball news, rumors and analysis, follow @EyeOnBaseball on Twitter, subscribe to the RSS feed and "like" us on Facebook. Also, individually interact with us on Twitter: @MattSnyder27, @daynperry and @mikeaxisa.

Show Comments
Hide Comments