Scott Kazmir and the last remaining Devil Rays
Former Devil Ray Scott Kazmir was given a spot in the Indians' rotation on Monday.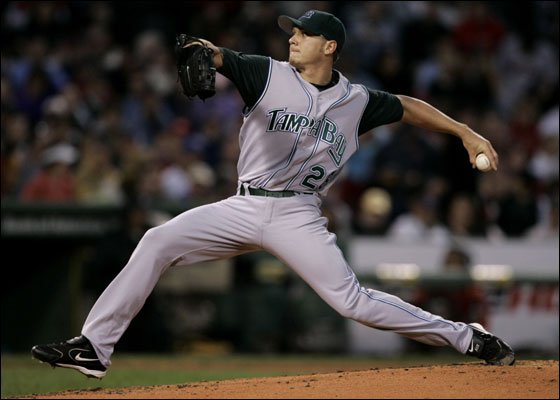 Earlier on Monday, the Indians officially announced that Scott Kazmir has won their fifth starter's job and will open the season in their rotation. In addition to being a current Cleveland Indian, the 29-year-old left-hander is part of an another exclusive club: former Tampa Bay Devil Rays.
RELATED -- Baseball's dying breed: Former Montreal Expos
The Tampa Bay franchise changed its name from Devil Rays to Rays during the 2007-08 offseason, which really isn't all that long ago. You'd think there would be a lot of former Devil Rays still active in the league, but the number is surprisingly small. Remember, that team was pretty awful for awhile, and bad players on bad teams don't stick around very long.
With an assist to the indispensable Baseball-Reference.com Play Index, here are the players (and their current team) who once wore a Devil Rays uniform and played at least one big league game last season:
Carl Crawford, Dodgers -- 816 games with Devil Rays
Aubrey Huff, no team -- 799 games
Jonny Gomes, Red Sox -- 338 games
B.J. Upton, Braves -- 224 games
Ty Wigginton, Cardinals -- 220 games
Delmon Young, Phillies -- 192 games
Dioner Navarro, Cubs -- 175 games
Carlos Pena, Astros -- 148 games
Shawn Camp, Cubs -- 125 games
Ben Zobrist, Rays -- 83 games
Edwin Jackson, Cubs -- 55 games
James Shields, Royals -- 52 games
Chad Gaudin, Giants -- 41 games
Jason Hammel, Orioles -- 33 games
Grant Balfour, Athletics -- 22 games
J.P. Howell, Dodgers -- 18 games
Matt Diaz, no team -- 14 games
Jose Bautista, Blue Jays -- 12 games
Justin Ruggiano, Marlins -- seven games
Kazmir, who pitched in 98 games as a Devil Ray but zero overall in 2012, will make this list an even 20 this year. Utility man Miguel Cairo played 389 career games as a Devil Ray and suited up for the Reds last season, but he retired over the winter and took a position in Cincinnati's front office. Utility man Jorge Cantu (332 games as a D-Ray) spent time with the Padres in 2011 and in Triple-A in 2012, so he could resurface to make this list 21.
Other than that, there are no former Devil Rays still hanging around out there. Obviously, more than a few of these guys are still in the primes of their careers, so the former Devil Rays club doesn't figure to go extinct anytime soon.
Show Comments
Hide Comments