Shelby Miller market is hot; Luis Severino, Marcell Ozuna are linked
The Braves have understandably set a high price for the young pitcher.
Young righthander Shelby Miller is creating quite a feeding frenzy on the trade market, and it's to the point it's got to be record interest for a pitcher who went 6-17.
Of course, by now we know pitchers' won-loss records aren't a very useful tool in deciphering a pitcher's value. And that is certainly the case here.
The Atlanta Braves have put a very high price tag on Miller, and understandably so.
He is 25, has three years before free agency and was actually superb last season, despite that unsightly won-loss record. A strong case could be made, in fact, that no pitcher was undermined more by his teammates than Miller, as he posted a stellar 3.02 ERA to go with that record.
The Braves, according to sources, asked the New York Yankees for top young righthander Luis Severino in their talks. Severino was merely a request and there is no evidence the Yanks are considering that. The Braves are also said to expect young outfielder Marcell Ozuna , who's available, plus more from the Miami Marlins .
The Arizona Diamondbacks and  San Francisco Giants are two more of the 20 or so teams that are said to have expressed interest in Miller. The Braves generally are seeking to upgrade their offense, though obviously in the case of Severino they are willing to look at young pitchers, as well.
One rival GM, while not denigrating the asking prices, said the Braves were "very aggressive" with their proposal. 
While there's no word of anything being close, no one's exactly hanging up yet. Miller raised his value with a very nice year, and as a rival said, "The (Braves) made a very nice deal to get him." That is true, as they also obtained Tyrell Jenkins in a two-for-two deal with the St. Louis Cardinals for outfielder Jason Heyward , who is now a free agent, and Jordan Walden.
Now, the Braves are able to ask a lot for Miller because the price of pitching isn't going down, even with several top starters free agents. The Braves can suggest that Miller is comparable or close to comparable to Jordan Zimmerman, who just got a $110-million, five-year deal rom the Detroit Tigers ; by comparison, Miller should make less than $30 million via arbitration over the next three seasons. That represents a major savings. 
The Braves are saying also that they don't have to trade Miller, as he does have those three years remaining on his deal. And that is true. But it's also true that the Braves aren't afraid to deal stars; they've dealt Justin Upton , Heyward, Craig Kimbrel and Andrelton Simmons in the last year or so.
Some believe the Braves might consider marketing Julio Teheran later, as well. Atlanta isn't afraid to shake things up. But star first baseman Freddie Freeman appears to be basically off-limits at this point.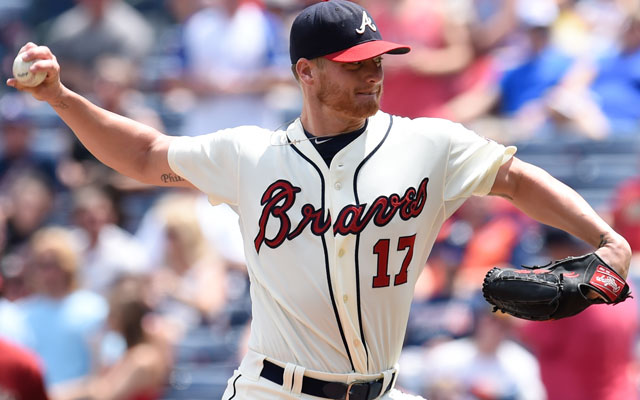 Show Comments
Hide Comments
Our Latest Stories
The heartbreak continued Wednesday with Fernandez's family and teammates on hand

Of course, Ventura still has to decide if he wants to return as manager

The hill will be eliminated from the playing surface at Minute Maid Park before next seaso...
The Hall has been honoring MLB's permanent ban of Rose for gambling on games

Let's have a little fun in the final week of the season, shall we?

On a lefty-lefty matchup, Tebow went deep to left-center