Shin-Soo Choo agrees to a seven-year deal with the Rangers
Texas gets its leadoff man and agrees to a seven-year deal with Shin-Soo Choo.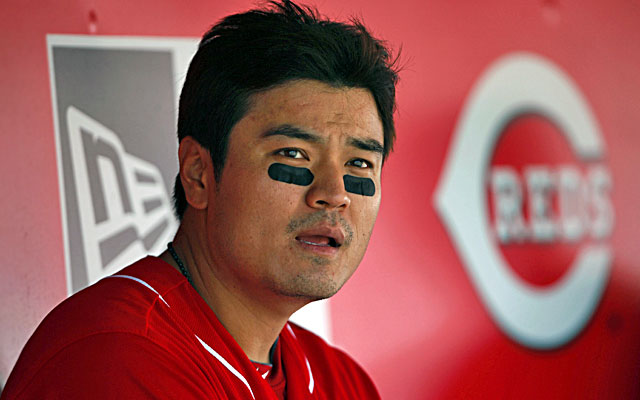 Shin-Soo Choo has a seven-year, $130-million agreement with the Rangers, sources tell CBSSports.com.
Texas has a deal now with its primary target. The Rangers envision Choo as a tablesetter following a year in which he had a .423 on-base percentage with the Reds.
Texas, which earlier this winter added slugger Prince Fielder, is said to be a real long shot on Masahiro Tanaka now, according to sources.
Choo had talked with the Reds, his former team, plus the Mariners, Yankees and a few others. The Rangers' $130-million deal is worth significantly more since Texas has no state income tax.
Choo was always the main target since the Rangers visited with him in California few weeks ago, as Texas badly wanted to improve an offense that took a small step back last year. Choo and Fielder should provide the boost the Rangers need as they try to overtake the A's in what's become one of the most competitive divisions. Also noteworthy is that Choo lives in Buckeye, Ariz. Texas was apparently his first choice due to team, ballpark and presumably, locale. The Rangers conduct spring training in Surprise, about a half-hour drive from Buckeye. 
The Choo agreement will mean that Nelson Cruz will most likely have to go elsewhere -- though it's still a remote possibility the Rangers could trade DH Mitch Moreland, then sign Cruz back to fill that role. Texas always saw its longtime right fielder as a fall-back candidate to Choo due to defense and a greater need for a top-of-the-ineup star. The Rangers already have Adrian Beltre and Fielder for the middle of their lineup.
Texas will most likely be viewed as the favorite now in a exteremely tough division, though the A's, which won the division the last two years, are improved, and the Mariners and Angels look much better. (Houston does, too, but it is still a couple years away.)
Rangers people have been very disappointed by steep slides at the end of the the last two seasons following a season in which they came within a pitch of winning the World Series. The Rangers made two straight World Series, losing to San Francisco and St. Louis, before taking tiny steps back the past couple years.
The Rangers still were a strong team last year, but their offense was missing something. An injury to Lance Berkman, a slow start by Elvis Andrus and the 50-game ban for Cruz all hurt. Texas acquired Alex Rios for the stretch run, which helped a little. But they were bounced in a one-game playoff at home when the Rays' David price shut them down.
They needed to adsress their offensive, and no one has done more in that regard this winter than Texas.