Shin-Soo Choo means upgrade for Rangers
As CBSSports.com's Jon Heyman reported, Shin-Soo Choo is headed for Texas. That's good news for the 2014 Rangers.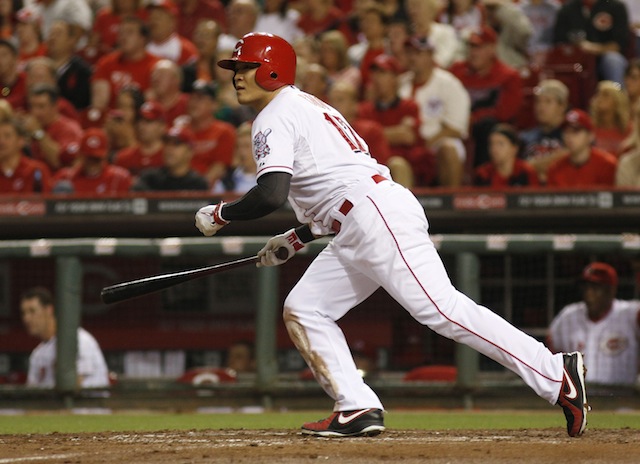 MORE: FA tracker: position players | FA tracker: pitchers
As CBSSports.com's Jon Heyman reported earlier Saturday, outfielder Shin-Soo Choo is headed to the Rangers on a seven-year, $130-million contract. Not so long ago in this very space, we predicted that Choo would indeed wind up in Texas. That's because he makes sense for the Rangers on a number of fronts. 
First, yes, Choo's deal will almost certainly span beyond the point of his usefulness (he's 31), but that's the cost of doing business with frontline free agents: you get excellent value on the dollar at the front end, but then you pay a lot of money for the player's deep decline phase. The Rangers, like every other team who hands out such a contract, knew that going in. 
Now, for what he means to Texas in the near-term ... Pre-Choo, the 2014 Rangers were slated to open the season with Michael Choice as the primary left fielder. While Choice has his uses, he's not an optimal regular right now. The other speculated temptation was incumbent left fielder Nelson Cruz, but Cruz -- because of his age, body type, inability to hit on the road and lack of value on the bases and in the field -- will probably wind up as one of the worst multi-year investments on the market this winter. Good that the Rangers moved on from those two solutions.
As for Choo specifically, he offers the Rangers a broad base of skills. Last season for the Reds, Choo tallied 21 homers, 34 doubles and 20 stolen bases and ranked second in the NL with a .423 OBP. Now here are Choo's combined numbers since he returned from Tommy John surgery (yes, outfielders undergo Tommy John surgery, too) in early 2008: .290/.392/.469 with 17 homers per 162 games played. Choo has some pop, he runs pretty well, and -- while his range is in decline -- he still grades out as a solid defender, so long as he's confined to an outfield corner.
His most prominent skill, though, happens to be the most important offensive skill of all: getting on base and, by extension, not using up outs. In fact, Choo's career OBP of .389 ranks ninth among active MLBers and is just outside the top 100 all-time. Now consider that in 2013 the Rangers ranked a middling seventh in the AL with an OBP of .323. Choo will address that problem directly. 
As for what Choo will provide in 2014, the various projection systems available at FanGraphs expect characteristic production. The Steamer system says Choo will bat .272/.385/.432 with 18 homers and 35 doubles, and the Oliver system predicts Choo will author a line of .274/.391/.435 with 16 homers and 28 doubles. Vintage Choo, in other words, and note that those projections don't take into account his new ballpark.
With Choo and a full season of Alex Rios at the corners added to Prince Fielder at first, the Rangers have improved the offense substantially while steering clear of re-upping with Cruz, that boondoggle-in-waiting. As well, Rios's and Choo's flanking Leonys Martin means that the Rangers will now boast one of the top defensive outfields around. Mostly, though, Choo means a healthy dose of OBP at the top of the lineup.
All of this is to say, the Rangers made a quality investment in Choo, especially as far as their near-term designs on the World Series go.