Should Mike Trout and/or Bryce Harper make the All-Star Game?
Two players not yet of legal drinking age have emerged as stars this season; one in each league. Shouldn't they both be in the All-Star Game this season?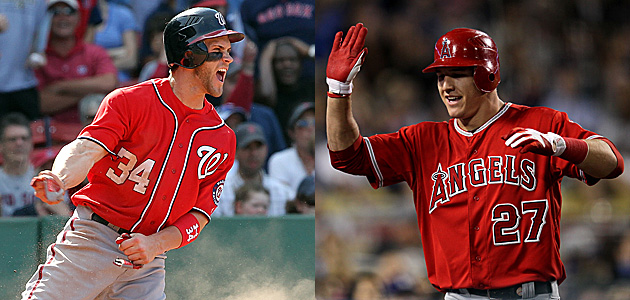 One of the best stories of the 2012 season thus far has been the emergence of Bryce Harper and Mike Trout as stars. The two under-21 players have taken the league by storm after being promoted the same day back in late April.
Heading into Saturday, Harper, 19, is hitting .302/.381/.541 with nine doubles, four triples, seven homers, 19 RBI, 30 runs and four stolen bases for the Nationals.
Heading into Saturday, Trout, 20, is hitting .333/.393/.529 with 10 doubles, three triples, six homers, 26 RBI, 35 runs and an AL-best 16 steals for the Angels.
Those numbers should be good enough to get them into an All-Star Game, but the mitigating factor is games played. They missed roughly one month of the big-league season while still in the minors.
On the flip-side, the All-Star Game should be a showcase for the best and brightest stars, with these two players possibly being the face of the sport for the next 15 years.
So, obviously, this is bound to be a hot topic for the next few weeks. And Jeff Passan of Yahoo Sports took to Twitter Saturday to give his opinion that the decision will be entirely up to the fans ...
If you want to see Bryce Harper and Mike Trout in the All-Star Game -- and I know I do -- it's time to campaign MLB to put em in Final Vote.

— Jeff Passan (@JeffPassan) June 16, 2012
They won't get in on fan vote. They won't get in on player vote. Ron Washington isn't picking an Angel. Tony La Russa isn't picking a rookie

— Jeff Passan (@JeffPassan) June 16, 2012
MLB chooses who is in the Final Vote. Fans need to let 'em know: This All-Star Game is incomplete without Harper and Trout.

— Jeff Passan (@JeffPassan) June 16, 2012
I agree that the game would be incomplete without both of them. I think MLB needs the two on that kind of national stage to showcase the new crop of talent. I'm not sure I'd agree that La Russa will 100 percent not pick a rookie, but otherwise everything Passan says is likely true. I also fully expect MLB to put both Trout and Harper in the final five vote.
Time will tell, but for now let's see where the Eye on Baseball readers stand ...
For more baseball news, rumors and analysis, follow @EyeOnBaseball on Twitter, subscribe to the RSS feed and "like" us on Facebook.
Show Comments
Hide Comments