Should the Tigers sign Stephen Drew?
The Tigers may need help at shortstop. Stephen Drew is (still) available. Is it a fit?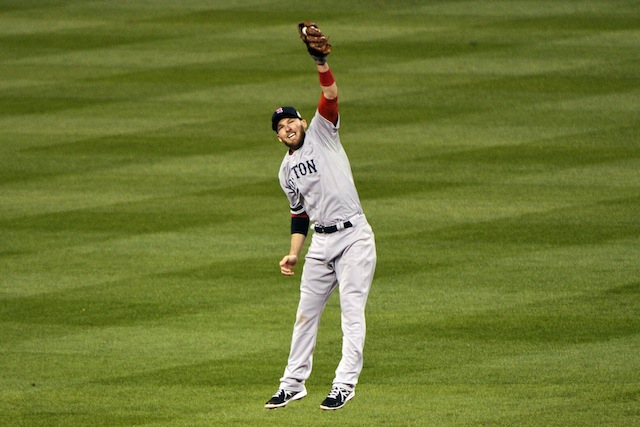 MORE: Spring Training | Scoreboard | Team previews
As our own Jon Heyman recently reported, Tigers shortstop Jose Iglesias could miss half the 2014 season or more because of a lingering leg injury.
Needless to say, this is a problem for the Tigers, who have legitimate designs on the pennant and who have made a deliberate effort to improve the infield defense. Internal 40-man-roster candidates to replace Iglesias -- Eugenio Suarez, Steve Lombardozzi and Hernan Perez -- fail to inspire, especially considering this might be a year-long concern. Given all that, the very obvious conclusion is that the Tigers will pursue free agent Stephen Drew, late of the champion Red Sox, who's still on the market.  
For many reasons, such a pairing would make a great deal of sense. Drew is a plus defender at short who last season batted .253/.333/.443 (111 OPS+) for Boston. For his career, Drew owns an OPS+ of 98 across parts of eight major-league seasons -- useful production by positional standards. As mid-March stop-gaps go, he's close to ideal from the standpoint of on-field value. Drew's health concerns are duly noted, but there's no such thing as a perfect player left on the market in the middle of spring training. 
As for the cost, the Tigers in signing Drew, who turned down a qualifying offer from the Red Sox, would forfeit their top June draft choice and the slot money assigned to that pick. That's a cost that can't be dismissed. However, it's a late first-round choice, and that's a consideration that will be baked into any offer. The larger point is that the Tigers are squarely in contending mode, and a World Series push in 2014 should inform all decisions. 
Drew's contract demands are hard to gauge. Obviously, he's not liking what the market's been telling him thus far, seeing as he is, you know, unsigned. Presumably something longer than a one-year pact is necessary, unless Drew becomes willing to take the Nelson Cruz/Ervin Santana route and sign at qualifying terms or less. That doesn't very much sound like a Scott Boras thing to do, though, and Boras has already indicated that his client is willing to wait to sign until after the draft, when no compensation pick would be attached to him. 
Would a two- or three-year deal of modest average annual value get it done? I don't know, but either situation presents the Tigers with the possibility of Drew and a healthy Iglesias on the active roster at the same time. Here's where we start addressing the hypotheticals.
Absent a no-trade provision, Drew could be shopped at such time. Or he could be deployed elsewhere. Earlier this offseason, the Drew camp indicated he's willing to play short, second or third base this season. Needless to say, that broadens his appeal, especially for Detroit.
For instance, Nick Castellanos is reacquainting himself with third base this spring, and it's possible his bat -- while highly promising long-term -- won't be enough right away to make up for what may be inconsistent defense at the hot corner. So Iglesias returns, perhaps sooner than expected, Drew shifts to third, and Castellanos shifts back to his 2013 position of left field -- recall that Andy Dirks is sidelined -- or gets optioned if the 22-year-old has failed to hit. Drew at third makes the Tigers a better defensive team, and it's entirely possible he out-hits Castellanos in 2014.
Otherwise, Drew can get his ABs, given that willingness to play three different positions. Also keep in mind that second baseman Ian Kinsler is 31 -- rather old given the attrition rates of his position -- and coming off a season in which he dealt with a rib fracture. If Drew is aware of the contingencies going in and still willing to play multiple positions, then the Tigers can address infield bottlenecks once they happen. 
It bears mentioning that the Tigers may have a self-imposed budget, as Chris Iott noted on Twitter. That said, Mike Ilitch is a spender who's deeply committed to winning, and the organization has a pretty good working relationship with Boras. Provided Drew's demands don't far outstrip his status as a good-not-great player, it's a natural fit. And natural fits are hard to come by at this late hour. The Tigers should act. 
Show Comments
Hide Comments