Skip Schumaker wants lifetime ban for first offense on PEDs
Dodgers utility man Skip Schumaker wants the game rid of performance-enhancing drugs. And he wants users to get a lifetime ban.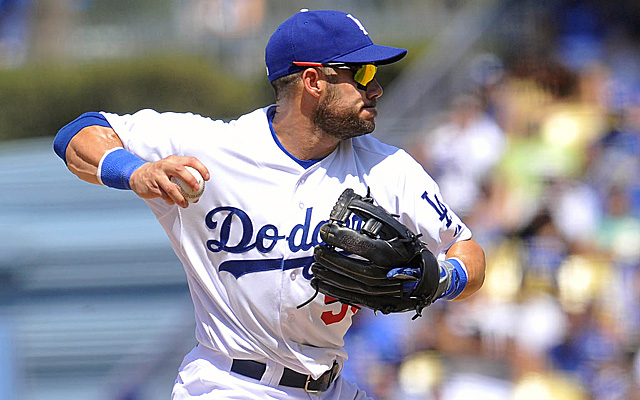 More MLB: Scoreboard | Standings | Probable Pitchers | Sortable Stats | Odds
Under baseball's current joint drug agreement in the collective bargaining agreement, a player testing positive for a banned substance is suspended for 50 games on a first offense, 100 games on a second offense and for the rest of their career with a third offense.
After Brewers star Ryan Braun was popped for 65 games yesterday, it appears that Major League Baseball and the MLB Players Association are willing to go even further than the previous agreement.
For Dodgers utility man Skip Schumaker, that's still not good enough. And, man, does he hate juicers:
"I can't stand it. It needs to be eliminated from the game. I have an autographed Braun jersey in my baseball room that I'll be taking down. I don't want my son identifying what I've worked so hard to get to and work so hard to have -- I don't want him comparing Braun to me.

"In my opinion, he should be suspended, lifetime ban. One strike, you're out. It's enough. It's ridiculous. You're still doing this? This guy is one of the main guys that are the face of the franchise and the face of baseball. For him to do this and maybe get caught twice already is ridiculous. A guy loses his job because of it. Hopefully, he gets that back. He lied. He lied to a lot of people. I was convinced, after that MVP, that he didn't do it. I think he should hand over that MVP to Matt Kemp.

"Suspend them all. It needs to get out of baseball, so how are you going to do it? I know we have an agreement; we all agreed upon the agreement -- 50, 100. I thought that was enough at the beginning of it. But apparently not. Watching him talk right now makes me sick."
Sing it, sister!
Also, Kemp should've won that MVP anyway. Because I said so in 2011.
Show Comments
Hide Comments
Our Latest Stories
Kinsler's two-run shot in the third made it 2-0 USA

The tournament began with first round play on March 6

A champion will be crowned on Wednesday night
A champion will be crowned on Wednesday evening

Kinsler says Team USA shows its passion in a different way

Team Puerto Rico has started a trend