Some active 'not quite good enough' for Hall of Fame players
Continuing with our examination of current players and their possible pace toward enshrinement into the Baseball Hall of Fame, we will now take a look at players who are either late in their prime or past their prime and appear to have a resume that is not quite good enough to make the Hall.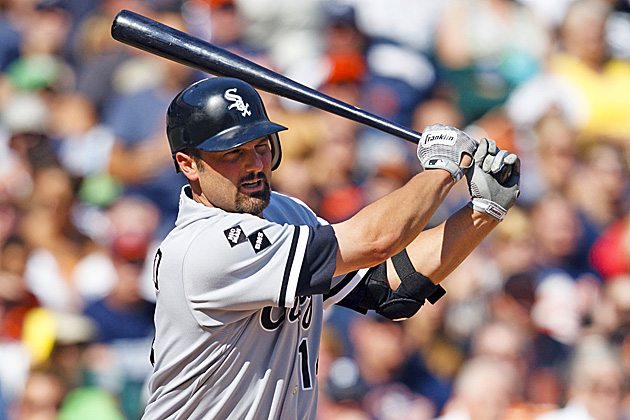 Konerko has had a great career, just not a Hall of Fame career. (US Presswire)
Continuing with our examination of current players and their possible pace toward enshrinement into the Baseball Hall of Fame, we will now take a look at players who are either late in their prime or past their prime and appear to have a resume that is not quite good enough to make the Hall.
These are guys who will appear on the Hall of Fame ballot, and some will gather enough votes to linger on the ballot for several years. In looking at this year's ballot, call it the Dale Murphy or Don Mattingly group. And though I personally hate when people use this term, I guess this is where one could apply the "Hall of the very good" argument. These guys fit.
Again, please note that this list only contains active players late in their prime or past it. You won't find anyone in his 20s here, because there will be a different list for those guys (see the final paragraph below).
Let's check them out.
Baseball Hall of Fame
Eye on Baseball coverage
Carlos Beltran -- He'll turn 36 in April, so he doesn't have many years left. He has hit .284/.360/.496 with 334 homers, 1,243 RBI, 1,267 runs, 416 doubles and 306 stolen bases. He has played pretty great defense throughout. And he has been dominant in the postseason, hitting .363/.470/.782(!) with 14 homers, 25 RBI and 39 runs in 34 postseason games. There might be a small movement to get him in -- and his resume is already better than some in the Hall -- but I can't see him ever making it.
Adrian Beltre -- Beltre's five-year stint in Seattle came smack-dab in the middle of what should have been his prime. And though he wasn't awful, those years might ultimately be what cost him enshrinement. As things stand, we're looking at a superb defensive third baseman with a line of .280/.331/.476, 346 homers, 1,215 RBI, 1,089 runs, 2,227 hits and 463 doubles. He'll turn 34 in April, so I guess there's still time, but it seems like a real longshot.
Lance Berkman -- We'll get to see Puma play either one or two more years with the Rangers, and that will probably be it for his solid career. He has a nice 146 OPS-plus with his line of .296/.409/.544. He has 360 homers, 1,200 RBI and 1,119 runs. Great rate stats, but not near enough compiling, as he doesn't even have 2,000 hits.
Mark Buehrle -- He's only 33 and has a career record of 174-132 with a 3.82 ERA (119 ERA-plus). It's reasonable to expect Buehrle to end up with around 210 wins and get about 2 percent of the vote on one Hall of Fame ballot.
Chris Carpenter -- Three top-three finishes in Cy Young voting (and one win) along with two World Series rings and some gutty postseason performances will gain Carpenter favor with a few -- a very few. Otherwise, he simply hasn't pitched enough due to injuries. He's 144-94 in his career and will turn 38 in April.
Todd Helton -- The rate stats look outstanding, as Helton has a career slash line of .320/.419/.545. Of course, we're currently seeing Larry Walker suffer from the Coors Field stigma and Helton's career splits show a drastic difference (1.060 OPS at home, .864 on the road). The 570 doubles are great, but he probably needed a ton more than 354 homers to overcome the Coors factor with voters, even if he did play much of his career post-humidor.
Torii Hunter -- Good-to-great defensive and offensive player pretty much throughout his career, but he falls short of the Hall of Fame rather obviously.
Paul Konerko -- Again, I hate the term "Hall of the very good," but every time I hear it -- after I roll my eyes -- I think about Konerko. He'll be 37 this season and has already clubbed 422 homers with 1,336 RBI and a slash line of .283/.359/.499 (121 OPS-plus). He's not a Hall of Fame player, but Konerko is a Hall of Fame person who was a very good player for a long time. Maybe we should create a separate Hall of players like Konerko and Murphy?
David Ortiz -- He didn't start to come into his own until he was 27, but what a run it has been. Ortiz has 401 homers and 1,326 RBI with a line of .285/.380/.547. Even if Big Papi did rack up the necessary counting stats like 500 homers -- which he likely won't -- he'd have to battle the stigma of being a full-time DH like Edgar Martinez is doing.
Scott Rolen -- Seventeen years. Exceptional defense with a .281/.364/.490 line and 316 homers, 1,287 RBI and over 2,000 hits. If you look at advanced metrics like WAR and JAWS, Rolen actually appears good enough to get in. He'll get some votes and maybe hang around on the ballot several years, but he won't get nearly enough votes to be enshrined.
Jimmy Rollins -- He's 34 and recently went over 2,000 hits. He has 421 doubles, 105 triples, 193 homers and 403 stolen bases with a .270/.328/.432 line. We have to consider the good defense throughout his career, but a .328 on-base percentage for a table-setter is pretty bad if we're talking about Hall of Fame credentials.
Chase Utley -- Utley's a case not unlike Mattingly's; it appears injuries are what ruined a potential Hall of Fame career. From 2005-09, Utley hit .301/.388/.535. He averaged 29 homers, 101 RBI, 111 runs, 39 doubles and 15 steals per season in that five-year stretch. His OPS-plus was 135, and he played excellent defense for winning teams. Unfortunately for Utley, he has only managed to play 301 total games in the last three seasons and it appears he'll never be completely healthy again. It's a shame because I firmly believe he was headed to Cooperstown before being derailed. Then again, that has happened to players throughout history. It's part of the game.
Also, Andruw Jones , Bobby Abreu , Vladimir Guerrero and Johnny Damon aren't technically retired and certainly seem to fit here.
Coming Tuesday: We'll check out the players who will have asterisks -- fair or not -- next to their names in Hall of Fame discussions due to connections to PEDs, such as Alex Rodriguez. In a second post, we'll look at youngsters off to a good start. Coming Wednesday: we will check out players either entering their prime or right in the middle of their prime who have a shot at putting together a Hall of Fame resume but also have some more work to do (think Yadier Molina, David Wright, etc.).
For more baseball news, rumors and analysis, follow @EyeOnBaseball on Twitter, subscribe to the RSS feed and "like" us on Facebook.