Some see WBC link with reliever struggles, but Pestano disagrees
Some relief pitchers who appeared in the World Baseball Classic have struggled, and some see a connection. Vinnie Pestano does not.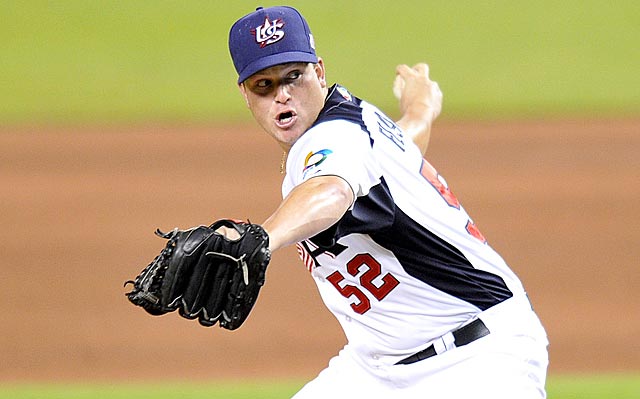 NEW YORK -- Fernando Rodney's ERA has gone from 0.60 last year to 4.94 this year. Pedro Strop was 2.44 in 2012, 6.11 in 2013. Kelvin Herrera (2.35 ERA last year) gave up eight home runs in 20 1/3 innings and got sent to the minor leagues. Vinnie Pestano (2.57 last year) is at 5.14 and spent time on the disabled list.
Every one of those relievers pitched in the World Baseball Classic in March.
There's no way to know if the WBC is to blame, given the normal volatility of relief pitching and the inconsistent careers of many of those pitchers. But it shouldn't exactly be a surprise that some frustrated coaches and club executives draw a connection.
Vinnie Pestano does not.
He didn't pitch nearly as much in the WBC as Rodney and Strop did (or nearly as well). The Indians' setup man still hears in Cleveland that his early-season performance and injury are WBC-related.
He doesn't buy it.
"No, I don't," Pestano said Monday. "I came into camp feeling strong, and my velocity was up from last year. I was throwing 94 in the Classic, and at the beginning of the year. I think [the WBC] did a lot to get me ready."
Some Indians officials believe that it didn't help Pestano to throw so hard in March. Some of those same officials wonder if closer Chris Perez's problems had anything with him pushing to try to get ready to pitch in the WBC. Perez, who pulled out of the tournament because of a shoulder strain, has two blown saves and is on the disabled list now with a shoulder issue.
"I have looked at [other pitchers]," Pestano said. But look at other guys. David Price wasn't in the classic. [Justin] Verlander wasn't in it. I don't want to say it's a cause.
"But it's definitely an easy target."
Pestano's season seems to be getting better. His velocity was back up to 93-94 mph in his last start. His numbers are skewed by one bad game, where he allowed four of his eight runs for the season.
"An 0-2 hanging slider to [Dustin] Pedroia," he said.
Pestano looks forward to Perez returning from the DL, and to the Indians' bullpen performing as it did for much of the last two seasons.
"We've taken our lumps," Pestano said.
But the WBC, he insisted, is not the reason.
Show Comments
Hide Comments
Our Latest Stories
It looks like something from the 1800s, if not 1700s

We often hear about good and bad framers, so let's spell it out

It happened the day MLB said it'll make intentional walks automatic
Four straight NL West titles have yielded zero pennants for the Dodgers

There'll be four wide ones no more

Garrett Richards is walking proof that stem cells could save damaged elbows