Sore Hanley Ramirez remains Dodger question mark for Game 3
His badly bruised ribs were every bit as sore on Sunday, Hanley Ramirez said, as they were on Saturday. Which does not bode well for his availability in Game 3 Monday. The Dodgers and their shortstop are hoping around-the-clock treatment can perform a miracle. ...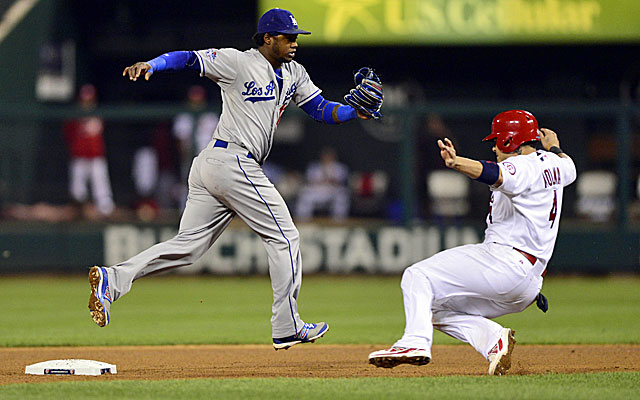 LOS ANGELES -- The Dodgers returned home and reported to work Sunday not so much to lick their wounds as to ice them.
Specifically, shortstop Hanley Ramirez is taking ice on his left rib cage every 20 minutes. He does not yet know whether he'll be able to play in Game 3, though from listening to him talk Sunday, it doesn't sound good.
Ramirez said there was no improvement overnight, that he was as sore Sunday as he was on Saturday. And on Saturday, he was too sore to play in the 1-0 loss that sent the Dodgers home trailing 2 games to 0 in this best-of-seven NL Championship Series.
How bad has it been for the Dodgers? The Cardinals have scored a miniscule four runs in this series -- only three earned -- yet have won both games played. The Dodgers are hitting .063 (1 for 16) with runners in scoring position and have struck out in 32 percent of their at-bats in this NLCS (24 of 76).
Ramirez went for a CT scan Sunday morning and then spent much of the day getting treatment at Dodger Stadium. Results of the CT scan were not yet available as of Sunday afternoon.
"It's one of the toughest injuries I've ever had because even when you're sleeping, you can't sleep," Ramirez said. "You can't move."
He said he cannot lie on his left side when trying to sleep at night. It throbs when he stands up.
"It's not easy," said Ramirez, who was drilled by a 95 mph. Joe Kelly fastball in Game 1. "Every time you move .…"
What Dodgers medical people have told him so far -- and this theoretically could change depending upon what the CT scan tells them -- is that he is not at risk to worsen his injury if he plays. As Ramirez says, even if the rib is cracked, nothing worse will happen unless he gets drilled in the same spot by another fastball.
But even at that, if he can't sleep, can't move, can barely breathe … how effective is he going to be in the Dodgers' lineup, anyway?
This is a guy who many nominate as team MVP this season. Ramirez was a one-man wrecking crew against the Braves in the division series, hitting .500 (8 for 16) with four doubles, a triple, a homer and six RBI.
But he could not even hit off of a tee before Game 2. He tried, and that's when he and the team pulled the plug and scratched him from the lineup.
Given no improvement Sunday, it's difficult to envision a scenario in which Ramirez suddenly heals enough to play Monday.
"It will tell me right when I wake up," Ramirez said. "How I move. I'll see if the soreness goes away a little bit after treatment and batting practice.
"I've got time to get ready. I'm going to get here early."
At the very least, maybe Ramirez can have an impact even if he doesn't play. As promised, he said he did spent part of the charter flight home from St. Louis talking with Yasiel Puig, who has looked completely lost against Cardinal pitching. Puig is 0 for 10 with six strikeouts.
"He told me how he's going to get it done," Ramirez said. "He's going to be fine."
As for himself, Ramirez is hoping that "one extra day" can make a difference. It better. Because as things stand right now, the Dodgers don't have many more extra days.
Show Comments
Hide Comments