Sorry, Girardi, Yankees troubles aren't on the umps but on well-paid hitters
Yankees manager Joe Girardi stumped for instant replay after a blown call in each of the Yankees' two ALCS losses. but their real problem is obvious: They can't hit.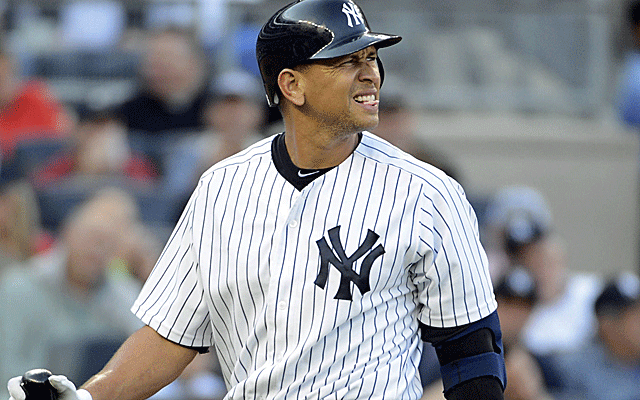 Alex Rodriguez strikes out two more times in Game 2.
(Getty Images)
NEW YORK – New York Yankees people were saying they are not going to point fingers, and by that they meant that they weren't pointing fingers at each other, anyway. No, why question yourself when there's an easier target or two?
Yankees manager Joe Girardi, obviously as frustrated as his troops, pointed his finger squarely at second-base umpire Jeff Nelson, who blew a call at second base, and umpire Rob Drake, who missed a close one at first base in Game 1. As if either of those two plays has anything to do with the Yankees' highly paid star-studded team suddenly going as limp as an overcooked noodle at one of the eateries in Little Italy a few miles south of here.
Alex Rodriguez, the longtime Derek Jeter rival and sometime friend, might draw inspiration from the absence of Jeter, who was lost the night before with a broken ankle. It was a natural thought; with one iconic player down, maybe the other one would raise his game to compensate.
Girardi even spoke to the team before the game about just such a need. They listened, dutifully, then proceeded to hit even worse than the games before.
Girardi kept talking after the game, too, but by then it wasn't about his well-paid troops but the umpires, who blew one key call in each game, and his belief in the need for expanded instant replay. "Too much is at stake,'' Girardi, who was ejected, said. "We play 235 days to get to this point, and two calls go against us. We lose it by one run last night.'' 
Girardi didn't back down when a questioner rightly pointed out that they didn't score any runs in the 3-0 defeat Sunday. And then neither did Girardi, who said about the Game 2 miss: "Right, but if you listen to what I said, it's different if it's 1-0 than 3-0. It's a lot easier for a reliever to relax.''
Right, but the Yankees didn't lose because the Tigers' reliever was more relaxed. No matter what tension or pressure Tigers pitchers may have felt during a key Game 2 at Yankee Stadium, they overwhelmed a Yankee lineup that was consistently overanxious, undiscerning and ultimately pathetic.
If Girardi wants to point at someone outside their clubhouse, point at Tigers starter Anibal Sanchez , the Dave Dombrowski pickup who featured a fastball at 94-95 mph, three other fine pitches and the ability to throw any of them for strikes at anytime.
Sure, the strikezone of Drake looked a tad off in an at-bat or two or three ( Robinson Cano summed it up in one word: "large''). But Drake was there for both teams. And the Yankees haven't hit for over a week now.
Even their outs are weak. They mustered only four hits in total, and only four balls to the outfield in seven innings against Sanchez.
"It's unsettling,'' hitting coach Kevin Long said.
It's especially unsettling to see great players look almost foolish at times. Cano, one of the best hitters in baseball, is now on a 0-for-26 streak, a major-league record slide for one postseason. And he's seen plenty of strike zones in that streak.
Cano had all sorts of bad stuff happen to him, even when he wasn't batting. The Tigers scored their first run when Cano dropped the ball while attempting to throw to first on what appeared to be a double-play grounder by Delmon Young . And he couldn't even blame 270-plus-pound Miguel Cabrera bearing down on him. "I just didn't get a grip,'' Cano said.
Cano also made the tag on Omar Infante at second base that umpire Jeff Nelson missed, the miss that preceded two run-scoring hits, one by rookie Avisail Garcia and another by MVP candidate Cabrera, who once starred for Girardi with the Marlins. Girardi came out to argue that one a second time after seeing that the replay showed Cano had the tag in time. "I had 'em at second base by five feet,'' Cano said.
That's true. Nelson missed that one play. But the Yankees hit so poorly it took a certain type of gall to complain about a single call in each game.
The truth is, Girardi's complaints might have had more merit had the Yankees relievers retired a hitter after the miss. There's nothing to prevent that.
The reality is, the Yankees deserve to be behind two games to none. They have whiffed 20 times, and they wasted Hiroki Kuroda 's own masterful pitching performance on a short three days rest (perfect through five innings).
If they don't want to point fingers inside their clubhouse, that's OK. But it is their fault.
Nick Swisher , who is unsettled by the rough treatment he and others are getting by a couple surprisingly tough Yankee Stadium crowds, is 4 for 26 (.154) with seven strikeouts.
"I'm one of those guys, you give me a hug, and I'll run through a wall for you,'' said Swisher, who added that he can't believe the abject negativity he's hearing. "It's tough, it's really tough.''
Curtis Granderson has struck out in more than half his at-bats (he's 3 for 26 with 14 Ks). Granderson attributed the struggles to chasing pitches but suggested he has faith. "Things can turn in a matter of a heartbeat,'' he said.
Rodriguez received a few sarcastic cheers for hitting a lineout to leftfield following two strikeouts to start his day, but Long saw positive signs in that and a hard single by A-Rod brought him up to 3 for 23 (.130) for the postseason. He's also 0 for 18 with 12 strikeouts against right-handers. "I know there are a lot of doubts out there,'' A-Rod said, "But we will come back and battle our asses off.''
As A-Rod pointed out, this is nothing new for them this year. They have struggled many times, especially with runners in scoring position. Rodriguez called it "a very volatile stock market for us this year.''
No doubt, it hasn't been easy. They have endured quite a bit, from the great Mariano Rivera's season-ending knee injury to Andy Pettitte 's broken foot to A-Rod's ailments to CC Sabathia 's elbow woes to Mark Teixeira 's calf injury and much, much more.
But right now, the biggest problem is a lack of productivity at the plate. It isn't the injuries or the umpires but the bats. And they now take their.205 postseason batting average into Game 3 against baseball's best pitcher, Justin Verlander . "It's not ideal,'' said sudden star Raul Ibanez , who has carried his struggling teammates, "But we've got to battle back and fight.''
That they have to do it without their captain and spiritual leader just adds to the daunting task. Martin said it was "weird not to see (Jeter) in his regular spot in the dugout.''
It hurt not to see him in the batting order, either.
That lineup, no matter how it is ordered now, seems over-dependent on Ibanez, whose three homers in the ninth inning or later are a postseason record, plus Ichiro and Mark Teixeira. Without Jeter, Girardi did some reconfiguring, and he wound up moving Martin up to the No. 5 spot (it still didn't stop the Tigers from intentionally walking cleanup man Ibanez) and forming a black hole of sorts, with A-Rod, Granderson and Swisher threatening to set strikeout records from the Nos. 6 through 8 spots.
Meanwhile, Jeter split his day between the doctor's office and his Manhattan apartment. No surprise, he couldn't bear to watch a game that was stolen from him, and he won't fly to Detroit Tigers , either. A-Rod, who spoke to him by phone beforehand, said about Jeter, "He's obviously devastated and down.''
And that was before the game.
Show Comments
Hide Comments