Spring buzz: Here are14 major leaguers who could be moved
Cubs righthander Jeff Samardzija is the biggest name in his prime on this list of 14 who could potentially go in a trade, but Samardzija is for now just "going with the flow," as he said.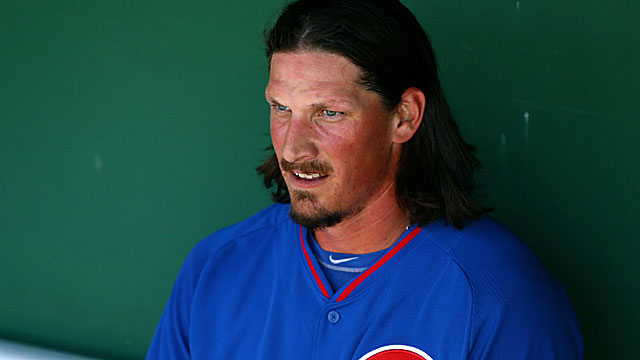 SCOTTSDALE, Ariz. -- The spring trade market isn't exactly hot, or even humming, but there are more than a dozen names out there being discussed, bandied about or at least thought of in that way. Hard-throwing Chicago Cubs starting pitcher Jeff Samardzija is perhaps the biggest star whose name is heard occasionally. But there are also a few more starting pitchers, a former international star, a couple shortstops, a young power hitter and even some nice young pieces whose names are heard occasionally.
Here's a rundown of possible trade candidates …
1. Jeff Samardzija, Cubs SP:  In a way, Cubs pitcher Jeff Samardzija fits his team. The Cubs have hitters (and more hitters coming) but they need pitching in the worst way.
However, Samardzija doesn't fit his team in a way that may count more. He has two years to go before he's a free agent, so the timing for him in Chicago isn't exactly right. By the time the Cubs are ready to unveil what looks like a potentially devastating lineup, he'll be a free agent, or close to one.
Samardzija is the local product from northeast Indiana who may not stay local. And he knows it.
There's no evidence to date that he and the Cubs have common ground in contract talks (and the Cubs have tried at least twice). Plus, the former Notre Dame football product wants to win now.
The rumors are out there, and he hears them. The Atlanta Braves , who now need pitching, with new elbow concerns for Kris Medlen and Brandon Beachy on successive days, are believed to like Samardzija very much. So should any team needing a potential top-of-the-rotation starter.
"Going with the flow, man," Samardzija said after throwing a nice game against the San Francisco Giants , using a California cool remark to match his beach boy hair.
 But that doesn't mean it's necessarily easy to be cool about it at all times.
"I'd be lying if I said it didn't cross my mind. Sometimes the uncertainty of the situation pops into my head," Samardzija said. "Ultimately, that's just an excuse. I want to go out there and pitch, do my job without excuses. I'm a very practical guy. It's black and white for me. Right now I'm wearing a Cubs uniform, and that's the way I'm approaching it.
"I'm not about to come in here and say my mind's shaken because of that," he continued. "It's not going to happen."
2, 3. Dayan Viciedo and Alejandro De Aza , Chicago White Sox OFs: Even White Sox officials will tell you they're a little heavy in the outfield right now. CBS in Chicago suggested the Mariners are looking at Viciedo, and that makes some sense as the Seattle Mariners need righty hitters, as Robinson Cano said. De Aza is a decent little speed/power package. The Minnesota Twins were said by Darren Wolfson of 1500 ESPN in Minneapolis to be scouting De Aza. The White Sox need pitching help, and catching help, as well.
4.  Nick Franklin, Mariners SS-2B: The plan seems to go with Brad Miller at short, leaving Franklin, who has some op and can definitely play second, as a man without a position now that $240 million has been spent on top free agent Robinson Cano. The Tampa Bay Rays and New York Mets are among the teams that have shown interest, but the Mets want to see this spring if he can play shortstop. The Rays are said to match up better for the Orlando, Fla. product. GM Jack Zduriencik is said to be committed to Dustin Ackley (who's having a huge spring; 11 for 23 with nine RBI) and Justin Smoak , two more names that have come up in trade rumors.
5. Ike Davis , Mets 1B: The Mets talked to several teams in the winter about Davis, and all but the Pittsburgh Pirates seem to have acquired a first baseman or hitter in the interim. Pittsburgh, which made the Marlon Byrd deal with the Mets last summer, is said not to want to overpay, and teams are suggesting the Mets are shooting high for Davis, who hasn't yet fulfilled his potential, mostly due to injuries. Complicating matters is that Davis is currently in a walking boot, the result of a nagging calf injury that's sideline him this spring. Mitch Moreland , Adam Lind and Logan Morrison are three more first basemen who could possibly interest the Pirates.
6. Ichiro, New York Yankees OF: There's "nothing doing" on this front at the moment. It may take into the season, but it'll be interested to see how well the former superstar adjusts to the fourth outfielder role. Teams aren't even sure Ichiro's been made available at this point. But it seems to be a logical possibility.
7. Jacob Turner , Miami Marlins SP: Miami is that rare team with a glut of excellent young pitching arms, and folks on other teams speculate this could be the one arm the Marlins might move in that right deal. Miami obviously needs a loot of offensive help, especially on the infield, and is said always willing to listen. Not a great chance to move, though.
8 and 9. Didi Gregorius and Chris Owings , Arizona Diamondbacks SSs: Both players were asked about over the winter, as Arizona is in the enviable position of having two young major-league ready shortstops only a little more than a year after it had none. (Plus, they also have a third very good one in Nick Ahmed coming.) For now the current big-league battle pits Gregorius against Owings, with some rival GMs suggesting Arizona might take Gregorius  while folks in Arizona's camp give Gregorius a slight edge for his extra experience, defense and lefthanded hitting (the team is a bit righty heavy). Both players have options, so either could be send down, though Owings could play some second, as well. It's harder to see them trading Owings, though, as one D-Backs exec likened him to Craig Biggio as a ballplayer, pretty heady praise. The Mets, Yankees, Pirates and Cincinnati Reds are among teams that could be in the market for middle-infield help.
10. Rick Porcello , Detroit Tigers SP: One rival executive said there are "mixed signals" as to whether he could be available, though the Tigers are adamant that they have had no talks about him. Also, there's no obvious replacement now that Drew Smyly is in the rotation. Plus, his $8.5 million salary is no bargain. Unlikely to go.
11. Joe Thatcher , Diamondbacks RP: The signing of Ollie Perez to a $4.25 million, two-year deal lessens the need for Thatcher. He has a 0.64 WHIP this spring, so perhaps he could entice a team needing an extra lefty.
12. Francisco Cervelli , Yankees C: The Yankees have a glut of catching, and several scouts have come to see Cervelli. The White Sox, a possibility first mentioned by the New York Post, and Diamondbacks are among possibilities. The Yankees are deep in young catching, with Gary Sanchez , John Ryan Murphy and others, so he's natural trade bait. Very good as a backup, and positive in clubhouse.
13 and 14. Brandon McCarthy and Trevor Cahill , D-Backs SPs: Neither one is available now, but if Bronson Arroyo 's back is fine (he has a bulging disk but a history of answering  every bell), and impressive prospect Archie Bradley makes a compelling case for the team, the Diamondbacks could be in the enviable pitching of having an excess of starting pitching. McCarthy is a free agent after the year. McCarthy is a sabermetric expert, so he's a funny fit for the gritty D-Backs anyway.
Show Comments
Hide Comments