Spring training injury update: Jonny Venters to see Dr. James Andrews
Jonny Venters, Pablo Sandoval, Logan Morrison and Stephen Drew are included in Wednesday's non-Johan Santana injury updates.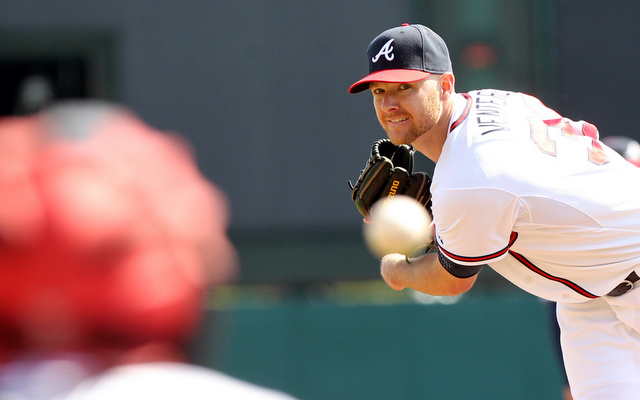 The New York Mets were dealt a big blow on Thursday, as it was announced that left-hander Johan Santana has a "probable" re-tear of his left shoulder capsule. Surgery is a possibility and could very well be career-ending. Suddenly, some minor bumps and bruises don't seem so bad. Here's the rest of Thursday's injury news:
Oakland Athletics

: RHP Fernando Rodriguez underwent successful Tommy John surgery on Thursday. He will miss the entire 2013 season. (MLB.com)

Atlanta Braves

: LHP

Jonny Venters

(elbow sprain) will visit Dr. James Andrews next Wednesday. He had Tommy John surgery performed by Andrews back in 2006. (MLB.com)

San Francisco Giants

: Manager Bruce Bochy said 3B

Pablo Sandoval

(elbow) was set for another full day of activity on Thursday. He's hopeful Sandoval can play on Friday. (Joe Stiglich)

Miami Marlins

: 1B

Logan Morrison

(knee surgery) will start running on the field next week. He's hopeful of returning to the big leagues by mid-May. (Miami Herald)

Baltimore Orioles

: RHP

Jair Jurrjens

has sore ribs but no broken bones after being hit by a line drive on Wednesday ... OF

Chris Dickerson

is day-to-day with an Achilles problem ... OF

Trayvon Robinson

has no timetable for his return. He's out with a glut strain. (Baltimore Sun)

San Diego Padres

: IF

Logan Forsythe

(plantar fasciitis) will be out for at least six weeks. He'll spend the next three weeks in a boot. (San Diego Union-Tribue)

Philadelphia Phillies

: OF

Delmon Young

(ankle surgery) will remain in Florida after the team heads north for the start of the season. The Phils have not put a timetable on his return and he could be out until May. (Philadelphia Inquirer)

Boston Red Sox

: SS

Stephen Drew

is likely to start the season on the seven-day concussion DL. (Boston Globe)

Minnesota Twins

: 1B

Justin Morneau

was scratched from Thursday's game with mild back tightness. (Star Tribune)

Chicago White Sox

: SS

Alexei Ramirez

has a right shoulder contusion. He was hit by a pitch on Wednesday and X-rays were negative. (MLB.com)
Show Comments
Hide Comments
Our Latest Stories
If your team is hoping to upgrade through free agency this offseason, we've got some bad n...

Gordon says since he doesn't have kids, hitting an HR for Jose Fernandez takes top billing

Teixiera also had a massive bat flip that he said he's never done before
Four signed balls and Jose Fernandez's checkbook washed up

Matz is heading for another checkup on his troublesome shoulder

Ramos has had a huge breakout season in 2016. Losing him would be a devastating loss for the...