Stock Watch: Davis' emergence in pen gives Royals leg up in big trade
Wade Davis is having a remarkable season and the Royals are winning, reaping the benefits of their potential-for-pitching deal with the Rays two years ago.
The James Shields - Wil Myers trade, as it was generally referred to when it was made a couple winters ago, launched a thousand Internet articles, almost all of them to rip the Kansas City Royals . Some of them got quite cruel even.
Many of those articles seemed, at the very least, unnecessarily alarmist at the time. Now, they just seem flat wrong.
They may have been enthusiastic, well-intentioned pieces, but they missed the mark for a variety of reasons. One is the overvaluing of prospects among Internet critics, even prospects with boffo numbers at Triple-A. Another reason is the undervaluing of a proven ace, one who is not only an innings dynamo but underpaid in light of the skyrocketing salaries of ace pitchers. Pitchers who are No. 1 starters don't become available very often, and when they do they get $140 million plus.
A stalwart for the Tampa Bay Rays , Big Game James had two years at $22.5 million (total) to go on his contract. That's a savings of about $117.5 million off the base value of a free-agent stopper by one way of figuring it ( Zack Greinke got $147 million; Max Scherzer turned down $144 million; he and Jon Lester should get more than that). It's hard to see how power prospect Wil Myers was worth $117.5 million (and yes, that isn't totally fair since the Royals get Shields for only two years). That's especially true in light of the fact Kansas City was ready to win, and had to win now. Which it has done.
The other reason the trade worked for KC is a surprise -- Wade Davis , an afterthought in the deal (at least as far as the critics saw it) who has emerged as perhaps the game's best reliever this season.
Yes, there's little doubt at this point the Royals scored big with that deal. It looked like the right move the day it was made, and it looks even better today.
One big reason it looks even better is the shocking emergence of Davis, a seeming throw-in who has come out of nowhere to put together one of the best seasons out of the bullpen in baseball history. Davis was good in the pen for Tampa but no better than so-so as a starter there, then again for Kansas City last year.
Davis began spring training as a candidate for the rotation, but hard-throwing rookie Yordano Ventura earned the fifth spot. Davis was instead thrown into the mix in the bullpen, which lost eighth-inning stalwart Luke Hochevar in the Tommy John epidemic this spring.
Turns out, Davis has been almost unhittable as a reliever in Kansas City's killer bullpen this year.
Davis has a 6-2 record and 0.80 ERA after allowing one earned run in 47 innings since April 24, earning top honors in this week's Stock Watch.
He has allowed fewer than a half a hit per inning, is holding opposing hitters to a .144 batting average and has a 0.86 WHIP and a 507 ERA+. Davis, with Kelvin Herrera and closer Greg Holland , has helped form the deepest and best back end of a bullpen since the late-1990s Yankees groups that helped New York win four World Series in five seasons.
Davis was pretty good in relief for the Rays, but this still has to qualify as one of the most pleasant revelations in a surprisingly successful season for the Royals. Consider that last year Davis had a 1.68 WHIP, .307 batting average against, 78 ERA+ and 5.32 ERA in 31 games, 24 of them starts.
Shields, still an ace at 12-6 with a 3.28 ERA, alone made the trade worthwhile for the Royals, who figured they absolutely had to have an established rotation leader to show a team that had been losing for years how to win. He has done that, as KC had its first winning season in a long time in 2013 and is positioned to make the playoffs this year (they currently lead the AL Central by two games over the heavily favored Tigers) for the first time since 1985. Obviously there's a long way to go, but KC's solid play and favorable schedule mean their chances to at least make the postseason look very good.
It's funny to look back now on all the overdone critiques from two winters ago. The phrase "Royal Blunder" was used. One critic listed eight reasons why the deal was bad for the Royals. One reason was that it was a bad idea to give up "greatness," meaning the prospect Myers, not the ace Shields. That's silly considering Shields already is great. Another reason listed was simply: Wade Davis.
The Rays may yet come out of this all right, of course, but this was far from a ripoff of the Royals, as we know now.
Myers is hitting just .223 with six home runs this year and missed a couple months after suffering a broken wrist. He has potential, as he showed last season when he was the AL Rookie of the Year, and power hitters are at a premium. Myers still has strong value, though his stock is definitely down. Meanwhile, young starter Jake Odorizzi , who also went to Tampa in the trade, is having a very nice season, going 9-10 with a 3.83 ERA and 153 strikeouts in 136 1/3 innings.
Tampa has years to go with Myers and Odorizzi, so it's quite possible they'll wind up being pleased with their take. Of course, the Royals already have to be thrilled.
There is excitement in Kansas City that hasn't been seen in decades. Without Shields and Davis, this wouldn't be possible.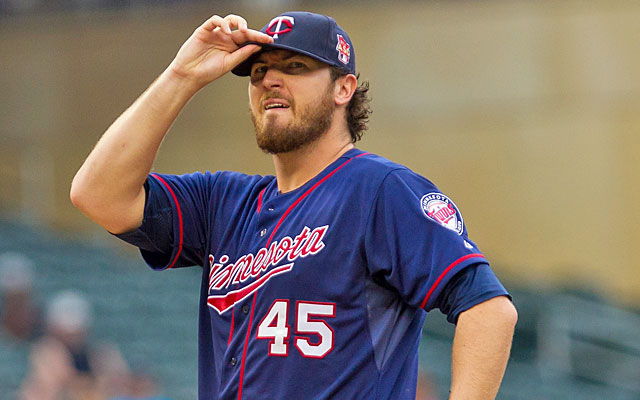 1. Wade Davis, RP, Royals: He's having an all-time great year out of the bullpen to rank with the one Fernando Rodney had in Tampa a few years ago, without the saves.
2. Mike Fiers , SP, Milwaukee Brewers : The late bloomer (he's 29) has won four straight starts since he came up to take injured Matt Garza's spot, posting a 1.29 ERA while striking out 32 and walking only four in 28 innings. He had a 14-strikeout performance against the Cubs and has been pretty darned good in the other three, as well. Jimmy Nelson is Milwaukee's top prospect, but it's hard to see Fiers being the one to come out of the rotation once Garza returns.
3. Phil Hughes , SP, Minnesota Twins : He has continued to post brilliant strikeout-to-walk stats, so good in fact they top the best pitchers in the game (Hughes' 9.87 K/BB mark ranks first, ahead of Hisashi Iwakuma, Clayton Kershaw , David Price , Masahiro Tanaka and Felix Hernandez ). Getting out of the Bronx may have been a cure-all for Hughes, who is 4-0 with a 1.32 ERA this month to go with 30 strikeouts and two walks. He was simply one of the best free-agent signings of the winter.
Honorable Mention: Jon Jay , OF, St. Louis Cardinals ; Joe Panik , 2B, San Francisco Giants ; Aramis Ramirez , 3B, Brewers; Nolan Arenado , 3B, Colorado Rockies ; Justin Turner , INF, Los Angeles Dodgers ; Victor Martinez , DH-1B, Detroit Tigers ; Giancarlo Stanton , OF, Miami Marlins ; Robinson Cano , 2B, Seattle Mariners ; Kennys Vargas , 1B, Twins; Alex Gordon , OF, Royals; Starling Marte , OF, Pittsburgh Pirates ; Oswaldo Arcia , OF, Twins; Adam LaRoche , 1B, Washington Nationals ; Chris Carter , 1B, Houston Astros ; Justin Upton , OF, Atlanta Braves ; Jonathan Papelbon , RP, Philadelphia Phillies ; Bryan Shaw , RP, Cleveland Indians ; Brad Brach , RP, Baltimore Orioles ; Hisashi Iwakuma , SP, Mariners; Dellin Betances , RP, New York Yankees ; Brandon McCarthy , SP, Yankees; Kyle Hendricks , SP, Chicago Cubs ; Drew Smyly , SP, Rays; Collin McHugh , SP, Astros; Matt Shoemaker , SP, Los Angeles Angels ; Alex Wood , SP, Braves; Jordan Zimmermann , SP, Nationals; Chris Archer , SP, Rays.
1. Robbie Ray , SP, Tigers: He wasn't the only Tigers pitcher tattooed over the weekend by the Twins, but he may have been hit hardest. Ray has potential, but he hasn't shown it filling in for injured Tigers star Anibal Sanchez. He's 0-3 with a 10.32 ERA for August.
2. Tim Lincecum , SP, Giants: He looked cured earlier this season, throwing a few dominating games, including a second no-hitter in two years. But recent shellackings have the Giants weighing whether to remove this Bay Area icon from the rotation. He has a 7.94 ERA in August.
3. Trevor May , SP, Twins: It has been a rough go for this top Twins prospect. He's 0-3 with an 8.79 ERA for the month.
Dishonorable Mention: Chris Davis , 1B, Orioles; Curtis Granderson , OF, New York Mets ; DJ LeMahieu , 2B, Rockies; Juan Francisco , INF, Toronto Blue Jays ; Zach Duke , RP, Brewers; Brandon Workman , SP, Boston Red Sox ; John Danks , SP, Chicago White Sox ; Ubaldo Jimenez , SP-RP, Orioles; Koji Uehara , RP, Red Sox; Adam Wainwright , SP, Cardinals.
Show Comments
Hide Comments