Stock Watch: Pence boosts OF deadline market; Peavy price rises
With the Giants in full sell mode, Jon Heyman says 2012 deadline pickup Hunter Pence is a find in a thin OF market. Meanwhile many suitors see starter Jake Peavy's price rise.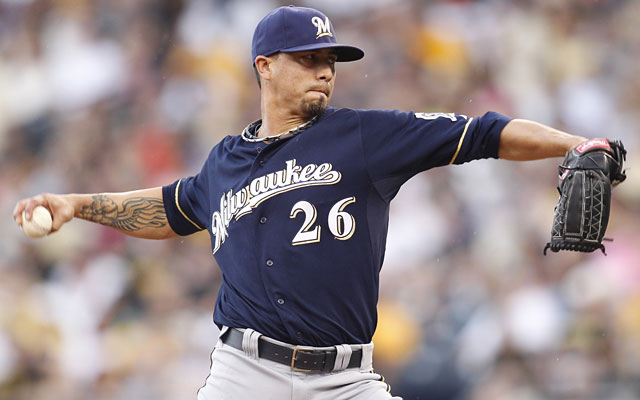 The outfield trading market, once bordering on woeful, looks a bit better with Hunter Pence available and hitting well. Giancarlo Stanton , Michael Cuddyer and Jose Bautista remain all but certain to stay put, but Pence is a big add to a fairly thin group.
A year ago, Pence became an instrumental deadline-day acquisition for the San Francisco Giants , helping them to a second World Series title in three years, thanks to his "triple-double" hit, inspiring speeches and more. He could become a key pickup again.
The Giants are cast in an unfamiliar role as seller now, but they have to understand that's their lot. After a four-game sweep at home (all one-run losses) at the hands of baseball's biggest sellers, the Chicago Cubs , the Giants dipped to last in the NL West (46-58). But beyond the fact that they are just about out of it, they look like they could badly use a rest. Their great rotation is just worn out after so many extra October games last year.
With Pence a free agent after the season, it's logical for him to go. "He's available," one rival GM said. "But they're not going to give him away."
Nor should they.
Pence may look awkward, but he has power and speed and he's the rare Giant who's hot. He went 13 for 27 (.481) last week and is clearly a big addition to a market led by Chicago White Sox outfielder Alex Rios . Nate Schierholtz (10 for 25) of the still-selling Cubs and Rios' teammate Dayan Viciedo (10 for 26) also turned in nice weeks, making the outfield market look more palatable ( Justin Ruggiano and Chris Denorfia are also available). But there's still no sign stars Stanton, Cuddyer, Bautista and Carlos Quentin are about to transform the market.
Here are all the Bulls and Bears:
1. Hunter Pence, OF, Giants: Pence will draw interest from at least the Pittsburgh Pirates and Texas Rangers and could land the Giants more than they gave up to acquire him. Catcher Tommy Joseph was the main piece to Philadelphia in that deal, and he's having a rough year from a health standpoint.
2. Jake Peavy , SP, White Sox: He has flashed good stuff and won two games for a struggling team since returning from a fractured rib. The early word is that the Atlanta Braves , Boston Red Sox and St. Louis Cardinals are balking at the initial asking price but in this thin starting pitching market, the high price is understandable. The Baltimore Orioles and Oakland Athletics are in a growing mix. Should the price for Peavy price be higher than for Matt Garza ? Well, an acquiring team gets at least three times the number of starts with Peavy, a former Cy Young winner, plus a pitcher already succeeding in the AL. The acquiring team also would have the opportunity to make a qualifying offer for next year, and perhaps earn a coveted draft choice.
3. Kyle Lohse , SP, Milwaukee Brewers : Word is it's going to take an "overpay" to pry Lohse away from the Brewers. Owner Mark Attanasio looks wise for stepping out late in spring to give Lohse a $33 million, three-year deal when others were looking for an abject bargain on the late-blooming star. Lohse is 6-1 with a 2.50 ERA since the beginning of June, and with Yovani Gallardo struggling, he may represent the best chance for Milwaukee to get back big-time prospects.
1. Yovani Gallardo, SP, Brewers: Word is scouts left to catch earlier flights Thursday after seeing Gallardo got wiped out by the San Diego Padres at home in a 10-8 defeat. His 3 2/3-inning outing only solidified the belief this isn't his year. His ERA for the week: 14.73
2. Howie Kendrick and Albert Callaspo, INF, Los Angeles Angels : As of Saturday, the Angels moved into sell mode. Kendrick was off to a nice start but he had a rough week, going 4 for 28 (.142) while Callaspo's week was even a bit rougher. He's in a 4-for-32 stretch (.125). Erick Aybar should draw the most interest of the Angels' middle infielders; he was 4 for 22 before a two-hit game in another loss Sunday at Oakland.
3. Raul Ibanez , OF/DH, Seattle Mariners : Maybe middle age is finally catching up. He's 5 for 37 over his past 10 games. Ibanez, with 24 home runs, is still on pace to shatter Ted Williams' home-run record of 29 for players older than 40. But he seems to have hit a wall. The Mariners' sale may be limited, anyway, by virtue of the team's improved play at a time Ibanez finally has slowed down.
Show Comments
Hide Comments