Stock Watch: Three great names and one no-name top Bull Market
Chris Colabello is off to a hot start for the Twins that has him on this list right with Albert Pujols and Adam Wainwright.
Leading this week's Stock Watch are three very famous ballplayers with St. Louis ties and one player who seemed to come out of nowhere.
Cardinals star Adam Wainwright, one of the most underrated great pitchers in recent decades; ex-Cardinal Albert Pujols, an all-time great now with the Angels; and Jays lefty (and St. Louis-area product) Mark Buehrle, an amazingly consistent pitcher with some notable moments and talents, aren't exactly surprise names on the Bull Market list.
Then there's Chris Colabello, who was a complete unknown until having a nice week for Mike Piazza's Team Italy in the 2013 WBC. Now he's leading a Twins lineup that's surprising folks with its early season productivity.
Colabello, who actually was born in Framingham, Mass., but grew up in Italy, might not seem like he belongs with the others. But this week, he clearly does.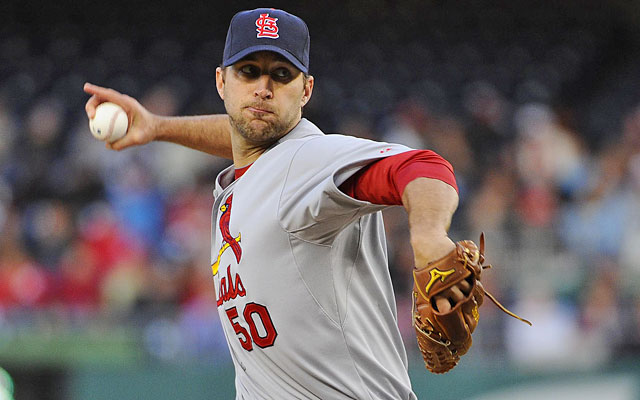 1. Adam Wainwright , SP, St. Louis Cardinals : St. Louis' ace outdid himself in his last start, shutting out the Nationals on a two-hitter. Wainwright had everything working that day, as he noted afterward. That included his bat, as he matched the Nats' hit total with two of his own. The game at Washington, which fancies itself a great team, just might have been the best overall performance of the season to date. For the year, Wainwright has a 1.80 ERA and a .444 batting average.
2. Albert Pujols , 1B, Los Angeles Angels : The all-time great ex-Cardinal isn't exactly limping toward his next major milestone. He has added four dingers during his past seven games to put him in a tie for the AL lead with six, and 498 for his storied career. The 500-homer mark used to be among the most revered in sports before a bunch of overjuiced, undeserving guys flew past it in recent years. But Wainwright's ex-teammate is one of the best hitters ever, even if he doesn't keep up this pace through the next seven-plus years of his $240 million, 10-year contract.
3T. Mark Buehrle , SP, Toronto Blue Jays : He has been an amazingly consistent pitcher over a very nice career with exceptional moments (two no-hitters, including a perfect game -- amazing for a soft tosser) and amazing talents (he is one of the best fielding pitchers ever). Now, he is off to an incredible start. If anyone thought his career might have started downhill last year when his ERA ticked up to 4.15, they should think again. He was 2-0 with a 0.64 ERA this week, and he's 4-0 with a league-leading 0.64 ERA so far this year (yes, it's the same ERA for the season).
3T. Chris Colabello , OF/1B, Minnesota Twins : Which of these guys isn't like the others? OK, so Colabello isn't a great like the three other guys here. But this is, without a doubt, a great story. Before this season, his claim to fame was a standout performance for Team Italy in the WBC. That impressive display might have gained a little bit of notice with the Twins, who gave him a full chance this year, and at age 30, he is showing he belongs in the bigs. Hard to believe, but Colabello, who grew up playing for the Italian club Rimini and didn't get to an MLB-affiliated team until 2012 when he joined the Twins organization, leads the American League in doubles with nine and RBI with 20.
Honorable mention: David Wright , 3B, Mets; Aaron Harang , SP, Atlanta Braves ; Martin Perez , SP, Texas Rangers ; Johnny Cueto , SP, Cincinnati Reds ; Tyson Ross , SP, San Diego Padres ; Kyle Gibson , SP, Twins; Giancarlo Stanton , OF, Miami Marlins ; Joey Votto , 1B, Reds; Ervin Santana , SP, Braves; Jesse Chavez , SP, Oakland Athletics ; Freddie Freeman , 1B, Braves; Scott Kazmir , SP, A's; Justin Morneau , 1B, Colorado Rockies ; Mike Trout , OF, Angels.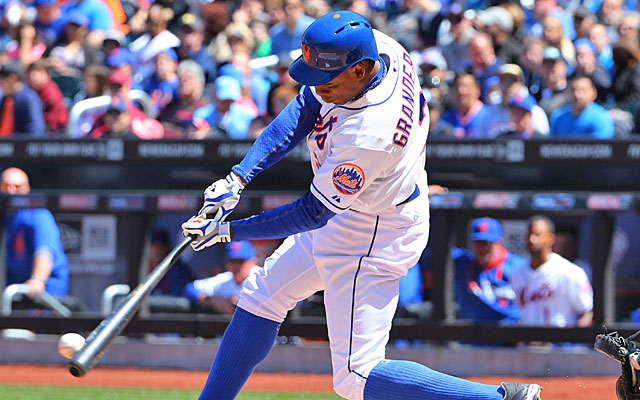 1. Curtis Granderson , OF, New York Mets : The walk-off sacrifice fly on Sunday against the Braves notwithstanding, Granderson is off to such a bad start with the Mets that he's already 1) being booed, and 2) drawing comparisons to Jason Bay, another nice guy with a big-market pedigree who never lived up to a big contract with the Mets. There are a lot of similarities. In both cases, the Mets made big expenditures, but even in spending $60 million-plus for both players ($60 million for Granderson, $66 million for Bay), they were settling for second options. In the case of Bay, they passed on Matt Holliday, who has gone on to help the Cardinals to two World Series appearances. For Granderson, they disregarded Shin-Soo Choo, who was right up their alley in terms of his on-base abilities. In both cases, Bay and Granderson were seen as very good players who had proven they could survive if not thrive in big markets (Bay in Boston, Granderson in the Bronx). Bay got off to a slow start, hurt himself running into a wall at Dodger Stadium, and never came close to duplicating what he had done in Boston or anywhere else. Granderson is striking out so often at the start of his Mets career, he's actually beginning worse than Bay. Through 17 games as a Met, Bay had a .230 batting average, .356 OBP, .328 slugging percentage and .684 OPS; Granderson's numbers are .127/.222/.238/.460.
2. Sergio Santos , RP, Blue Jays: Cesar Cabral would have made it for an unreal outing in which he faced six batters, allowed three hits and hit three batters, but Cabral was designated for assignment after the game by the Yankees, and Stock Watch isn't in the business of adding insult to injury. Santos presumably isn't going anywhere, as he is the Jays' temporary closer, but he had an outing in which he allowed three hits to the three hitters he faced, mixing in a quick three wild pitches. (Note: He became the first pitcher in history to throw three wild pitches without recording an out.) For the week, he had an 18.00 ERA (so he did get a few outs, actually six).
3. Jarred Cosart , SP, Houston Astros : The talented Cosart might have done better than Cabral and Santos, but not much. In fact, his week's ERA was as unsightly as could be. By allowing seven earned runs in 1/3 of an inning against the red-hot A's, he had a 189.00 ERA for the week (with a 21 WHIP). Not too good for someone who has no-hit capability.
Dishonorable mention: Bartolo Colon , SP, Mets; Bronson Arroyo , SP, Arizona Diamondbacks ; Buster Posey , C, San Francisco Giants ; Josh Wall , RP, Angels; Carl Crawford , OF, Los Angeles Dodgers ; Felipe Paulino , SP, Chicago White Sox ; Ruben Tejada , SS, Mets; Salvador Perez , C, Kansas City Royals ; Jayson Werth , OF, Washington Nationals ; A.J. Pierzynski , C, Boston Red Sox .
Show Comments
Hide Comments