Storylines: Drugs, home runs and hopefully joy in MLB's second half
Baseball is well beyond the true halfway point, but there's still time to check out storylines for the 40 percent of the season to come.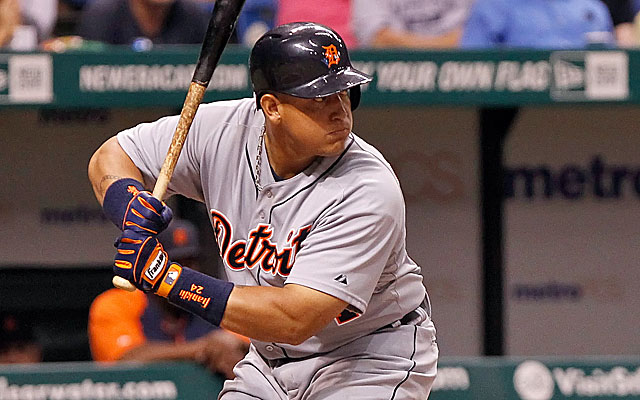 If we want to get technical (and accurate), the second half of the baseball season began about 2½ weeks back. Which is nice, because it means I can begin this list of second-half storylines with a prediction that both Homer Bailey and Tim Lincecum will throw no-hitters in the second half of the season.
I've never felt so confident about a pick.
I would love to tell you the rest of what happens in the second half of this season, but what kind of fun would that be? So I'll just stick to predicting what you'll be talking about in the 80 percent of the second half that remains (the fourth- and fifth-fifths of the season?).
Not all of it will be good. Some of it will be sad. But one of the moments that most stuck with me from this All-Star week was the way players union chief Michael Weiner described his battle with brain cancer.
"As corny as it sounds, I get up in the morning and feel I'm going to live each day as it comes," Weiner told the Baseball Writers Association of America in one of the most inspirational and emotional interview sessions I've ever been a part of. "I look for beauty, meaning and joy.
"If I can find beauty, meaning and joy, it's a good day."
Here's hoping that he finds all three for many days, weeks and months to come. And here's hoping that we all find beauty, meaning and joy in at least some of the stories that will dominate the final two-plus months of the 2013 season.
1. Bothered by Biogenesis. Admittedly, it's hard to find any beauty or joy in baseball's drug probe. But just as there's no way now for baseball to avoid this story, there will be no way for any of us to avoid it. And even though Weiner said Tuesday that appeals of possible suspensions won't be heard until September at the earliest, likely pushing penalties out of the 2013 season and into 2014, the Biogenesis probe could still affect pennant races.
First off, it remains possible that some players involved could serve time this season, especially if they either decide against an appeal or (more likely) bargain down to a shorter penalty. Also, whether or not the penalty is in place, it's virtually certain that some players will spend part of the next two months dealing with Biogenesis questions and fears at a level higher than anything they've dealt with so far.
2. Cabrera and the double-triple. My sabremetric-leaning friends will argue about the meaning of a Triple Crown, but it's hard not to appreciate the beauty of what Miguel Cabrera did last year and what he could do the rest of this year. Nobody had won a Triple Crown in 45 years, and no one has ever won two in a row.
Cabrera comes out of the All-Star break leading two of the three Triple Crown categories (batting average, RBI). A year ago at the break, he didn't lead in any of them.
He's second in home runs, trailing Chris Davis by seven. That may sound like a lot, but a year ago at the break, Cabrera was 13th in the AL in home runs, and he trailed co-leaders Josh Hamilton and Jose Bautista by nine. Then he homered 26 times in 75 games after the break.
Cabrera and the Detroit Tigers have only 68 games after the break this year, but 26 more home runs would leave him with 56.
You wonder if that would be enough, considering ...
3. Chris Davis and the chase for 62. Davis has 37 home runs in the Baltimore Orioles first 96 games (forget all the stuff about most homers before the break, since the break was later than ever). He has already said that he considers Roger Maris' 61 to be the true home run record.
So can he hit 25 home runs in the 66 games he has left?
Well, Davis has hit 28 home runs in his past 66 games, so it would be foolish to say he can't do it. And while I'll stop short of predicting that he will, a Davis vs. Maris chase sure would be a welcome antidote to whatever Biogenesis talk we may be forced to endure.
4. The Pittsburgh Pirates and the chase for 82 (and a lot more). The Pirates need only 25 more wins (in 69 games) to end their record run of 20 consecutive losing seasons. But the goal can and should be much higher than that, after a first half (first three-fifths) in which the Pirates were one of baseball's best stories (and one of the best teams).
5. The New York Yankees , and the chase against time (and the AL East). Leaving aside Alex Rodriguez  connection to the Biogenesis mess, the Yankees are a team full of storylines all by themselves. Can A-Rod and Derek Jeter defy age and injury? Will this be only the second Yankees team in the past 19 years to miss the playoffs? And with 13 games remaining against the Boston Red Sox , can the Yankees be the team that takes down their rivals after a surprisingly good first half?
6. The Philadelphia Phillies , and their chase against time. The expectation is that we're heading into the final 66 games of Charlie Manuel's run as the most successful Phillies manager ever. But will we see this even more as the countdown to the end of the best era in Phillies history? There's a strong temptation to say yes, tempered by the reminder that the Phillies entered the All-Star break coming off consecutive series victories against the Pirates, Atlanta Braves , Washington Nationals and Chicago White Sox .
7. The Nationals, and the battle against expectations. You can see the Nationals as this year's version of the 2012 Tigers, except that by the 95-game mark last year, the Tigers were already beginning to figure things out (first place, seven games over .500). The Nationals haven't been in first place since April 6, and have spent all but four of the past 59 days within two games above or below .500. There's still time for them to make this a memorable season, but they may want to start heading in that direction soon.
8. The Los Angeles Dodgers , and rapidly increasing expectations. It's amazing how many people now pick the Dodgers as the best team in the National League, given that they've spent just two days over .500 since April 16. They've added Yasiel Puig and Ricky Nolasco since then, and Hanley Ramirez has turned into one of the best players in the league again. But are they just setting themselves up for another miserable fall?
9. Mariano Rivera , and the year of no closers. Great tribute to Rivera at the All-Star Game on Tuesday night, but is this any way to make the best closer of all time feel good? As of the All-Star break, three of the six first-place teams (Tigers, Red Sox, Arizona Diamondbacks ) were somewhat unsettled at the end of the bullpen, and a fourth ( St. Louis Cardinals ) was on its third closer of the year.
10. Clayton Kershaw , Robinson Cano , agents and contracts. As Jon Heyman wrote a couple of days back, one of the biggest surprises of the first half is that Kershaw and the Dodgers haven't yet announced a contract extension. And wasn't Robinson Cano re-signing with the Yankees supposed to be a formality once Cano dumped Scott Boras and hired Jay-Z? So much for that prediction.
Show Comments
Hide Comments