Storylines to watch as MLB Winter Meetings are set to begin
From David Price and Jeff Samardzija trade rumors to Scott Boras' client Shin-Soo Choo to the Seattle Mariners looking to make a splash to NPB posting fees holding back the starting pitching market, here are some storylines to watch for the annual MLB Winter Meetings.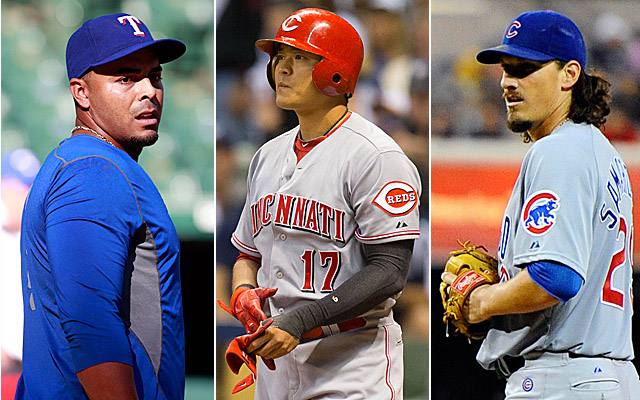 MORE: FA tracker: position players | FA tracker: pitchers
After one of the busiest weeks in the Hot Stove season I can recall, we now brace ourselves for the Winter Meetings in Orlando, Fla.
With all the moves we saw this past week, does that mean the Winter Meetings will be quiet? It's possible, but there are still plenty of moving parts this offseason.
Here are some storylines to watch for the upcoming week:
1. Boredom
Yes, it's very possible that with the bevy of big-name free agents already having signed that there isn't much actual activity in terms of actual transactions. We know there won't be a shortage of rumors, but with names like Robinson Cano and Jacoby Ellsbury already off the board, the rumors trickle down to lesser players.
2. Big arms to be traded?
David Price and Jeff Samardzija are at least being discussed in trade rumors -- if not being outwardly shopped by their respective ballclubs.
Price is an ace and former Cy Young winner who is still in the middle of his prime. He's two years away from free agency, much like former teammate James Shields was when the Tampa Bay Rays flipped him. The Rays will look for a package revolving around an MLB-ready starter who is under club control for several years, such as the Mariners' Taijuan Walker or Pittsburgh Pirates ' Jameson Taillon. If they can't get it, they could wait for the trade deadline or for next offseason, but now seems the optimal time to deal him.
On Samardzija, he is also two years from free agency and the Chicago Cubs are either going to extend him or trade him. Rumors have been heavy all offseason and there's no way of telling what they Cubs will do. They may not even know at this point, because it all depends on what Samardzija wants in an extension and/or what the Cubs get offered for him. Expect his name to be thrown around all week in Orlando -- unless he's traded or extended early in the week, of course.
3. Will Nelson Cruz sign? If so, will he get more money than Jhonny Peralta ?
The best power hitter unsigned is Cruz, so teams looking for middle-of-the-order thump will surely be discussing a deal with Cruz. He hit 27 homers last year in just 109 games.
Oh yeah, those missed games. About those ...
Cruz was suspended for 50 games for his ties to Biogenesis this past season. Fellow Biogenesis suspendee Jhonny Peralta signed a four-year, $52 million deal earlier this offseason and it drew the ire of several fellow players -- and might be be part of the tipping point toward steeper PED penalties.
Cruz would get more than Peralta (I'll be he does), so we can expect the outcry again when it happens. It's a decent bet it happens during the Winter Meetings, too. Prepare your sanctimony with a side of indignation.
4. Is Scott Boras ready to wait out the market for Shin-Soo Choo ?
Scott Boras is known for waiting around to get the deal he wants and believes his clients deserve. Just two offseasons ago we saw him wait all the way until Jan. 24 with Prince Fielder -- more than six weeks after top first baseman Albert Pujols came off the market.
Somewhat surprisingly, Boras client Jacoby Ellsbury has already signed, but that leaves Shin-Soo Choo as the best outfielder left on the market -- not to mention by far the best leadoff hitter left.
With Choo being heavily courted, will Boras get the deal he wants, or will he continue to wait it out? This is one to watch.
5. Is the posting system affecting the market for the top MLB free agent pitchers?
The top starting pitchers available are Matt Garza , Ervin Santana and Ubaldo Jimenez . After that there's Bartolo Colon , Bronson Arroyo and Paul Maholm . Those guys are all inferior to Japanese star Masahiro Tanaka, who went 24-0 with a 1.27 ERA last season in Nippon Professional Baseball.
Tanaka is expected to eventually be posted, but MLB and NPB have yet to formally approve the new posting system. It sounds like that will happen soon -- with a cap of $20 million in posting fees going back to the NPB team that loses its player -- but in the meantime, the likes of Garza, Jimenez and Santana are held in limbo while teams seeking frontline starters lick their chops at the thought of landing Tanaka.
But how long can MLB teams wait -- especially considering the recent news that the Rakuten Golden Eagles (Tanaka's team) team president said that they might not post Tanaka?
This one will be very interesting. Also of note is that this could also affect the trade market for the likes of Price and Samardzija.
6. Will one team steal the show?
While the 2012 Winter Meetings were relatively tame, the Miami Marlins were the show-stealers in 2011 in Dallas ... until the Los Angeles Angels dominated the final day by landing Albert Pujols and C.J. Wilson . Will there be a team or two this year to make a gigantic splash?
It's hard to figure that will happen since so many moves have already been completed, but there are two teams that come to mind with a common thread: Robinson Cano.
Now that Cano has departed, the New York Yankees have a bit of money to spend. Yes, they've already used a decent amount in getting the likes of Jacoby Ellsbury, Brian McCann , Carlos Beltran and Hiroki Kuroda , but they can spend more and could certainly use another starting pitcher and an upgrade at second base. 
Cano's new team, the Seattle Mariners , also need to fill several more holes to put a contending team around Cano. Expect them to do everything they can in order to do so. The Cano splash doesn't resonate unless a few more moves are made. Cruz? Choo? A trade for Price or Samardzija? All of the above? We'll see. The Mariners could be the belles of the ball.
Show Comments
Hide Comments