Struggling Braves could use upgrades
The Braves haven't been even an average baseball team since their 17-7 start. What ails them can't be fixed internally, either. They need to upgrade the team via trade in July.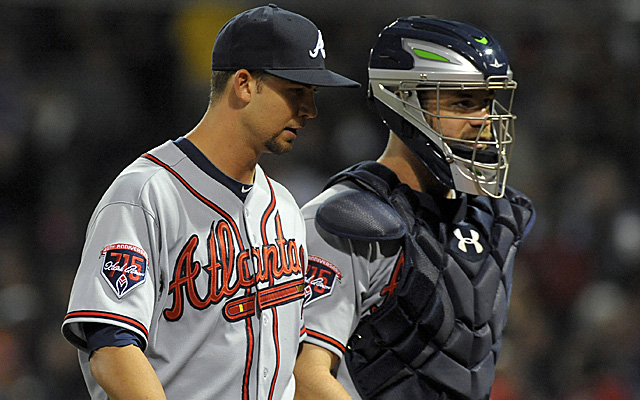 More: Samardzija a great chip, but how great? | No lack of sellers
Braves starting pitcher Mike Minor was knocked around by the Astros Thursday afternoon in Houston, allowing five earned runs on seven hits -- including a home run. The Braves lost, 6-1, meaning they are 23-31 since their excellent 17-7 start.
Yes, each of those first 24 games count just the same as the games since and the Braves did weather a season-long seven-game losing streak immediately thereafter. I could counter by saying that the Braves still have a 23-24 record since that seven-game losing streak.
Basically, this team wasn't nearly as good as the 17-7 start and it's not nearly as bad as the team that lost seven straight. It's a mediocre ballclub.
And just as the starting rotation was perhaps the main reason for the 17-7 start, it's one of the reasons the team isn't better than mediocre right now.
Minor has shown a few signs of his immense upside -- such as a seven-inning gem against the Nationals last week in which he struck out 11 -- but consistency has been an issue. The Braves are now 5-6 in his 11 starts and he's allowed at least five runs three times. He's allowing far too many baserunners (1.49 WHIP) and a whopping 15.9 percent of the fly balls he allows are home runs, which is the fifth-worst rate in all of baseball among qualified starters.
Remember when Aaron Harang was one of the best stories in baseball? The Braves are 5-6 in his past 11 starts, during which time he has a 5.23 ERA. Even if we toss out the awful April 30 start, Harang has a 4.27 ERA in 10 starts since, compared to a league average ERA of 3.66. At age 36 and considering Harang's performance last season, the odds moving forward are that he'll be worse, not better. Staying the course is probably the best the Braves could hope and, again, that is below average.
As for Ervin Santana, the Braves have lost seven of his past eight starts. He has a 5.96 ERA in that time. He's definitely been better of late, with a 4.26 ERA in June, but there has to be some concern here. This is a guy with lots of ability/upside who has been nothing if not inconsistent throughout his career. He'll definitely have plenty of good outings moving forward, but he'll mix in stinkers, too.
I love the talent of Julio Teheran and Alex Wood, but there are still concerns with those two, also. The Braves have actually lost three of Teheran's past four starts, in which he has a 4.13 ERA. His BABIP, FIP and xFIP show that he has actually been helped a lot by good fortune, too. Wood hasn't yet thrown more than 139 2/3 innings in a professional season. He's at 76 right now. What happens when he gets over that?
Now, this might seem to be nitpicking, but it matters with the Braves because the offense is so inconsistent and can't be counted on to bail out struggling starters like, say, the A's, Angels, Brewers or Blue Jays can.
The Braves entered Thursday ranking 29th in the MLB in runs scored, ahead of only the woeful Padres and behind the likes of the Rays, Cubs and Astros. The Braves also ranked 26th in average, 27th in on-base percentage and even 20th in slugging percentage -- despite being a home-run hitting team.
This was before only getting one run on six hits against Houston.
Jason Heyward could be better, maybe Freddie Freeman gets hot again and it's possible Andrelton Simmons improves a bit, too, but otherwise what you see is what you get. This isn't an offense that can carry a team for stretches.
Given that there don't seem to be many very helpful bats available in front of the July 31 non-waiver trade deadline -- at least not at a position that would significantly impact the Braves -- I think it seems rather obvious where the Braves could use a hand.
It has to boil down to pitching. In Minor, Harang and Santana, the Braves right now don't have the type of consistency needed in the pitching staff -- and we can't be sure Teheran and Wood can hold up through late August and into September.
Yet they need to outpitch their opponents in order to consistently win games -- just look at that 17-7 start, when the Braves had a 2.04 team ERA.
The starting pitching market this July has plenty of viable starters, too, whether the Braves wanna go huge (such as David Price), big (such as Jeff Samardzija) or with a rental (such as Jason Hammel). Replace Harang with one of those guys or a similar available arm and they might have something.
As things stand, they certainly need to do something, because this has been a medicore team more than it has been a good team. And it's still not even a full series out of first place. One move could make all the difference.