Surprise! Forbes ranks Yankees as most valuable MLB franchise
Forbes released their annual MLB franchise valuations on Wednesday and they are topped by the Yankees, because of course.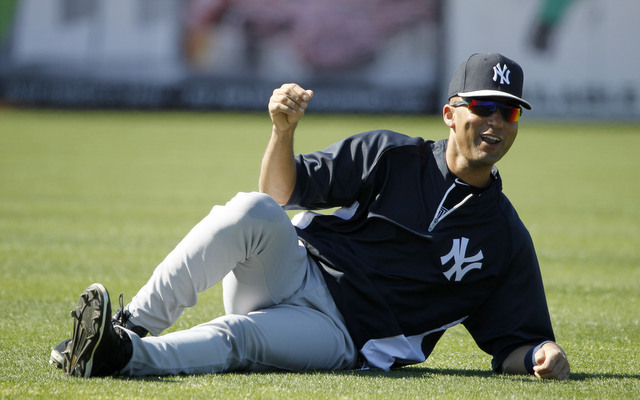 MORE: Spring Training | Scoreboard | Team previews
For the 17th straight year, the Yankees are the most valuable Major League Baseball franchise, according to Forbes. They are worth an estimated $2.5 billion according to Mike Ozanian. The Dodgers are a distant second among MLB clubs at $2 billion, the Red Sox and even more distant third at $1.5 billion. The Rays rank 30th at $485 million.
Here's more, from Ozanian:
The New York Yankees, worth $2.5 billion, are baseball's most valuable team, as they have been each of the 17 years Forbes has compiled this scorecard. The only other U.S. sports team worth more than $2 billion is the Dallas Cowboys ($2.3 billion) of the NFL. Including the annual average of the $400 million upfront payment the team got for agreeing to sell  its controlling stake in the YES Network (full disclosure: I am co-host of the RSN's Forbes SportsMoney show) to News Corp (now 21st Century Fox), the team raked in over $100 million in cable money last season, by far the most in baseball.

Even after kicking in $95 million towards the league's 34% local revenue sharing pool and their $64 million PILOT bond payments for Yankee Stadium last season, the Bronx Bombers led the league in revenue ($461 million). But there is clearly pressure on the Yankees to regain their form on their diamond: the team finished in fourth place in the AL East last season and missed the postseason for only the second time since 1994. A drop in ticket revenue last season resulted in overall revenue falling by $10 million from 2012, and in November Moody's lowered their outlook on the bonds from positive to stable while leaving its investment grade rating unchanged.
Thanks to all the new and highly lucrative television deals being handed out, franchise values are increasing at a greater rate than team revenues. Only the Mets (1 percent), Marlins (4 percent) and Astros (15 percent) saw their franchise value decline from 2013, all for pretty obvious reasons. They're bad teams and their relatively new ballparks are emptier by the year.
Revenues are at an all-time high, and when Bud Selig took over as acting commissioner in 1992, he reportedly told owners he wanted to be judged based on how franchise values increased during his tenure. How did he do? Another snippet from Ozanian:
In 1992, the average baseball team was worth $110 million, according to the Economic History of Major League Baseball, meaning team values have increased seven-fold, or at a 9.8% compound annual rate since Selig became interim boss. Since 1992, the S&P 500 stock index rose at a 7.1% (9.2% with dividends reinvested into the index) annualized rate. After adjusting for inflation, team values increased at a faster clip under Selig than any of baseball commissioner who served at least five years, save Kenesaw Mountain Landis.

What at about the other sports? Using team values published by my former employer, Financial World, the average NFL team value was $129 million in 1992 compared with $1.17 billion today. Football's 10.5% annual rate of return beats Bud. But the NBA and NHL fall short. The average basketball team has increased at an 8.8% annualized rate since 1992, to $634 million. Hockey team values have increased 9.1% annually, to an average of $413 million.
In terms of growth, both financially and popularity, Selig's tenure has been a smashing success. The game has never been healthier.
The Forbes article includes a slideshow with the franchise valuation breakdown for each team, including revenue and operating losses. Here is the list of overall franchise values:
New York Yankees

- $2.5 billion

Los Angeles Dodgers

- $2 billion

Boston Red Sox

- $1.5 billion

Chicago Cubs

- $1.2 billion

San Francisco Giants

- $1 billion

Philadelphia Phillies

- $975 million

Texas Rangers

- $825 million

St. Louis Cardinals

- $820 million

New York Mets

- $800 million

Los Angeles Angels

- $775 million

Atlanta Braves

- $730 million

Seattle Mariners

- $710 million

Washington Nationals

- $700 million

Chicago White Sox

- $695 million

Detroit Tigers

- $680 million

Baltimore Orioles

- $620 million

San Diego Padres

- $615 million

Toronto Blue Jays

- $610 million

Minnesota Twins

- $605 million

Cincinnati Reds

- $600 million

Arizona Diamondbacks

- $585 million

Colorado Rockies

- $575 million

Pittsburgh Pirates

- $572 million

Cleveland Indians

- $570 million

Milwaukee Brewers

- $565 million

Houston Astros

- $530 million

Miami Marlins

- $500 million

Oakland Athletics

- $495 million

Kansas City Royals

- $490 million

Tampa Bay Rays

- $485 million
Show Comments
Hide Comments