Suspensions will give Rangers, Tigers some pain, but how much?
Monday's suspensions cost the Rangers Nelson Cruz, and cost the Tigers Jhonny Peralta. How much will it hurt?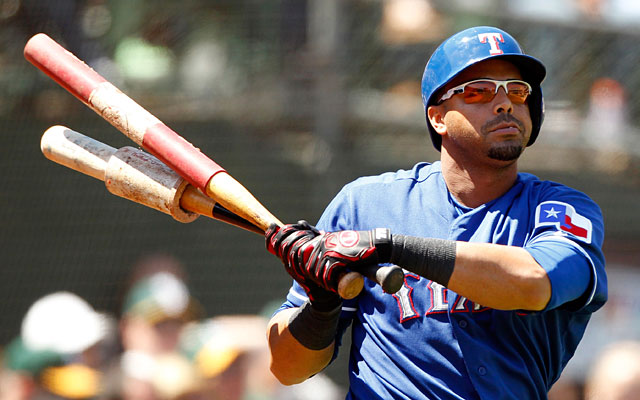 If I read this right, Nelson Cruz is telling us that stomach problems led him to steroids.
Not sure many will buy that, but if you turn it around, perhaps it does make some sense. Because Nelson Cruz's steroid use has no doubt led to some upset stomachs in the Rangers' front office.
Amazingly, with 14 players suspended in the Biogenesis case, only two of the suspensions went to players on teams currently in the thick of the playoff race (three if you include Alex Rodriguez, but he's not yet off the field and his Yankees have not yet proven they're playoff contenders).
One went to Jhonny Peralta, but the Tigers found a shortstop to replace him when they traded for Jose Iglesias at last week's non-waiver deadline.
The other one went to Cruz, whose Rangers worked hard but ultimately unsuccessfully to find a replacement bat before the deadline.
Even with Cruz in the lineup, the Rangers have had an inconsistent offense. In more than two months since the end of May, they rank 11th in the American League in runs scored. Cruz, with 27 home runs and 76 RBI, is their leading power threat.
Does that mean the Rangers are done as a playoff threat?
No more than the 2012 Giants were done last August, when a PED suspension cost them Melky Cabrera, who batted third in their lineup and was leading the National League batting race.
No more than the 2012 A's were done days later, when a PED suspension cost them Bartolo Colon, their most experienced starting pitcher.
The Giants were tied with the Dodgers at the time of the Melky suspension, and plenty of people (I may have been one of them) saw the suspension and declared the race over -- in the Dodgers' favor.
The A's were five games behind the Rangers when Bartolo made his final start.
The Giants went 30-15 the rest of the way, and went on to win the World Series -- without ever welcoming Cabrera back. The A's went 30-13 after Colon's final start and lost a five-game ALDS to the Tigers.
Now the Rangers and Tigers move on without Cruz and Peralta. Cruz will miss the final 50 games of the regular season. Peralta's Tigers have 53 games remaining, so he theoretically could return for the final series of the regular season.
Tigers general manager Dave Dombrowski refused to speculate Monday on whether Peralta would be brought back, when he was asked by reporters.
There's no doubt that the Tigers have fewer concerns, because of the Iglesias trade.
It's probably not right to say that this whole thing hasn't given them a pain in the belly, but the Rangers are probably hurting a lot more.
Show Comments
Hide Comments