Taking Ventura's lead, the White Sox 'just play,' and the AL Central takes another crazy turn
So many of us wanted to write off the White Sox after Thursday, when they fell two games behind the Tigers. "Just play," Robin Ventura said again. So they did, and after a Sox win and a Tiger loss, the AL Central race suddenly doesn't seem to be over.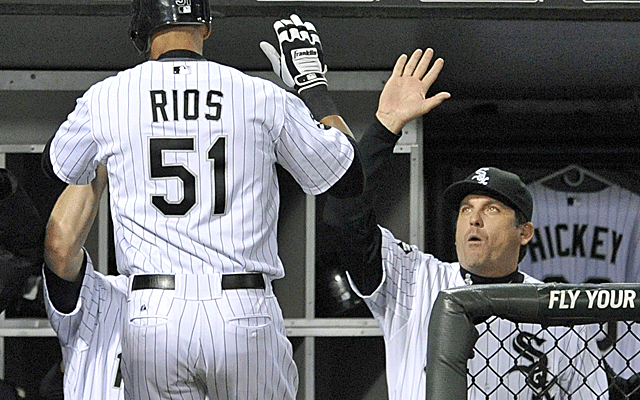 The White Sox appear to have the perfect nerve for a playoff run.
(Getty Images)
CHICAGO -- The White Sox really are Robin Ventura's team.

He doesn't panic, so they don't. He doesn't care that everyone in the world was writing them off after Friday, so they didn't.

And he insists that he wasn't checking the Tigers' score inning-by-inning Friday night.
So they didn't.

"People think we're checking what they're doing, but we're not," Alex Rios insisted. "When I heard the crowd cheer, I knew something was going on."
More on Rays-White Sox
Related links
Something was going on. The ever-crazy (or ever-awful) American League Central race was taking yet another messy turn, with the Tigers losing in Minnesota and the White Sox beating the Rays 3-1.

A two-game Tiger lead with six games left seemed huge. A one-game Tiger lead with five games left seems like nothing.

"We can turn this thing around in a matter of two days," Rios said, before catching himself and adding, "but we're not looking at the big picture."

From the outside, it looked by Thursday night like the White Sox were finally imploding, looked like they were worn down, looked like they had finally had enough.

It's a lot of pressure for a first-time manager, but Ventura reacted the way anyone who knows him expects that he would.

"Just play," he said.

Sure, he lamented the mistakes the White Sox made in Thursday's seemingly crushing loss. Sure, he felt comfortable enough to joke after Friday's uplifting double win.

"I thought the Bears scored," he said, when asked about the crowd reaction. "Knowing it's Friday and they're not playing, I figured it was the Detroit game."

This could all still go bad for the White Sox. It feels as if Saturday is another must-win game, with Chris Sale going against the struggling Matt Moore, with David Price awaiting them Sunday and with Justin Verlander and Anibal Sanchez pitching for the Tigers the next two days against the Twins.

It feels that way to us. To the White Sox, and to their ever-calm manager, it feels like another day.

They never had a four-game lead all year. They haven't trailed by as many as four games since May.

"It's been one long playoff race," bench coach Mark Parent said.

One long playoff race, with five days to go. Or more.

"I don't think when we get to the playoffs, we're going to have to worry about anything," Rios said. "We're used to it."

As for the Rays, they're used to it, too, but their math looks a lot worse.

Isn't it crazy how fast things change? As of Friday morning, the computers at coolstandings.com gave the Rays a better shot at the playoffs than they gave the White Sox (19.1 percent, vs. 12.9 percent).

By game's end, with a bad result for the Rays here and bad results for them in Baltimore and Texas, too, the Rays seemed just about done. The computers agreed, downgrading their chances to 7.1 percent (and sure go lower if the A's held onto a late lead over the Mariners).

The computers insisted that the White Sox chances had more than doubled, up to 28 percent.

Don't ask them about that.

"Just play," Ventura says regularly.

And they do. They just play.