Tanaka free agency in jeopardy as posting system agreement hits snag
MLB and NPB (Japan) have hit a snag in negotiating changes to the posting system, meaning we may not see Masahiro Tanaka hit free agency this winter.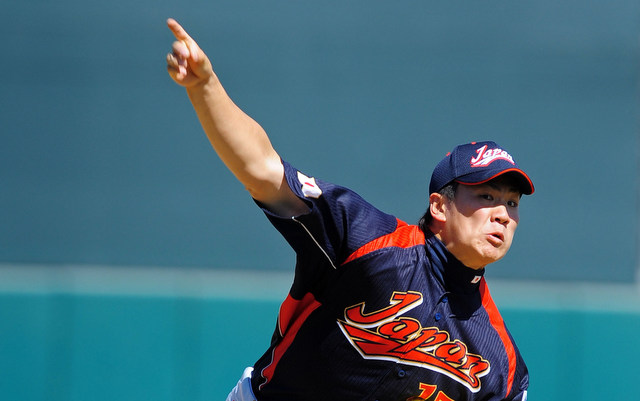 The last we heard on the MLB's negotiations with Nippon Professional Baseball (Japan) on a new posting system came in late October and the message was optimistic.
The news from Bud Selig's news conference on the matter Thurday from the GM meetings in Orlando, Fla. brought quite a different tone, however.
Such as this:
MLB growing impatient with Japanese baseball officials about amended posting system, may lead them to change proposal

— Shi Davidi (@ShiDavidi) November 14, 2013
Or, more to the point of what it means for this current offseason, this:
Owner: "Serious reservations" among clubs about posting process. Possible no agreement is reached, which means no Tanaka this off-season.

— Ken Rosenthal (@Ken_Rosenthal) November 14, 2013
Oh boy.
First things first. The posting system is a way for Japanese teams to be compensated for losing their players to Major League Baseball before they hit free agency in NPB. In previous years, there has been a blind bidding process to the NPB club whose player wishes to join the majors, with the highest bidder winning the rights to negotiate a contract with said player. If no agreement is reached with the player, the posting fee is returned to the club.
Let's use Yu Darvish as the example.
Darvish decided to post to MLB after the 2011 season. The Rangers won the rights to negotiate with him by posting $51.7 million to the Hokkaido Nippon Ham Fighters. They then had 30 days to sign him and ended up doing so 15 minutes before the deadline. They signed him to a six-year, $56 million deal, so the Ham Fighters got to keep the $51.7 million while Darvish got his $56 million. Had he not signed, the Rangers wouldn't have had to pay a dime to anyone.
The proposal for changes to the system would allow the player some input in the process. Reports have indicated either the top two or three blind bidders would have a shot at signing the player, so he would have some choice in the matter.
But, apparently, that isn't going over too well with NPB.
If no agreement is reached, Masahiro Tanaka isn't going anywhere this offseason -- which would be a big blow to the many teams interested in signing the potential ace. It would also increase the marketability of the current top free-agent starters like Ervin Santana, Matt Garza and Ubaldo Jimenez.
Tanaka, who just turned 25 on Nov. 1, went 24-0 with a 1.27 ERA, 0.94 WHIP and 183 strikeouts in 212 innings last season for the Tohoku Rakuten Golden Eagles. His ERA hasn't been north of 1.90 since 2010, when he was 21.
Show Comments
Hide Comments