Team USA advances to second round of World Baseball Classic
Adam Jones gave Team USA an eighth-inning lead over Canada before things got out of hand in the ninth on Sunday, sending the team to the second round in Miami.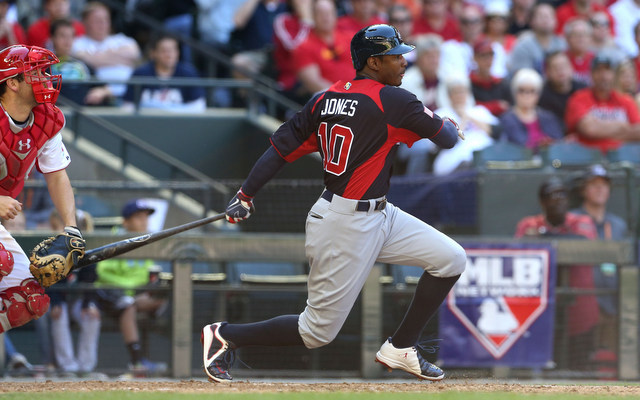 Full World Baseball Classic coverage
Despite the final score, USA and Canada played a tight and exciting Pool D finale on Sunday afternoon at Chase Field in Phoenix. USA's Adam Jones ( Baltimore Orioles ) turned a 3-2 deficit into a 4-3 lead with a two-run double off right-hander Jim Henderson ( Milwaukee Brewers ) in the eighth inning, giving his team the lead for the first time in the game. USA had been 5 for 34 with runners in scoring position in the World Baseball Classic before Jones found the gap.
Canada did not go down without a fight, scoring a run and loading the bases with two outs in the bottom half of the eighth. Right-hander Steve Cishek ( Miami Marlins ) put out the fire in relief of David Hernandez ( Arizona Diamondbacks ) by coaxing an inning-ending groundout from Tim Smith (Orioles). Eric Hosmer ( Kansas City Royals ) broke the game open with a bases-clearing double off John Axford (Brewers) with two outs in the top of the ninth. Closer Craig Kimbrel ( Atlanta Braves ) pitched a flawless ninth to preserve the 9-4 win.
With the win, USA (2-1) advances to the second round of Pool 2 along with Italy (2-1), Puerto Rico (2-0) and the Dominican Republic (2-0). The double-elimination second round begins on Tuesday in Miami, when south Florida native Gio Gonzalez ( Washington Nationals ) gets the ball for USA against the loser of Sunday night's Dominican Republic-Puerto Rico matchup. Japan has already advanced to the semifinal from Pool 1, and either the Netherlands or Cuba will join it.
Canada took control early against USA, when Michael Saunders ( Seattle Mariners ) pulled a Derek Holland ( Texas Rangers ) pitch down the line to right for a two-run homer in the second. Holland was able to escape the inning without further damage despite putting men on second and third with no outs. USA tied the game in the fourth thanks to an error and a Jones sacrifice fly, and the game remained that way until Canada rallied for a run in the bottom of the sixth -- Adam Loewen ( Toronto Blue Jays ) singled in former NL MVP Joey Votto ( Cincinnati Reds ) before former AL MVP Justin Morneau ( Minnesota Twins ) was stranded at second.
USA manager Joe Torre opted not to start slugger Giancarlo Stanton (Marlins), instead going with Shane Victorino ( Boston Red Sox ) in an effort to make sure all of his players got into the tournament. Victorino went 1 for 5 with an RBI and three strikeouts. Utility man Willie Bloomquist (D-Backs) pinch-ran in the eighth and winning pitcher Heath Bell (D-Backs) pitched in relief, so every USA player appeared in at least one of their three games.
Even though Canada (1-2) was eliminated from the tournament, Saunders was named Pool MVP after going 8 for 11 with three walks and seven RBI in the three games.
For more baseball news, rumors and analysis, follow @EyeOnBaseball on Twitter, subscribe to the RSS feed and "like" us on Facebook. Also, individually interact with us on Twitter: @MattSnyder27, @daynperry and @mikeaxisa.

Show Comments
Hide Comments