The All-Auburn/Florida State MLB team
In anticipation of the BCS title game between Auburn and FSU, let's put a baseball spin on things.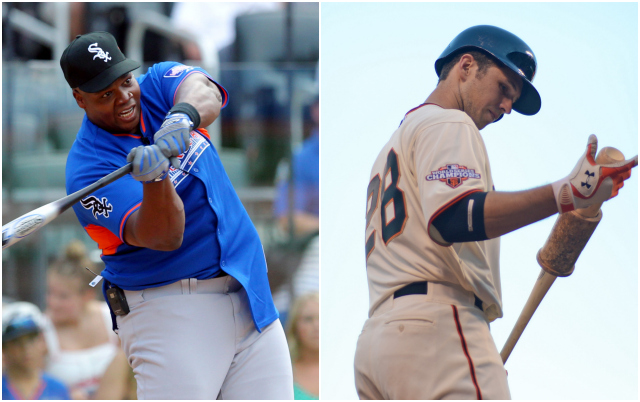 MORE: FA tracker: position players | FA tracker: pitchers
Monday of course marks the occasion of the BCS title game between Auburn and Florida State. While the right-wise folks at Eye On College Football have the event more than amply covered, we're here to put a baseball twist on things. 
Specifically, let's announce -- authoritatively and from on high -- the all-time All-Auburn/Florida State MLB team. These are, as you might imagine, players who attended Auburn or FSU and went on to careers of some note in Major League Baseball. 
What kind of squad can we cobble together using those very specific criteria? A pretty good one, as it turns out ... 
C - Buster Posey, Florida State
Sure, we could have gone with fellow Seminole Terry Kennedy, but we'll take Posey's excellence to date. The 2012 NL MVP owns a career line of .308/.377/.486, which is simply outstanding by the standards of the position. 
1B - Paul Sorrento, Florida State
There's not an embarrassment of riches at first base, but Sorrento is a solid choice. Across parts of 11 seasons, he authored a 109 OPS+ and tallied 166 homers. Thirty-one of those homers came with the Mariners in 1997. 
2B - Jody Reed, Florida State
Jody Reed spent 11 seasons in the bigs and was a regular for almost all of them. In 1990 with the Red Sox, he led the majors with 45 doubles. 
3B - Red Smith, Auburn
No, not the sportswriter. This particular Red Smith attended Auburn back when it was known as the "Alabama Polytechinal Institute." From 1911 through 1919, Smith toiled for the Dodgers/Superbas/Robins and Braves, and put up a strong OPS+ of 119 for his career. 
SS - Stephen Drew, Florida State
Drew's career is ongoing, but it's already been a solid one: 98 OPS+, plus fielding and a core member of the champion 2013 Red Sox. Of course, he wasn't quite the player that big bro was ...  
OF - J.D. Drew, Florida State
Rare is the player whose actual value is so at odds with general perceptions. Drew was a very good player: .278/.384/.489 with 242 homers in 1,566 career games. Yes, he was somewhat injury-prone, but he was quite valuable when healthy. Maybe he'd be less maligned if he'd yelled and screamed more often. 
OF - Bo Jackson, Auburn
Sure, Bo notched just 598 hits in his major-league career, but who knows what he would've accomplished if not for his football injuries? (Note: Thanks a lot, stupid football.) Jackson had a light-tower home run swing at the plate, and in the field, well, he could do things like this ...
OF - Johnny Grubb, Florida State
Grubb, a solidly underrated ballplayer, spent 16 seasons in MLB (1972-87) and over that span batted .278/.366/.413 (121 OPS+) while spending a plurality of his defensive innings in center field. As a Padre in '74, Grubb was named to the NL All-Star team. 
And, no, Deion Sanders didn't make the cut. 
DH - Frank Thomas, Auburn
The most obvious choice of all. The Big Hurt clouted 521 homers, batted .301/.419/555 and is headed for the Hall of Fame. Little else needs to be said. Oh, he also played football at Auburn. 
SP - Tim Hudson, Auburn 
Hudson has 205 wins to go with a 3.44 career ERA and three top-five Cy Young finishes. If he's able to muster a strong finish with the Giants, then he'll muster some Hall of Fame support. He's far and away the top choice among Auburn-FSU starters.  
CL - Gregg Olson, Auburn
Olsen recorded 217 saves and a 123 ERA+ across parts of 14 big-league seasons. That's more than enough to earn him ninth-inning detail on this ad-hoc all-star team. 
MGR - Dick Howser, Florida State
Sure, Tony La Russa went to law school at Florida State, but we're talking undergrad credentials. So the job goes to Howser, who went 507-425 for the Yankees and Royals and skippered the '85 Royals to the World Series title.  
FSU has strength in numbers, at least as far as this team is concerned, but Auburn's Bo-Hurt-Huddy trio is hard to top. 
Show Comments
Hide Comments