The Athletics are good at ... pretty much everything
We know the Oakland A's are good, but the depth of their excellence in 2014 is fairly remarkable.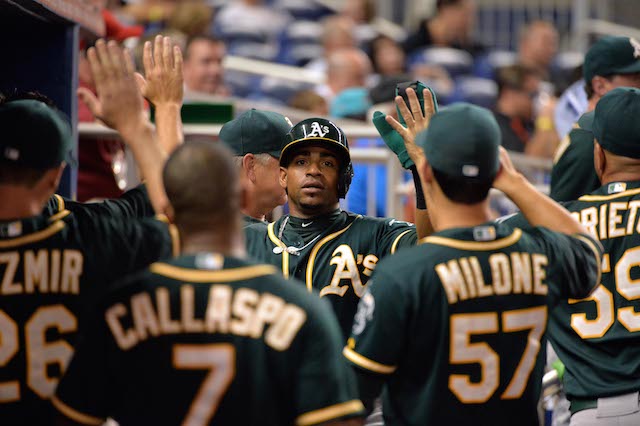 More MLB: Power Rankings | Expert Picks | Latest news & notes | Fantasy news
To say that the 2014 Oakland Athletics are a very good baseball team is to, at best, demonstrate a command of the obvious. After all, their win over the Marlins on Saturday (OAK 7, MIA 6 in 14) pushed their record to 50-30 on the year, which is good for an MLB-best winning percentage of .625. 
Really, though, the A's have been a very good in every conceivable situation. They're 24-15 at home and 26-15 on the road. They're 22-16 against winning or .500 teams and 28-14 against losing teams. They're 35-22 against right-handed starters and 15-8 against lefties. They've got a winning record in extra innings and in one-run games. They've got a winning record against every AL division and a 5-1 mark in interleague play. The A's just win, regardless of circumstances. 
Yet it goes beyond that. Often, even with a great team, you can find some kind of "micro" weakness or sign of good fortune, some important phase of the game at which they don't excel but that gets buried under all those other layers of excellence. With the 2014 Athletics, though, there's just nothing to be found.
Let's dig a bit deeper into the individual phases of the game and see where the A's rank among the 30 teams ... 
| | | | | | |
| --- | --- | --- | --- | --- | --- |
| Stat | Runs scored | Rotation ERA | Bullpen ERA | Defensive Efficiency | Run differential |
| A's MLB rank | 1st (414) | 3rd (3.27) | 5th (2.96) | 3rd (.712) | 1st (+134) |
(Note: "Defensive Efficiency" is the percentage of balls in play that a defense converts into outs.)
So, yeah: Really good at everything. The naysayer might point out that the A's aren't a particularly hasty team on the bases (not that it's hurt their offense, but let's grant the premise for now). It's true that Bob Melvin's team doesn't run much, but it's equally true that they lead all of baseball with an 85 percent success rate on stolen base attempts. Speed merchants they are not, but the A's pick their spots better than any other team when it comes to swiping bags. 
All of what you see above comes together in that sparking +134 run differential. On that point, it's worth noting that the Angels and Mariners check in with the next-best run differential, which is +52. In other words, the A's are pretty well lapping the field when it comes to scoring and preventing runs. 
Oh, and two other things to bear in mind when surveying the broad-based excellence of the 2014 Athletics: They rank eighth in strength of schedule (the AL West might wind up yielding three playoff teams), and they rank 25th in payroll. So all the numbers you see above the A's have authored despite a tough docket of opponents and despite a tight budget. 
So, yes, the '14 Fightin' A's really are good at everything. At least so far. 
Show Comments
Hide Comments