The Bobblehead Project: Bo Jackson scales the outfield wall
Our latest entry in the Bobblehead Project features Bo Jackson in one of the most recognizable plays in sports over the last 25-plus years.
More MLB: Scoreboard | Standings | Probable Pitchers | Sortable Stats | Odds
Today's entry into the Bobblehead Project is among my top three favorites, no doubt about it. I'm thankful any time a player goes out of his way to show off his skills by turning the routine into the spectacular. It's part of what makes the game entertaining. Let's cut right to the video of Bo Jackson running up the outfield wall at Memorial Stadium in Baltimore in 1990:
It was the third inning of a completely forgettable game between two of the worst teams in baseball in the middle of the dog days of summer, Joe Orsulak batting. It was a good catch but not a truly great catch -- I'm thinking pretty much any above-average defensive center fielder runs that ball down. If anyone other than Bo Jackson catches that ball, we stand and applaud and forget about it a week later.
It's what happens after the catch that makes it so remarkable. Jackson might have the been the most talented and physically gifted athlete of the last 30 years or so, and he made sure everyone in the park knew it by running up the wall. It was completely unnecessary and completely awesome. Now, it's time for the bobblehead: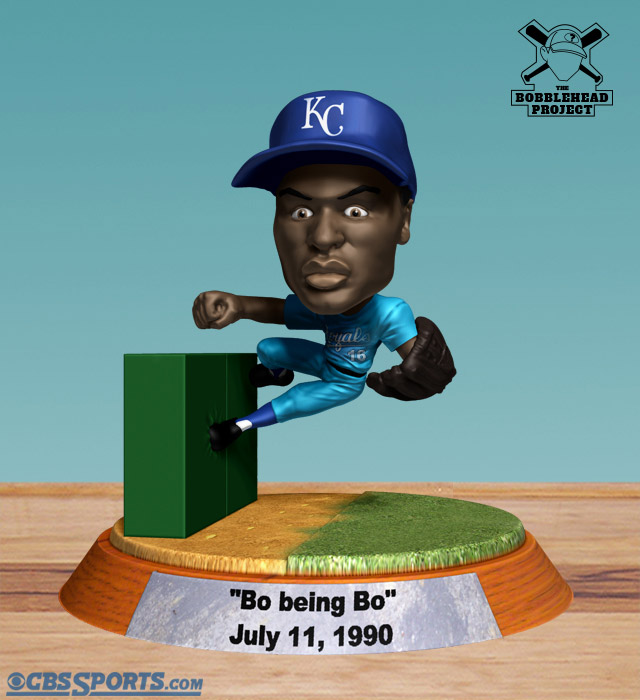 That is a five-star bobblehead right there. It's a promotional gold mine. Ticket sales would be outrageous if the Royals gave them away, and the profits would be great if they simply stuck them on the shelf and sold them with the rest of the merchandise. It's a no-lose situation.
As always, a big round of applause goes out to our artist, Jarod Valentin.
Bobblehead Gallery (click on thumbnail) ...
Bobblehead Gallery (click on thumbnail) ...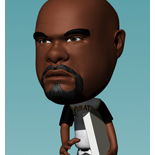 Show Comments
Hide Comments