The Bobblehead Project: Nolan Ryan vs. Robin Ventura
For this week's episode of the Bobblehead Project, we'll look back at a certain fracas that's still talked about to this day.
More MLB: Scoreboard | Standings | Probable Pitchers | Sortable Stats | Odds
Needless to say, this installment of the Bobblehead Project can be filed under "by popular demand."
To set the scene ... Arlington, Texas, August 4, 1993. Third inning, White Sox lead the Rangers 2-0 (in part because of Ventura's first-inning RBI single). Nolan Ryan plunks Ventura was a patented fastball, and after a moment's hesitation Ventura charges the mound ...
And here's an AP headline from the morning after:
And here, at long last, is the bobblehead of this still much-discussed tussle ...
As baseball brawls go, this is as iconic a moment as you'll find.
But, if I may, please allow me to play revisionist historian. First, Ryan's pummeling of Ventura essentially amounts to a series of hastily administered schoolyard noogies. Second, Ventura, as this action-news footage reveals, mounts a comeback in the end ...
Give it to Ryan on the judges' scorecards, but Ventura was in no way Farnsworthed.
Mostly, though, it's long past time that this showdown on the mound be commemorated in bobblehead form forevermore. And that's what we've done. Automatic for the people.
As always, thanks to our artist Jarod Valentin for his championship work.
Bobblehead Gallery (click on thumbnail) ...
Bobblehead Gallery (click on thumbnail) ...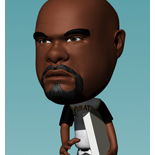 Show Comments
Hide Comments
Our Latest Stories
Kazmir will begin the season on the DL

Tebow struck out twice against Scherzer and got a taste of an elite fastball

It seems unlikely Las Vegas will be atop MLB's list of destinations whenever they expand or...
The Raiders are moving to Las Vegas, but the A's remain committing to staying in Oakland.

Canseco is joining NBC Sports California to provide Athletics coverage this year

Mike Trout played a little prank on the Angels former pitching coach with the help of his...