The Bobblehead Project returns with a Carlos Zambrano tantrum
The Bobblehead Project is back for its first entry of the 2014 season, and it's Carlos Zambrano destroying a Gatorade cooler.
More MLB: Power Rankings | Expert Picks | Latest news & notes | Fantasy news
We're baaaaaack.
After a hiatus of several months, Eye on Baseball is happy to announce that the overwhelmingly popular -- hey, we can overstate things for effect from time to time, right? -- Bobblehead Project is back. And it's back with a beautiful entry. See?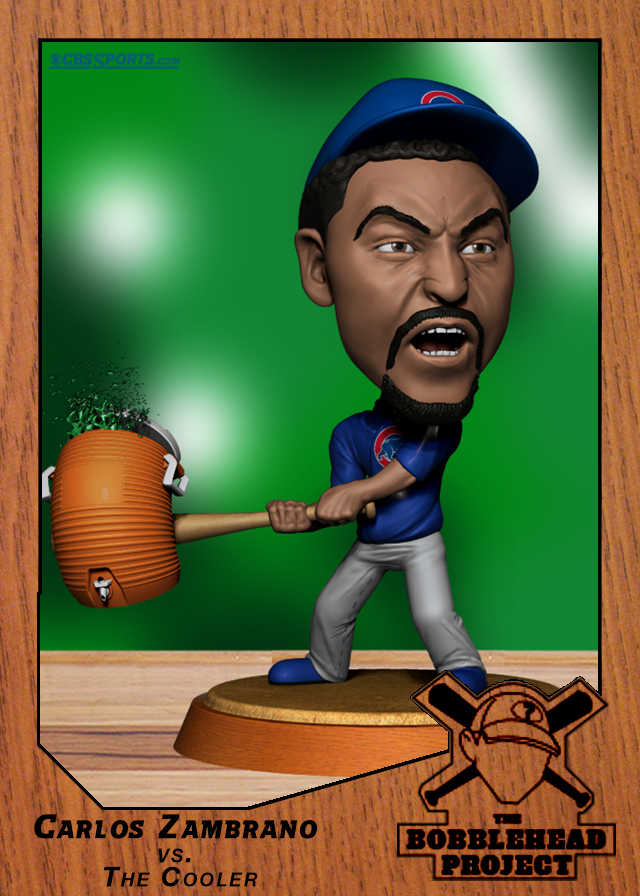 That would be Carlos Zambrano taking out a cooler. You see, he doesn't particularly like coolers when things go wrong. Remember this incredible temper tantrum?
It really is one of the best meltdowns in recent memory.
First, there's the initial outburst in which Big Z does the mock ejection of the umpire while pointing and screaming, "you! YOU!" Next, the launching of the baseball into left field -- when Z clearly wanted to throw the ball onto Waveland Avenue -- is pretty great. Then, of course, we get the baseball bat being taken to the Gatorade dispenser.
Let's also note that we won't likely see anything like this again any time soon. Not only is Big Z likely done playing, but this season a player in his situation would immediately look to the dugout and start yelling to his manager to challenge the call instead of going crazy on the umpire. Man, we've really lost the little things, haven't we? If we can indeed call the above tirade "little."
So, in commemoration of Zambrano's antics, the 2014 arrival of the Bobblehead Project begins with him destroying another Gatorade cooler. I like to imagine both the head and the cooler bobbling. That would make for a cool bobble.
For those who don't know what we do with this fun little project, here's a quick background from the first entry of the Bobblehead Project last season:
In light of all the creative bobbleheads coming up this season, the Eye On Baseball team decided to do a fun little project. Let us imagine what outstanding bobbleheads we'd like to see in the coming years. The only requirements are that the bobbles are baseball-related and that they are actually able to be made into a bobble.

Otherwise, anything goes. And keep in mind, thanks to the Coco Crisp "Bernie Lean" bobble, we now know that parts other than just the head can bobble. In Coco's case, it's his torso. Maybe an arm, a leg, a hand, a finger, etc. It's all about the creativity.
So, to reiterate: These aren't real but they could be. Hopefully they will be someday.
As always, a special tip of the cap and chest bump goes out to our artist, Jarod Valentin. And for those needing to catch up, here's a gallery of the previous entries: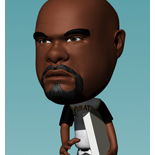 Show Comments
Hide Comments
Our Latest Stories
Israel beat Great Britain 9-1 in Sunday's qualifying round final

The Dodgers walked off with the NL West title during Scully's final home broadcast

How could the huge-market, defending NL West champs be an unlikely division champ?
The Dodgers added depth over dropping serious coin this offseason, and it paid off on Sund...

Scully is calling his final home game on Sunday

Eduardo Rodriguez and Heath Hembree combined to fan 11 straight Rays on Sunday