The Diamondbacks continue to fire verbal shots at the Dodgers
The latest in the Diamondbacks' complaints with the Dodgers is L.A. didn't send a good enough player to Australia to promote next season's opening games.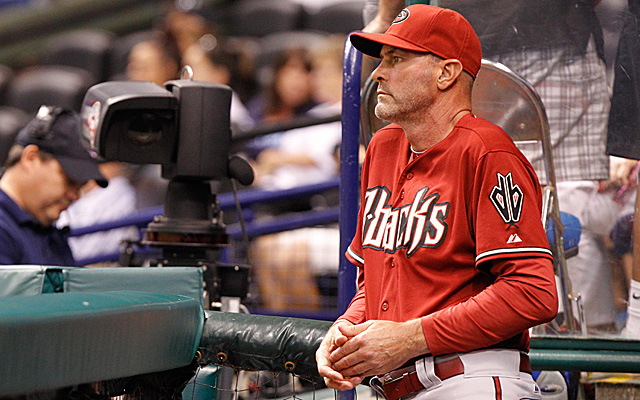 The Diamondbacks had several issues with the NL West champion Dodgers this past season, with the highest profile issues being the big-time brawl in Los Angeles and the D-Backs' anger about the Dodgers celebrating the NL West title in the Chase Field pool.
More recently, Arizona owner Ken Kendrick said "we owe those guys," regarding the Diamondbacks and Dodgers squaring off in Australia to begin the 2013 season.
Speaking of that trip, the two clubs recently sent some personnel over to promote the event. The D-Backs sent All-Stars Paul Goldschmidt and Patrick Corbin along with club president Derrick Hall. The Dodgers sent catcher A.J. Ellis.
And Arizona manager Kirk Gibson believes this sends the message that his D-Backs are the more committed organization (via azcentral.com).
"Look at the guys who went down (on a goodwill tour of) Australia for us. Why did they do it? It's who we are. It's who the Diamondbacks are. We're committed to the game of baseball. We're committed to the community. I'll put our organization up against anybody's in terms of doing the right thing.

"We had Goldy go down there, along with Patrick Corbin and Derrick Hall, our president and CEO. Who's the other team got down there? Are they too (expletive) good? Honestly?"
Some of the Dodgers bigger names have legitimate excuses. Clayton Kershaw is in Zambia doing charity work, while Yasiel Puig has been working with Los Angeles youth of late. There are others who could have been sent that are more recognizable than Ellis, though, I guess.
But seriously, taking all things into account, Gibson's really made a mountain out of a molehill here.
Hat-tip: Baseball Think Factory
Show Comments
Hide Comments