The Lineup: Braves pitchers dominate; Cubs own Pirates
It's The Lineup for Saturday morning, starring the Braves pitchers, Jimmy Rollins, Kendrys Morales, the Reds offense, Andrew Cashner, the Cubs' ownership of the Pirates, the awesome O's-A's series, Zack Greinke in Kansas City and the awesomeness that is Lew Ford.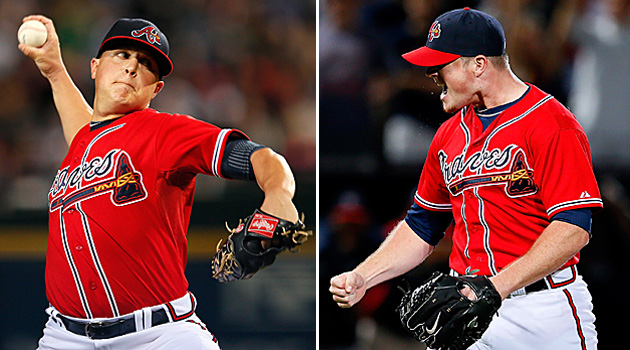 A preview of what the

Atlanta Braves

can do in the wild-card round. (Getty Images)


Fancy meeting you here. Ready for The Lineup? You better be ...

Full Friday scoreboard with recaps and box scores for every team








3 UP

Braves pitchers: This is what will make the Braves scary in the one-game wild-card round of the playoffs. They can start Kris Medlen -- Braves have won his last 20 starts, by the way -- and then use their dominant forces in the bullpen behind him. Friday night, Medlen punched out a career high 13 hitters in seven innings. He only allowed one run, a solo homer off the bat of Bryce Harper . Eric O'Flaherty worked a perfect eighth and Craig Kimbrel followed with a spotless ninth. Get this: Kimbrel only needed 10 pitches to strike out all three hitters he faced. He didn't even throw a ball, as the extra pitch was a foul ball with two strikes. All three pitchers combined for 17 strikeouts and made Washington Nationals ' hitters look silly frequently. That is, the Nationals who have the best record in the majors.

Jimmy Rollins , Philadelphia Phillies : Rollins led off the game with a home run Friday night in an eventual 12-6 victory over the lowly Houston Astros . And, yes, the Phillies are still lurking in the NL playoff race. But we're giving Rollins a nod here because he's been swinging a hot bat since he was benched for a lack of hustle. In the 14 games since the benching, Rollins has hit .300/.348/.583 with five homers, 10 RBI and 11 runs. He also now has 20 homers in a season for the first time since 2009.

Kendrys Morales , Los Angeles Angels : He only got one at-bat, when he pinch hit in the top of the eighth for Chris Iannetta . The Kansas City Royals even brought in left-hander Tim Collins to turn Morales around to the right side of the plate -- where he's usually a pretty bad hitter (.209/.254/.403 coming in). Morales went big fly, hitting a two-run home run to tie the game. The Angels would eventually win 9-7.

3 DOWN

Cincinnati Reds ' offense: They're going to cruise to the NL Central title and slumps happen to every team, but the Reds' recent funk at the plate has to be at least mildly concerning here in mid-September. Friday night, for the first time since June 28, the Reds didn't score a run. That's impressive, but a club can struggle without being shut out. The Reds are now averaging 2.67 runs per game in September. Here's how it looks game-by-game: 1, 5, 2, 2, 2, 3, 5, 1, 4, 5, 2, 0. Five of those games came against the Astros, too. So, again, it's no time for panic, but I'd at least start to become mildly concerned.

CC Sabathia , New York Yankees : Something is wrong with him, that's for sure.

Andrew Cashner , San Diego Padres : His first inning on the hill couldn't have been much fun. It went as such: Single, hit by pitch, single, double, double, groundout, single, single, sac bunt, strikeout. So out of 10 hitters, he only recorded two outs that weren't given to him. This was in Petco Park -- one of the most pitcher-friendly parks in the majors -- by the way. Cashner ended up only lasting 3 2/3 innings, coughing up 10 hits and six earned runs.








Chicago Cubs own Pirates: The Cubs seem to be pretty adamant that the Pirates' streak of non-winning seasons continues. Last weekend, the Cubs took a six-game losing streak into Pittsburgh Pirates and swept the Pirates in three games. Friday afternoon, the Cubs beat the Pirates again. And the Pirates are now only one game above .500. Will the Cubs complete the job Saturday and knock the Pirates down to .500 for the first time since June 2? Jeff Locke (0-1, 4.11) tries to stop the bleeding for the Pirates while Jason Berken (0-0, 18.00) makes his Cubs debut. 1:05 p.m. ET

A's-O's, Take II: Go back to the spring and envision the most intriguing series in mid-September being the Oakland Athletics hosting the Baltimore Orioles . You'd have been branded insane. But, really, it is the best series of the weekend in my opinion. Friday night, the A's took a barnburner, 3-2. The game ended on a caught stealing and the Orioles actually lost a one-run game (we know how rare that is). Saturday night, it'll be the second game of the series. For the Orioles, Zach Britton (5-2, 4.72) will be looking to get back on track after a bad outing last time out broke his personal hot streak. The A's send talented youngster Jarrod Parker (10-8, 3.56) to the mound. 9:05 p.m. ET

Greinke in K.C., Take II: Zack Greinke (5-2, 4.15 with Angels) spent the first seven years of his MLB career with the Royals. He won the 2009 Cy Young there. Now he's with the Angels and returns to his former home Saturday. He pitched in Kauffman Stadium earlier this season, as a member of the Milwaukee Brewers on June 12. He fared very well, working seven innings and allowing only one run while striking out eight. This will be the first time he returns as the member of an American League team. Jeremy Guthrie (4-3, 3.23 with Royals) is Greinke's counterpart. 7:10 p.m. ET

Saturday's probable pitchers








• Minor stars: Baseball America has named its 2012 Minor League All-Star team. Lots of familiar names on there, like Mike Olt , Jurickson Profar , Wil Myers, Dylan Bundy and Billy Hamilton.

• Data-lovers dream: Baseball Prospectus is no stranger to crunching all the numbers a stat-hound should ever need, and here's yet another one. They have introduced pitch sequence visualizations. Basically, it could help fans find patterns in how pitchers work certain hitters in certain counts.

• Lew Ford is awesome: Here's a must-read (it's short and sweet, by the way) about Orioles outfielder Lew Ford hanging out with fans back in his minor-league days (2009, Long Island Ducks). Fans threw him a baseball that contained a written message asking him to hang out with them at a bar after the game. Ford was asked to check either "yes," "no" or "maybe." He checked yes and went out with them. Awesome. (Startribune.com)

• Top 10 errors ever: Big League Stew has taken the time to rank the top 10 biggest errors in major-league history. Yes, you'll see Bill Buckner there, but not at No. 1. Also, props to 'Duk for again reminding the masses that shorstop Alex Gonzalez deserves much more blame than a headphone-wearing fan for the Cubs' epic Game 6 collapse in the 2003 NLCS.

• Before "Moneyball," there was "Billy Ball:" Hardball Times takes a look back at when Billy Martin led his ragtag A's to the 1981 AL West title with "Billy Ball." Ragtag A's headed to the playoffs? Hmm, feels like we're seeing the same thing, no?

For more baseball news, rumors and analysis, follow @EyeOnBaseball on Twitter, subscribe to the RSS feed and "like" us on Facebook.
Show Comments
Hide Comments