The Lineup: Bryce Harper's first walk-off
Rounding up Tuesday night, preparing for Wednesday and hitting some Internet links. It is The Lineup, leading off with a possible "first of many" moment.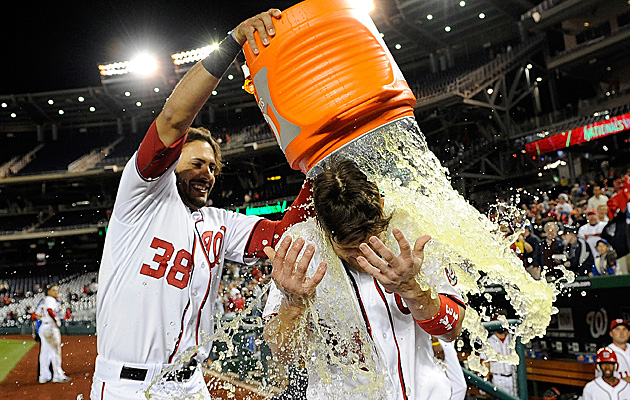 We had a full slate of games Tuesday night with many memorable moments, but all paled in comparison to one of them.
Tuesday night's full scoreboard, with recaps and box scores for every game
3 UP

Bryce Harper

,

Washington Nationals

:
The best guess is this was the first of many. The 19-year-old phenom, who just keeps living up to his other-worldly hype, ended a marathon game with a 12th-inning, walk-off single. He's now hitting .288 with power, walks, speed and zeal. Remember last year at this time when we
thought
he was
going to be
special? He already is. And he's not even turning 20 until the playoffs.
Logan Forsythe

,

San Diego Padres

:
How about a walk-off home run for your first career home run? That's exactly what Forsythe pulled off Tuesday night. It was a no-doubter, too, even in spacious Petco Park.
Ubaldo Jimenez

,

Cleveland Indians

:
Trading last July for the enigmatic Jimenez continues to be a hot topic of discussion surrounding the Indians. He's so inconsistent and seems to rarely have good command, yet we know there is talent hiding in there. Tuesday night, it was Good Ubaldo against the
Detroit Tigers
, as he worked 6 2/3 innings, giving up only five hits and one run. The best part, though, had to be that Jimenez only walked one hitter -- especially considering he threw only 55 strikes out of 102 total pitches.
3 DOWN

Tampa Bay Rays

' defense:
An
Elliot Johnson
throwing error gave the
New York Yankees
two runs in the first, which would turn out to be all they need to beat the Rays, 7-0. But it didn't stop there, as
Ben Zobrist
would commit two errors of his own before this thing was wrapped up. The Rays have become known for their defense under Joe Maddon, but they have now committed 49 errors and allowed 31 unearned runs this season. Only the
Baltimore Orioles
and
San Francisco Giants
have more errors.
Homer Bailey

,

Cincinnati Reds

:
The
Pittsburgh Pirates
are above .500 because they have a really good pitching staff. They still have a bad offense. Even after scoring eight runs Tuesday, they still rank dead last in runs scored in the majors. And Homer Bailey coughed up eight hits and six runs in just three innings against that offense. That's terrible.
Jeremy Guthrie

,

Colorado Rockies

.
With
Justin Upton
and
Paul Goldschmidt
on the bench, the
Arizona Diamondbacks
worked Guthrie over, to the tune of 11 hits and seven earned runs in 3 1/3 innings.
Perfect Game Watch:
The
Chicago Cubs
wasted all 10 of their runs for the series in the opener Tuesday night. Wednesday, they get
Zack Greinke
(6-2, 3.46), who is 3-0 with a 1.30 ERA, 0.84 WHIP and 40 strikeouts against only six walks in 34 2/3 home innings this season. And we know the Cubs' offense is real bad, Tuesday night's outburst notwithstanding.
Paul Maholm
(4-4, 4.82) gets the nod for the Cubs.
8:10 p.m. ETSneaky-great matchup:
The
Chicago White Sox
entered the series as baseball's hottest team, having won 14 of 16 games, but the
Toronto Blue Jays
tripped them up Tuesday night, 9-5. Wednesday, it'll be
Brandon Morrow
(6-3, 3.28) of the Jays against 23-year-old
Jose Quintana
(1-0, 1.69) and the White Sox. This is the most intriguing game of the night between two good -- and kind of underrated -- teams.
8:10 p.m. ETMiami's revenge?
The
Miami Marlins
were thoroughly embarrassed Tuesday night, 11-0, by the
Atlanta Braves
. Still, it's only one game and they'll get a chance for payback Wednesday night. It'll be
Josh Johnson
(3-5, 4.83) for the Fish and
Randall Delgado
(3-5, 4.58) for the Braves.
7:10 p.m. ET
Wednesday's probable pitchers
•
Let's get social:
Major League Baseball continues to embrace social media, as there will be computer stations set up during the Home Run Derby and All-Star Game for players to interact with fans via Twitter. It's a great idea to promote fan interest, but I'm sure someone will find a way to complain about it. (
MLB.com
)
•
The Animal:
Remember George "The Animal" Steele, from the old WWF days? Apparently he's now 75 years old, and just threw out the first pitch at a minor-league game last week. And before the pitch, you guessed it, he tore into the baseball like it was a turnbuckle.
Big League Stew has the video
.
•
Golden Spikes finalists revealed:
The Golden Spikes Award is baseball's version of the Heisman Trophy, only without the endless debates, hype, name-calling and whining. The three finalists were revealed Tuesday and they are Mark Appel (Stanford), Mike Zunino (Florida) and Carlos Rodon (NC State). (
MLB.com
)
•
Fun coincidence:
Gavin Cecchini was the
New York Mets
' first-round pick Monday night. His workout with the club was Friday, and he stuck around to take in the Mets' game that night against the
St. Louis Cardinals
. So, yeah, he saw
Johan Santana
's no-no. That's pretty cool. (Associated Press)
•
Must-have for vintage Pirates fans:
Back in 1976, Dave Parker wore a shirt that read "IF YOU HEAR ANY NOISE IT'S JUST ME AND THE BOYS BOPPIN." Well, you can buy a replica of that shirt for $28. (
Homage.com
)
•
Computer baseball, Old Hoss style:
Old Hoss Radbourne was a pitching great in the 1800s.
He's also an awesome baseball personality on Twitter
, from the grave. And now, there is
Old Hoss 1K884 (like MLB 2K12) Base Ball!
•
MLB and ... Victoria's Secret?
Yep. "The MLB and Victoria's Secret PINK product line is the latest effort by Major League Baseball to provide its extensive female fan base with new and fashionable ways to support their favorite team." (
Bellinghamherald.com
)
For more baseball news, rumors and analysis, follow @EyeOnBaseball on Twitter, subscribe to the RSS feed and "like" us on Facebook.