The Lineup: Floyd comes up big for White Sox; Brewers still scorching hot
It's time for The Lineup, starring Gavin Floyd, the Brewers' wheels, Tim Lincecum, Andy Pettitte, King Felix vs. the Orioles, the Cubs' loss of a fictional championship and the slowest pitches of the year.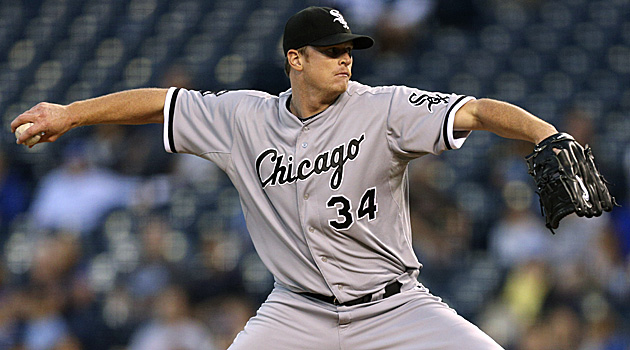 Floyd's good outing had to be encouraging for the White Sox. (Getty Images)


There were three postponements due to weather before any games were actually played Tuesday night, but there was still plenty of action, including the emergence of a legitimate triple-crown threat. He got his own article, so we'll concentrate elsewhere.

Full Tuesday scoreboard with recaps and box scores for every game








3 UP

Gavin Floyd , White Sox: With Jose Quintana faltering a bit of late, the White Sox need some clarity in their rotation behind Jake Peavy and Chris Sale . Perhaps Floyd's solid outing Tuesday night is a sign he's fully over his injury woes and could fill the spot of a good No. 3 starter heading toward the playoffs. Floyd worked seven efficient innings, needing only 78 pitches, and allowed five hits and two earned runs in picking up his 10th victory of the year. The Detroit Tigers won big, so the Sox maintained their three-game lead in the AL Central.

The Running Milwaukee Brewers : The Brewers won, again, and are now 21-6 in their last 27 games. It was the manner in which this one happened that was noteworthy, though. The Brewers pounded out 13 hits, but none were of the extra-base variety. Instead of power, the Brewers ran the Pirates to death, stealing seven bases without being caught once.

Tim Lincecum , San Francisco Giants : He's clearly not ace-caliber, but the right-hander is now 7-4 with a 3.06 ERA and 79 strikeouts in 79 1/3 innings since the All-Star break.

3 DOWN

Tampa Bay Rays ' chances at the playoffs: They've now lost two straight to the Boston Red Sox and sit five (six if O's win) games back in the wild-card race. Only 14 games remain and the Rays would have to jump over the Los Angeles Angels before getting a shot at the final playoff spot.

Tanner Scheppers , Texas Rangers : This is about as rough as a night can get for a reliever. He entered the game with the bases loaded in the bottom of the fourth inning. The game was tied. Scheppers' second offering was a wild pitch, scoring Chris Iannetta from third base, but it didn't stop there. Scheppers was injured on Iannetta's slide and laid on the ground holding his knee while Mike Trout came home to score another run. And Scheppers departed with a bruised knee. So, like I said, rough night.

A.J. Griffin , Oakland Athletics : The rookie ran into an offensive buzzsaw Tuesday night, as the Tigers teed off on him. Griffin entered the game 6-0 with a 1.94 ERA. He was battered Tuesday to the tune of eight hits and five earned runs in 4 2/3 innings. He allowed as many homers (three) as guys he struck out.








He's back: Andy Pettitte returns to the hill for the first time since a line drive fractured his fibula June 27. He returns to a first-place team, but one that is locked into a dog fight in the AL East with the Baltimore Orioles . A postponement due to weather means the Yankees and Toronto Blue Jays are playing a double-header. Pettitte (3-3, 3.22) gets the first game against Henderson Alvarez (9-12, 4.91). 1:05 p.m. ET

Can Brewers stay hot? They're still 2.5 out of the final NL playoff spot, so they need to. They'll square off against the Pirates again Wednesday night in Pittsburgh Pirates . Marco Estrada (3-6, 3.77) is 3-1 with a 1.52 ERA in his last five starts, so he'll look to stay hot against the slumping Pirates offense. Kyle McPherson (0-0, 1.54) takes the hill for the home team. 7:05 p.m. ET

Power on power: The Orioles have five players with more than 20 homers and a few more with plenty of pop. They'll get to face one of the elite pitchers in baseball Wednesday night, in Seattle Mariners 's Felix Hernandez (13-8, 2.92). Joe Saunders (2-2, 4.30 with Orioles) is the counterpart. 10:10 p.m. ET

Wednesday's probable pitchers








• Cubs lose fictional World Series title: NBC's new science-fiction show "Revolution" has a scene in the previews, from The Pilot, that shows some people walking by a vacated Wrigley Field. The premise is that the entire world lost power and it's now an entirely different world in 2027. So the vacated Wrigley Field part isn't really noteworthy, but on the famous red marquee it said "2012 World Series champions." At least, that's what it said when clips were first released in the spring. In the actual series premiere, that part of the marquee was blank. Chicagotribune.com has the before and after pictures.

• Slowing it down: Baseball Prospectus examines the slowest pitches of the season, with a caveat. If the ball slipped out of the pitcher's hand -- a la this beauty from Barry Zito (scroll all the way to the bottom of Pepper) -- was an intentional ball, BP weeded them out. Under these criteria, other than two Vicente Padilla eephus pitches, there was one pitch that didn't hit 50 miles per hour this season. Congratulations, Randy Wolf .

• To party, or not to party? With the four wild-card teams only getting a guarantee of one playoff game, should clinching one of those spots be cause for celebration? The Wall Street Journal online takes a look.

• MVP criteria: I love this one. "The MVP should be the baddest dude in the league," Pirates manager Clint Hurdle said (MLB.com).

• Quote of the day: There's a 28-nation qualifying tournament for non-traditional baseball powers to get into the World Baseball Classic beginning Wednesday. In the New York Times story about the Isreali team, it is noted that eligibility requires are pretty loose. All a player needs to do is marry someone who is Jewish. So ...
"If we only could get a nice Jewish girl to marry

Albert Pujols

, he could be at first base for us," Peter Kurz, the American-born secretary general of the Israel Association of Baseball, said in a bit of reverie.
For more baseball news, rumors and analysis, follow @EyeOnBaseball on Twitter, subscribe to the RSS feed and "like" us on Facebook.
Show Comments
Hide Comments