The Lineup: R.A. Dickey's bounces back, Cliff Lee still winless
Mets knuckleballer R.A. Dickey struck out 10 batters, the fifth time this season he's recorded double-digit strikeouts. Meanwhile, Phillies starter Cliff Lee remains winless after failing to go five innings in Philadelphia's loss in Miami.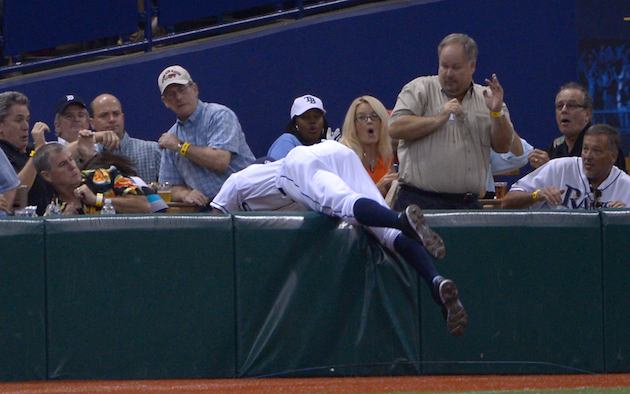 The San Francisco Giants ' streak of 36 shutout innings was snapped on Matt Cain 's first pitch of Friday night, as Cincinnati's Zack Cozart homered to lead off the Cincinnati Reds ' 5-1 victory over the Giants. While San Francisco didn't record a shutout, there was one shutout thrown by a starter on Friday, and it was from an unlikely source.

Full Friday scoreboard with recaps and box scores for every game







3 UP

Desmond Jennings , Tampa Bay Rays : You take Justin Verlander deep twice and make a catch diving into the stands? Not too shabby. Not too shabby, Mr. Jennings.

Aaron Cook , Boston Red Sox : Cook recorded his third career shutout and first since 2009, throwing a two-hitter against the Seattle Mariners . Cook needed just 81 pitches to down the Mariners. He only struck out two batters, but didn't walk anyone.

R.A. Dickey , New York Mets : Dickey had a one-hitter into the eighth before giving up two hits in his final frame. Still, he rebounded from his shaky start against the New York Yankees by striking out 10 Los Angeles Dodgers in eight innings. The only hit he allowed over the first seven innings was a blooper by Los Angeles Angels starter Aaron Harang . It was his fifth 10-strikeout game of the season. Entering 2012, he'd struck out 10 batters in a game just once. He picked up his 12th win of the season, the most in the majors.

3 DOWN

Adam Warren , Yankees: Not only was he no CC Sabathia, the rookie was no Dewayne Wise . Making his big-league debut for the injured Sabathia, Warren didn't make it out of the third inning, giving up six earned runs on eight hits and two walks in 2 1/3 innings. Wise finished up the game by retiring the only two batters he faced in the ninth inning.

Cleveland Indians defense: Cleveland starter Derek Lowe was put in a hole early when two of the first three Baltimore Orioles batters reached base on errors by first baseman Casey Kotchman and shortstop Asdrubal Cabrera . The Orioles had a run befor ethey had a hit -- and went on to score three in the first inning thanks to the Indians' miscues.

Cliff Lee , Philadelphia Phillies : After giving up six runs in 4 2/3 innings against the Miami Marlins on Friday, Lee's allowed five or more earned runs in each of his last three starts. He's 0-5 on the season with a 4.13 ERA and the Phillies are 3-10 in games he's started.







Lookin' good: For purely aesthetic reasons, I'll be tuning in to the Detroit Tigers and Rays on Saturday. The Rays are donning their idea of what a 1979 Tampa Bay Rays uniform would look like. Meanwhile, the Tigers will be wearing uniforms that look like the ones they actually wore in 1979. The Rays' unis are certainly San Diego Padres -inspired, but I'll be interested to see if enough players go full out and wear the high stirrups of the era. 7:15 p.m. ET

Perez starting: Texas Rangers top pitching prospect Martin Perez made his big-league debut earlier this week, giving up four runs (one earned) on two hits and a walk in just 2/3 of an inning. He'll get his chance to show that his debut was just a hiccup, as he starts Saturday against the Oakland Athletics A's. Perez was 5-5 with a 4.59 ERA in 15 starts at Triple-A Round Rock. 7:15 p.m. ET

Beckett's back: The Red Sox are expected to activate Josh Beckett off the disabled list in time for Saturday's game in Seattle. He hasn't started since June 11 because of right shoulder inflammation. Beckett had gone at least seven innings in his six starts before going on the DL, going 2-3 with a 2.68 ERA in that stretch. He'll face off against Seattle's Erasmo Ramirez , who is making his fourth start for the Mariners and looking for his first win. 10:10 p.m. ET

Saturday's probable pitchers







• The Bundy plan: The Orioles will allow prized prospect Dylan Bundy to start throwing 100 pitches late in July. Bundy has not pitched more than five innings in any start this season, his first in pro baseball. The right-hander is 5-2 with a 1.53 ERA for low-Class A Delmarva and high-Class A Frederick. [MASNSports.com]

• Let's make a deal: You're not going to get season tickets for giving back some guy's first home run ball, but it doesn't hurt to ask. [MLB.com]

• Safeco at home: Mariners manager Eric Wedge is sick of hearing the excuses about the ballpark when discussing his team's lack of offense. Instead, he wants his team to embrace its home and use it to their advantage. [MLB.com]

• Big-league steak: Matt Kemp, CC Sabathia, Justin Verlander and Shane Victorino play Zagat and give their best steak recommendations to USA Today. I can only vouch for one of them -- Sabathia's suggestion of The Precinct in Cincinnati, that's darn fine piece of flesh.

• Hot dog? There's an app for that: You can now order food to be delivered from your seats on the MLB.com At the Ballpark app at Chase Field in Phoenix, Minute Maid Park in Houston Astros , Citi Field in New York, Marlins Stadium in Miami and Citizens Bank Park in Philadelphia. [MLB.com]

For more baseball news, rumors and analysis, follow @EyeOnBaseball on Twitter, subscribe to the RSS feed and "like" us on Facebook.
Show Comments
Hide Comments