The Lineup: This time Rays stop Jays at the plate, while error seals Reds' fate
For the second straight game between the Blue Jays and Rays, the game ended with a play at the plate. This time it was Tampa Bay making the big defensive play. In Houston, Reds replacement second baseman Wilson Valdez couldn't make the most basic of plays, costing Cincinnati the game.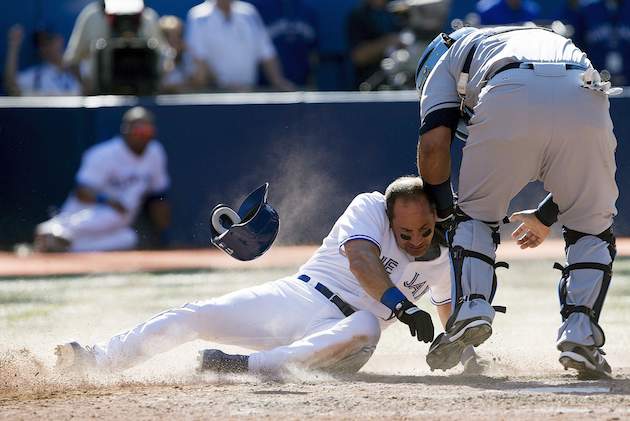 Omar Vizquel couldn't get around Jose Molina. (AP)
Behind Max Scherzer , the Detroit Tigers moved to within a game of the first place Chicago White Sox on Saturday, while Pittsburgh Pirates continues to flounder. As we enter the last full month of the season, there's plenty of excitement around baseball, so let's get to it… 
Full Saturday scoreboard with recaps and box scores for all games






3 UP
Jose Molina, Rays: For the second straight game, the Rays and Blue Jays game ended with a play at the plate. Friday night the Jays' got Elliot Johnson at the plate. Saturday afternoon, it was the Rays who got their final out at the plate, as B.J. Upton threw home to get Omar Vizquel at home. But it was the catcher Molina who made the superlative play. Molina had to go up and get the high throw all while blocking the plate. Vizquel tried to get around Molina, but was unable to do so.
Mark Trumbo , Angels: Trumbo struggled mightily in August, hitting just .204/.263/.287 last month, but if his confidence was waivering, it was boosted on the first day of September. Trumbo hit a two-run single in the Angels' four-run eighth to give Los Angeles Dodgers a victory over Felix Hernandez and the Seattle Mariners . Hernandez elected to pitch to Trumbo with first base open and Trumbo made him pay with only hit of the day. Hernandez picked up his first loss since June 12.
David Freese , Cardinals: St. Louis Cardinals had scored but a single run in its last four losses while giving up 32. The Cardinals' pitchers didn't quite get it together on Saturday, allowing 9 runs, but the hitters more than made up for it, especially Freese. Freese homered and doubled, driving in three overall. His ninth-inning single off of the Washington Nationals ' Drew Storen gave the Cardinals the victory.
3 DOWN
Wilson Valdez , Cincinnati Reds : In for the ejected Brandon Phillips , Valdez let a bases-loaded, two-out grounder by Jose Altuve roll between his legs, good for an Houston Astros ' walk-off victory, 2-1. Phillips was ejected in the top of the eighth after arguing a check swing on a strikeout. 
Justin Ruggiano, Marilins: Down to their last out, the Mets had the bases loaded down a run when Kelly Shoppach hit a ball back up the middle. New York Mets was going to tie the game, but Ruggiano had a chance to get the go-ahead run, Jason Bay , with a good throw to the plate. He never got to throw it, as the ball rolled under his glove, allowing not only Bay to score the go-ahead run, but also an insurance run. New York held on for the 5-3 victory.
Orioles' seventh: Baltimore Orioles entered Saturday's game 8-54 when trailing after the seventh inning. So it was imperative they were able to hold their 3-1 lead in the seventh against the Yankees on Saturday. Starter Wei-Yen Chen gave up two hits and a walk in the inning and was pulled after Eduardo Nunez's single that made it 3-2. Pedro Strop relieved him and promptly walked the first two batters he faced to tie the game before shortstop J.J. Hardy 's error on Nick Swisher 's grounder gave New York the lead. And Baltimore is now 8-55 when trailing after the seventh inning.





Rubber match: In the first two three-game series of the season at Yankee Stadium, the Orioles have managed to win two of three both times. In this, their third and final trip to the Bronx this season, the Orioles and Yankees have split the first two games, leaving it up to Chris Tillman continue the trend. Tillman picked up a victory in his only start at Yankee Stadium earlier this season, but allowed five runs (four earned) on eight hits in five innings. Phil Hughes lost his only start against Baltimore this season, but over his last three starts he has an ERA of just 1.29, going seven innings in each of those starts. 1:05 p.m. ET
Penultimate Strasmas of the season? Stephen Strasburg has been told he has "two or three" starts remaining this season, so perhaps it's time we savor those starts? The right-hander has thrown 150 1/3 innings and gave up a career-high seven runs in his last outing. St. Louis' Jake Westbrook has struggled lately, too. He's allowed 12 earned runs and 18 hits in his last 10 innings. 1:35 p.m. ET
Cy Young showdown: As if a showdown between the top two teams in a division wasn't good enough, what about Justin Verlander vs. Chris Sale ? Verlander is 12-7 with a 2.80 ERA, while Sale is 15-5 with a 2.81 ERA. 8:06 p.m. ET
• Free Ryno: Jerry Crasnick of ESPN.com checks in with Hall of Famer Ryne Sandberg, who is finishing up his sixth season as a minor-league manager. How long must he wait to get a shot at managing in the big leagues?
• Dallas does steroids: If you haven't read Dirk Hayhursts' two books, The Bullpen Gospels and Out of My League, they're both extremely entertaining reads of minor-league life. Hayhurst uses pseudonyms for all of his characters, so as not to incriminate anyone. On his blog, Hayhurst tells the story of one of his "characters" and his admission that he'd done steroids in junior college and the reaction from his teammates.
• Little big league: Jonny Gomes and the Oakland Athletics welcomed the Little League team from Petaluma, Calif., on the field on Friday. The Petaluma team finished third at the Little League World Series. Gomes is originally from Petaluma, so he took special pride in the team's run. [MLB.com]
• 'Baseball is life': Andy Martino of the New York Daily News talks to author Paul Auster about his love of baseball.
• Confessions of a ball girl: Just as suspected, little kids have the best shot at a foul ball from a ball girl. [ San Diego Padres Union-Tribune]
For more baseball news, rumors and analysis, follow @EyeOnBaseball on Twitter, subscribe to the RSS feed and "like" us on Facebook.
Show Comments
Hide Comments