The Nationals are headed to the World Series (just not this year)
The disappointing Nationals have made a late run, and have a long-shot chance at a playoff spot. But they won't make it, not until next year.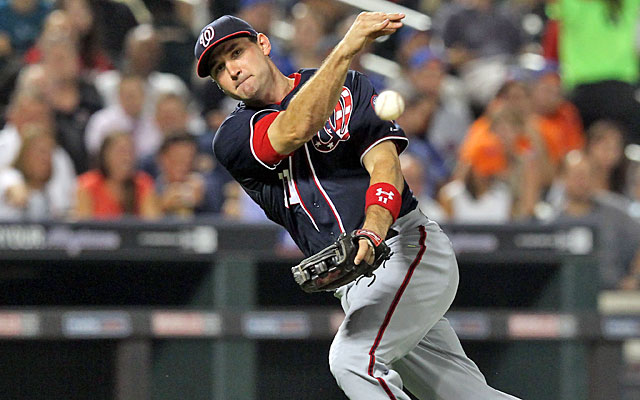 NEW YORK -- The Nationals are headed to the playoffs.
I'm convinced.
But it's not happening this year.
Their run over the past month has been impressive. If Matt Snyder's Power Rankings are supposed to tell you the best teams in baseball right now, I'm telling him the Nationals belong in the top 10, maybe even in the top half of the top 10.
If they somehow did get to the postseason, I'm not so sure they wouldn't win it all, just as we told you back in April (see, we were right ... sort of!).
But they're not getting to the playoffs, despite all the recent wins, despite Jayson Werth's efforts at the plate and despite Werth's efforts to compare the Nats to the 2007 Phillies, who famously were seven games behind the Mets with 17 games to play.
The Nationals are six games behind the Reds with 17 games to play as of Thursday morning. Their 76-69 record is exactly what Werth's 2007 Phillies were after 145 games.
Can they go 13-4 the rest of the way, as the Phillies did? Possible, but doubtful. Will the Reds go 5-12, as the Mets did? Possible, but even more doubtful.
But the Phillies benefitted by playing the Mets head-to-head (they swept them). The Nationals don't play the Reds.
It's not happening. Not this year. But what has happened over the past month makes it even more puzzling that the Nationals are in this predicament -- and more likely that it won't happen again in 2014.
"These guys are going to be good for a long time," one scout who has followed the Nationals (and their strong farm system) said this week.
This is a team that's going to provide a dream job for some lucky baseball man who gets to succeed Davey Johnson as manager (Matt Williams is the name we've heard, although Nationals bench coach Randy Knorr is getting increasing support from within the organization). This is a team that could well go into 2014 as the favorite to win the NL East (despite not coming close to the Braves this year), or even to win it all (despite almost certainly missing the playoffs this year).
The Nationals should go into spring training 2014 feeling every bit as good about themselves and their chances as they did this past spring.
"I'd feel even better, because we have the experience of this year," reliever Drew Storen said.
It was quite an experience, just as valuable (or even more) than what came out of the Nationals' surprise 98-win season and playoff berth (and sudden, stunning playoff exit) in 2012.
That one was all good; this one was filled with challenges from the start, even before Johnson issued the "World Series or bust" proclamation -- the one that he now wants to claim was based on some roster assumptions that didn't pan out (oh, so it's the front office's fault?).
Johnson is working on some revisionist history, pointing to general manager Mike Rizzo's failure to adequately replace left-handed relievers Sean Burnett and Mike Gonzalez or to adequately stock the Nationals' bench.
"You can't have any weaknesses," Johnson said. "You don't win with 18-20 guys. You win with 25. You can't have any cracks in the armor."
He's right, but none of that really explains why the Nationals didn't break .500 for good until Aug. 27, or why they were 28th in the majors in runs scored as recently as Aug. 8. Johnson had a fine career as a player and an even better career as a manager, but the fact is that his final team seriously underachieved, whether he should get the blame for it or not.
Some Nationals players suggest that they didn't react well at first to the great expectations this year. Leadoff man and center fielder Denard Span admits that his so-so early season could have been caused in part by trying too hard to impress after changing teams for the first time in his career. Third baseman Ryan Zimmerman told reporters this week that his shoulder was a bigger early season problem than he let on.
Several early Nationals losses could be pinned directly on some of Zimmerman's 21 errors, enough so that you could argue they will be the difference in making the playoffs or not. Zimmerman's throwing has improved, but remains enough of an issue that the Nationals will at least need to discuss the idea of moving him to first base in 2014.
Anthony Rendon could easily step in at third, but moving Zimmerman would require trading Adam LaRoche (and eating much of the $14 million remaining on his contract), and also finding a second baseman (since Rendon has been filling in there ably for the hugely disappointing Danny Espinosa). And Zimmerman's throwing has improved enough lately that the betting now is that he'll remain at third for at least one more year.
Leaving the infield as is for another year would free Rizzo and his staff to tackle other issues, starting with finding the right manager and moving on to perhaps adding another veteran starting pitcher (Dan Haren is a free agent and unlikely to return), improving the bench and the middle of the bullpen.
The fixes don't sound major, and they're not. Unless they find a way into the playoffs, the Nationals will go down as one of 2013's most disappointing teams -- but not one of the most flawed. They aren't the Angels or the Blue Jays, two teams that began with equally high expectations but were exposed as fatally flawed.
"I think we have enough talent in this room to compete for the World Series," Span said. "We have the bats. We have the arms."
"The way we're playing right now, we can match up with the best," 17-game winner Jordan Zimmermann said. "It was ugly the first three or four months, but I wouldn't mind playing the best team in the league now, whoever that is."
It was supposed to be the Nationals. If you took a snapshot right now, it may still be the Nationals.
"If the season went on another month, they might win it," said one scout watching the Nationals this week. "Especially if they could keep playing this schedule."
An easy schedule has no doubt helped fuel the revival -- a 22-9 stretch that has given the Nationals their long-shot hope. An offensive breakout has them third in MLB in runs scored over the past month (after being third from the bottom before that).
The schedule the rest of the way offers series against the Braves and Cardinals, two teams that will be playing in October. Barring what still would qualify as a miracle, the Nationals will be home by then.
Home this October. Playing next October.
As much as I hate doing predictions, I'll make that one.
Show Comments
Hide Comments
Our Latest Stories
The franchise catcher is in his walk year, and two sides appear open to a contract extensi...

The good news is that an MRI showed no structural damage
He was re-assigned to minor league camp on Sunday

Brian Havrilla has done important work

Young Brody Chernoff, son of Mike Chernoff, was a guest in the Indians' radio booth recently,...