The remarkable consistency of Masahiro Tanaka
On Tuesday night, Yankees right-hander Masahiro Tanaka moved to 11-1 and lowered his ERA to 1.99. He's been every bit as good as those numbers suggest.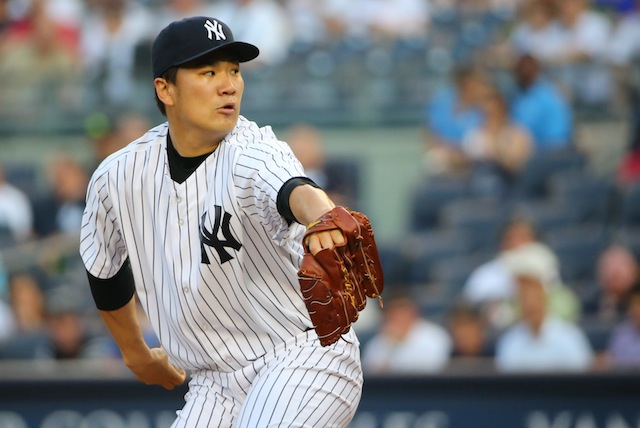 More MLB: Power Rankings | Expert Picks | Latest news & notes | Fantasy news
On Tuesday night, the Yankees topped the Blue Jays by a score of 3-1 and in doing so moved to within 3 1/2 games of first place in the AL East. Rookie right-hander Masahiro Tanaka, who picked up the win for the Yankees, advanced to 11-1 on the season and lowered his ERA to 1.99. 
Those are impressive numbers, and Tanaka has a real shot at becoming the first rookie ever to win the AL Cy Young Award (Fernando Valenzuela is the lone NL hurler to pull off the feat). We knew Tanaka would be good (even though, coming into the season, GM Brian Cashman tried to soft-pedal him as a "third starter"), but he's exceeded even the most bullish of expectations. The splitter has been more dominant than advertised -- per Brooks Baseball, opposing hitters are whiffing on Tanaka's split-finger almost a third of the time, and they're slugging just .188 against it. So we're talking about a hurler with a true wipeout pitch and command of four other offerings, so in that sense it's not surprising that he's been so exceptional. 
Still, as Tanaka barrels toward 20 wins in his first stateside season, it's worth laying aside the dominance (113 strikeouts against just 16 walks) to focus on the relentless consistency.
Consider this line score of his from earlier this season:

That's Tanaka's work against the Cubs on May 20, and that, by any objective measure, is his worst start of 2014 (and, by extension, his MLB career). So when he was at his least effective, he still whiffed seven against one walk, kept the ball in the park and logged a quality start. That effort earned Tanaka a Game Score of 48. To put that in perspective, this season Scott Feldman of the Astros (103 ERA+) has an average Game Score of 48.2. Thus, the worst Tanaka has had to offer is about your average Feldman start in 2014. When that's your performance floor, you're doing just fine. 
Along similar lines, it's also worth noting that Tanaka has logged a quality start every time he's taken the mound thus far. That is, he's 14-for-14, and the next in line are Felix Hernandez of the Mariners and Julio Teheran of the Braves, who are 13-for-15. Tanaka's more than halfway to Greg Maddux's record quality start percentage of 96.0 (24-for-25), set in 1994. As well, Tanaka is now within spitting distance of Steve Rogers's 1973 record for most quality starts to begin a career (16). 
So it's more than "just" Tanaka's shutdown potential every time he takes the bump. It's also his utter perfection when it comes to avoiding the "disaster start" and thus giving his team a reasonable chance to win every time. Rare is the ballyhooed arrival who actually exceeds the hype, but that's what the consistently excellent Tanaka's done thus far. 
Show Comments
Hide Comments