The top 10 World Series pitchers of all time
Who are the top 10 World Series pitchers of all-time? We took our stab. Check them out.
by

Eye on Baseball staff

• 6 min read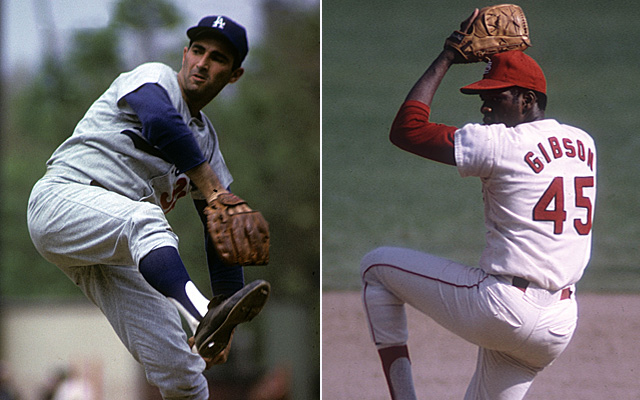 After an epic Monday of postseason action and with our eyes toward the 2013 Fall Classic, the Eye on Baseball team -- Matt Snyder, Dayn Perry and Mike Axisa -- decided to throw together a list of the top 10 pitchers in World Series history. This is completely subjective, obviously, and for fun, but make sure to yell and scream if you disagree with the selections.
Sample sizes matter, of course. For example, in recent years we've seen Josh Beckett (1.16 ERA) and Randy Johnson (1.04) dominate. Beckett's only made three starts and Johnson's made two starts and one relief appearance. They both deserved mention for their stellar work, and that's why I brought them up here. It's just that in the history of the game, there have been 10 pitchers who did it either equally as good or better in more games.
Let's go in alphabetical order here and please make sure to note any dissent in the comments section, but do so with good points. - Matt Snyder
Jack Billingham: Billingham is mostly remembered for allowing Hank Aaron's 714th career home run, but he also owns the lowest ERA in World Series history -- a sterling mark of 0.31 across 25 1/3 innings (six starts, four relief appearances). Pitching for the Reds in the 1972 World Series, Billingham worked 13 2/3 innings in a span of five days and allowed not a single earned run. He remains a living reminder that the Fall Classic sometimes produces unlikely heroes. Then again, maybe it was in the genes. After all, Billingham is a distant cousin of Christy Mathewson. - Dayn Perry
George Earnshaw: Earnshaw appeared in three consecutive World Series for Connie Mack's White Elephant A's, in 1929-1931. In eight starts, Earnshaw compiled a 1.58 ERA, 0.89 WHIP and 56 strikeouts in 62 2/3 innings. He went the distance five of his eight starts, throwing one shutout. He was the winning pitcher in the deciding game of the 1930 World Series, too. - Matt Snyder
Whitey Ford: The Chairman of the Board pitched for those never-gonna-lose Yankees teams in the 1950s and 60s, so his World Series resume is lengthy. He is the all-time leader in World Series starts (22), Game 1 starts (eight), innings (146), wins (10), strikeouts (94) and yes, losses (eight). Ford pitched in the Fall Classic in 11 of his 16 years, and in his first 16 starts he had a 1.98 ERA in 109 innings across 106 starts. He threw three shutouts in the World Series and they came in three consecutive starts -- Games 3 and 6 of the 1960 series and then Game 1 of the 1961 series. Edward Charles "Whitey" Ford was as good as they come in October. - Mike Axisa
Bob Gibson: Long-time Cardinals ace, Hall of Famer, relentless competitor, author of perhaps the greatest slider ever -- Gibson had all the makings of a great World Series pitcher. And so he was. Here are his combined numbers across nine World Series starts: 7-2, 1.89 ERA, 81 IP, 92 K, 14 unintentional BB, 0.89 WHIP. That's dominance against, generally speaking, the best offenses in the game. Gibson's 17 strikeouts in Game 1 of the 1968 World Series still stands as a record. What's less known is that Gibby struck out 10 or more batters in five of his nine Fall Classic starts. He also whiffed nine batters in two other starts. - Dayn Perry
Waite Hoyt: Most famously, Hoyt, who was elected to the Hall of Fame by the Veterans' Committee in 1969, allowed zero earned runs in 27 innings of work for the Yankees in the 1921 World Series. Overall, he made 11 World Series starts and one relief appearance, and over that span Hoyt logged a 1.83 ERA and -- despite live ball-era conditions -- allowed just two homers in 82 2/3 innings. From 1921-18, the Yankees were victorious in 18 World Series games, and Hoyt picked up the win in six of those contests. - Dayn Perry
Sandy Koufax: Koufax is a great example of win-loss record not telling the whole story. He went a pedestrian 4-3 in eight World Series starts, but in the three losses he gave up a total of three earned runs in 19 innings (1.42 ERA). Koufax has a 0.95 ERA and 0.83 WHIP across 57 innings in those eight starts, plus he tossed back-to-back shutouts in Games 5 and 7 of the 1965 Fall Classic. He started Game 7 on two days' rest. Koufax retired right smack in the prime of his career, so who knows how much greater his World Series resume could have been. - Mike Axisa
Christy Mathewson: Big Six was one of baseball's greatest regular-season pitchers, as many know, but he was absolutely filthy once the calendar turned to October. In 1905, Mathewson put together the best single-series performance in baseball history, throwing three shutouts in five games. Seriously, with all the talk about Clayton Kershaw on short rest Monday night, it's hilarious to think about what Mathewson did in a single week in 1905. On Monday, he threw a shutout. On Thursday, he threw a shutout. And on Saturday, he did it again, to lock down the World Series for his Giants, four games to one. In his entire career, Mathewson started 11 World Series games and authored a 0.97 ERA and 0.84 WHIP. Silly. - Matt Snyder
Mariano Rivera: Rivera is the only reliever on our list and rightfully so. His 11 World Series saves are the all-time record -- nearly double second place Rollie Fingers, who has six -- and he's thrown the last pitch in five different Fall Classics. Yes, that includes the walk-off blooper to Luis Gonzalez in 2001 Game 7, Rivera's only blown World Series save. Overall, Mo has a 0.99 ERA (five runs total, four earned) and 0.96 WHIP in 36 1/3 World Series innings across 24 appearances. Nine of those 11 saves required four outs or more. There has never been a greater bullpen weapon in World Series history. - Mike Axisa
Babe Ruth: It's easy to overlook just how great Ruth was on the mound. He had a 94-46 record with a 2.28 ERA in over 1,200 regular season innings on the mound, and in three World Series starts he went 3-0 with a 0.87 ERA. That includes a 14 innings of one-run ball in Game 2 of the 1916 Fall Classic, the single greatest start in World Series history by Game Score. Ruth did all of his World Series pitching for the Red Sox before being sold to the Yankees in January 1920. - Mike Axisa
Curt Schilling: The bloody sock thing happened in the ALCS, but Schilling's spot in World Series lore isn't just due to the legend of the sock. It's well deserved. He started seven World Series games in his career, going 4-1 (and he would have won Game 4 of the 2001 World Series, if not for Byung-Hyun Kim blowing it) with a 2.06 ERA, 0.90 WHIP and 43 strikeouts in 48 innings. His place in history is safe due to being part of the amazing Diamondbacks series against the Yankees in '01 and the Red Sox team in 2004 that "broke" a fake "curse." - Matt Snyder
Now, some might feel we've slighted a few guys. If so, it's likely you'll find them below, because one great outing does not a resume make.
Notable World Series Games
•Don Larsen: We couldn't possibly write a post like this and leave out the only perfect game in World Series (and postseason) history. Larsen did the deed in Game 5 of the 1956 series, on two days' rest, no less.
•Orval Overall: Ten strikeouts in a three-hit shutout to clinch the 1908 World Series? You're in. This also happens to be the last World Series title in Cubs history.
•Jack Morris: In Game 7 of the 1991 World Series, Morris threw 10 scoreless innings on three days' rest to help his Twins top the Braves. This game is pretty much his legacy.
•Ed Walsh: In the first of his two career World Series starts, the former White Sox hurler struck out 12 Cubs as part of a two-hit shutout in Game 3 of the 1906 Fall Classic.
•Beckett: On three day's rest in Game 6 of the 2003 World Series, the youngster went into Yankee Stadium and threw a five-hit shutout against a 101-win team, clinching the series for the Marlins.
Show Comments
Hide Comments
Our Latest Stories
It also works if you appear during a television broadcast

They call it the 'Triple Play'

This year is the 25th anniversary of the classic episode 'Homer at the Bat'
O's VP John Angelos is the son of team owner Peter Angelos

The sense of urgency in D.C. is the highest in MLB, but they might be in position to do something...