The Week in Overreactions: Mike Trout's slump is a concern
Mike Trout's struggles are a major concern, we have all the answers about the Tommy John epidemic and David Ortiz owns Target Field. Right?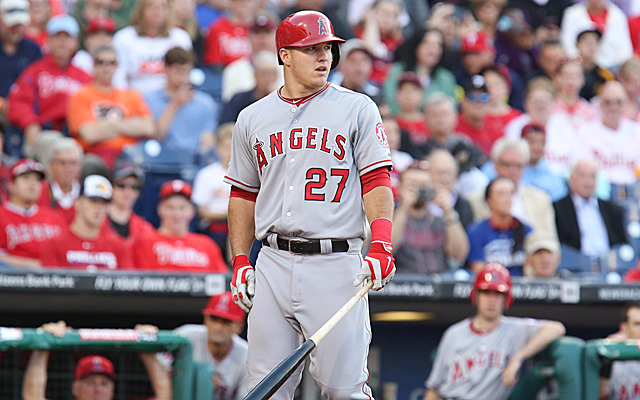 More MLB: Power Rankings | Expert Picks | Latest news & notes | Fantasy news
It's time for another installment of "The Week in Overreactions" -- the idea that was stolen borrowed with approval from our friends at Eye on Football. To the narrative machine!
"Mike Trout's slump and, specifically, strikeout rate are concerning."
In May, Angels phenom Mike Trout is hitting .149/.250/.340 with 16 strikeouts in 12 games. On the season, Trout is hitting .269/.356/.519 and leading the AL with 50 strikeouts.
While his overall line would be pretty good for many players (he leads the majors with four triples in addition to having 10 doubles, seven homers, 24 RBI, 25 runs and five stolen bases), the dip in overall production (read: Batting average) and high strikeout total has some concerned.
Not me.
Indeed, the strikeout rate is way up. He's striking out 27.8 percent of the time while he was at 19 percent last season. His walk rate is down, too. What's the difference?
Aggressiveness. He's swinging more often at pitches both inside and outside the strike zone while making contact less often on both. Take a look:
Percentage of outside-the-zone swings, 2013: 23.2
Percentage of outside-the-zone swings, 2014: 25.4
Contact rate on outside-the-zone swings, 2013: 70.1%
Contact rate on outside-the-zone swings, 2014: 69.1%
Percentage of swings at pitches in the strike zone, 2013: 53.5
Percentage of swings at pitches in the strike zone, 2014: 56.5
Contact rate on in-the-zone swings, 2013: 87.9%
Contact rate on in-the-zone swings, 2014: 83%
It's rather obvious that swinging more and making contact less is going to spike the strikeout numbers, but it's also a pretty small sample and those numbers above aren't overwhelmingly different. It's not unreasonable to believe that Trout will continue to be more aggressive than he was in the last two seasons as he gets even more comfortable with his star status. His strikeout rate probably will be higher than it was even as a rookie at 21.8 percent, though I do expect it to drop a bit from where it is now this season.
I also don't believe that the rise in strikeouts or current slump mean he's in for a major down year.
Even the greatest of players go through slumps at times. Trout himself started last season hitting .245/.288/.347 through the first 11 games. In late April, he hit .125/.275/.156 for a stretch of eight games. He turned out just fine, finishing second in AL MVP voting despite playing for a sub-.500 team.
There was also a 13-game stretch in late August and early September in 2012 where Trout hit .211/.262/.281 with 18 strikeouts, which isn't all too much a contrast to what he's done this May.
The fact that he's been here a few times before and broken out of each slump with seeming ease illustrates his mental toughness. So does the fact that the average 22-year-old baseball player is either in college or the minors, not coming off back-to-back MVP runner-up seasons.
He's been special the past two years and he'll continue to be special, even if he's striking out a bit more this year.
All the overreactions to the Tommy John surgeries
Uncle!
Look, this sucks. There's no better way to put it. Seeing so many promising pitchers go down so early in the season is concerning and quite depressing. The Jose Fernandez one was the rotten cherry on top of the turd sundae, much like Matt Harvey's issue last season.
And unless you're a doctor who has decades worth of research in terms of how pitchers perform in every single circumstance from the time they are babies until they are done playing baseball forever -- or a deity, of course -- you've really got to stop acting like you know what is causing this seeming epidemic. 
Because you don't. I sure as hell don't.
Protecting the pitchers by limiting pitch counts and innings at the big-league level apparently doesn't help. Overworking them doesn't, either. Having them throw excessively at a young age is a major problem, according to Dr. James Andrews -- and, yes, he knows more than you about this issue. Babying them from a young age probably doesn't help develop strength in the arm, though.
What about the increased velocity? Isn't that an issue?
It could be. The arm surely isn't meant to whip things 95-plus miles per hour over and over throughout the course of 15-plus years of adulthood -- and that's before we even get into breaking pitches. So explain how Justin Verlander keeps healthy, then.
Look, we just can't explain this. The best us non-medical types can do is sit in our glass cage of emotion and sob like Ron Burgundy.
I'd entertain just about any solution out there that would work, including lowering the mound as SI.com's Tom Verducci suggested. Ban Little Leaguers from curveballs, alter mechanics, stop focusing so much on the velocity, limit youth league pitch counts even futher, stop playing baseball in the winter ... whatever. I just want it to stop. For any one person to claim he has the answer that will solve this problem, though, that's as folly as someone going to Dr. James Andrews at age 14 wanting Tommy John surgery because he believes it'll magically make him throw harder.
As far as teams building strong farm systems with position players instead of hard-throwing pitching prospects, I get that. But to use Verlander again, the Tigers got him second overall in the 2004 draft after shortstop Matt Bush.
And are you honestly going to tell me that the Marlins taking Fernandez 14th overall in 2011 was a mistake? Should they have gone with a position player like Kolten Wong or C.J. Cron? Doubtful, but I guess if Fernandez's career is ruined (which I don't think it is) I could see the argument. But what if they took Blake Swihart, Joe Panik, Levi Michael, Mikie Mahtook, Jake Hager, Brian Goodwin or Jacob Anderson instead?
Teams are going to continue to draft power arms and hope they're getting Verlander. It's pretty hard to blame them.
"David Ortiz owns Target Field."
Actually, the Minnesota Ballpark Authority owns Target Field. Seriously, Big Papi might as well literally own it, because he figuratively does.
In 13 career games in the home of the Twins -- who released Ortiz in 2002 -- he is hitting .528/.583/.1.113 with nine homers and 22 RBI. That's a 162-game pace of 112 homers and 274 RBI.
Maybe he actually does own the building?
Show Comments
Hide Comments