This Week in Overreactions: Alex Gordon, the best player in baseball
In this week's overreactions, we tackle WAR saying Alex Gordon is the best player in baseball and the league's pace of play issue.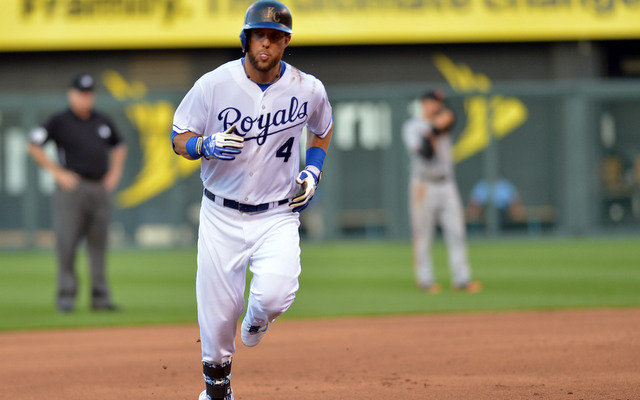 It's time for another installment of "The Week in Overreactions" -- the idea that was stolen borrowed with approval from our friends at Eye on Football. To the narrative machine!
1. WAR is dumb because it says Alex Gordon is the best player in baseball.
Head on over to FanGraphs and click on the hitter leaderboard, and you'll see that Royals outfielder Alex Gordon leads all position players with 5.7 WAR right now. Mike Trout is right behind him at 5.6 WAR and Giancarlo Stanton is a bit further back at 5.2 WAR. Robinson Cano and Ben Zobrist are the only other players at 5+ WAR.
There was quite the kerfuffle earlier this week over the validity of WAR given Gordon's place atop the leaderboard. He just doesn't feel like the best player in baseball, as WAR claims. After all, he is hitting .284/.360/.450 while Trout is hitting .288/.374/.556, and those two batting lines aren't close at all. Trout has been far better at the plate. The difference lies in the defensive stats, which absolutely love Gordon but rate Trout as below-average.
This is the biggest problem with WAR, the lack of reliable defensive stats. We have good metrics these days but none is perfect and in the end, they're all estimators. Gordon is an excellent defensive player, you can see that just watching him play, though the primary reason defensive stats love him so much -- his +17.0 runs saved are the third most in baseball behind Jason Heyward (+19.4) and Dustin Pedroia (+17.0) -- is that he is an excellent defensive player in left field.
Defensive stats measure how many runs a player saves (or costs) relative to the average defensive player at his position, and the average left fielder stinks. It is traditionally where teams stick a terrible defender player just to get his bat in the lineup. By virtue of being an excellent defender at a position filled by terrible defenders, Gordon's defensive numbers are inflated by WAR, hence his spot atop the leaderboard.
The idea of WAR, combining everything a player does on the field into one easy to use number, is excellent and will continue to be refined in the future. The lack of a reliable defensive component is its biggest flaw right now and it leads to things like Gordon being ranked as the best player in baseball. This one data point doesn't invalidate WAR. It just shows there is still work to be done and that it should not be taken as definitive, something no reasonable stathead would do anyway.
2. Commissioner elect Rob Manfred has to focus on improving the pace of play.
As soon as Manfred was elected to replace the retiring Bud Selig last week, there were more than a few people who said one of the first issues he has to address is the pace of play. And they are right, the games do drag on too long and there are ways to improve that. Getting hitters to stop stepping out of the box after every pitch would be a good start.
But, more importantly, the bigger issue is figuring out how to get more offense back in the game. Baseball around the league has become very dull because every team struggles to score -- it's not a pitchers' duel when it happens every single game. That's called offensive futility. It's frustrating to watch teams not able to put runs on the board and, frankly, baseball as a whole is becoming very boring.
Put more offense back into the game and the pace of play won't be as much of an issue because fans will have more fun watching. I don't know how they can accomplish that -- juicing the ball seems easiest, and I'm dead serious -- without doing something silly like banning infield shifts, but MLB should be very concerned about the enjoyability of its product.
Offense levels around the game are the lowest they've been in the DH era, and that's a bigger issue than shaving 5-10 minutes off the average game. Fans like to see offense and the league is giving it to them less and less each year.
Show Comments
Hide Comments