Three Orioles, three Royals headline 2013 Gold Glove winners
The 2013 Gold Glove winners were announced on Tuesday night.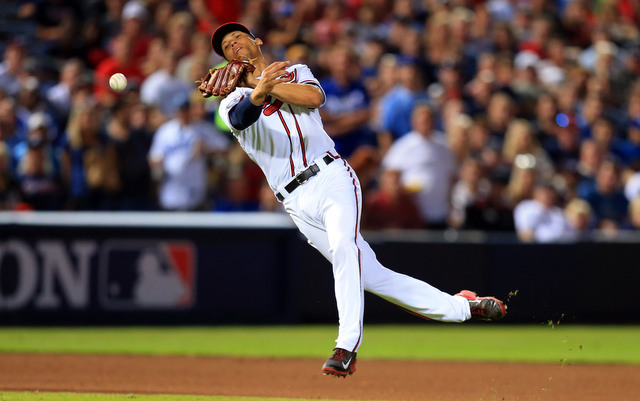 More: Gold Glove Finalists | Fielding Bible Awards
The first notable awards of the 2013 season were handed out on Tuesday night as the Gold Glove winners in each league were announced. The process added a statistical component for the first time this year, so the league's best defenders are no longer determined exclusively by managers and coaches around the league. Adding that subjective element figures to result in fewer head-scratching picks.
Here are this year's Gold Glove winners, otherwise known as the players deemed the best defenders at their respective positions. Eight players won the first Gold Glove of their careers. Career totals are in parenthesis.
American League
C -- Salvador Perez , Kansas City Royals (1)
1B -- Eric Hosmer , Royals (1)
2B -- Dustin Pedroia , Boston Red Sox (3)
SS -- J.J. Hardy , Baltimore Orioles (2)
3B -- Manny Machado , Orioles (1)
LF -- Alex Gordon , Royals (3)
CF -- Adam Jones , Orioles (3)
RF -- Shane Victorino , Red Sox (4)
P -- R.A. Dickey , Toronto Blue Jays (1)
National League
C -- Yadier Molina , St. Louis Cardinals (6)
1B -- Paul Goldschmidt , Arizona Diamondbacks (1)
2B -- Brandon Phillips , Cincinnati Reds (4)
SS -- Andrelton Simmons , Atlanta Braves (1)
3B -- Nolan Arenado , Colorado Rockies (1)
LF -- Carlos Gonzalez , Rockies (3)
CF -- Carlos Gomez , Milwaukee Brewers (1)
RF -- Gerardo Parra , Diamondbacks (2)
P -- Adam Wainwright , Cardinals (2)
Show Comments
Hide Comments
Mike Scioscia believes Raul Mondesi Jr. was running inside the first base line, causing a throwing...

Here is our breakdown of Thursday's trade deadline buzz

Jeurys Familia had the third-longest streak ever, but his feat was nothing compared to Eric...
David Dahl missed most of last season with a ruptured spleen, too

The Braves have now traded five players they signed last offseason or later

The trade candidate and free agent to be Jay Bruce has six homers in his last five games