Three outs isn't much, unless you're an Astros starter
Three times last week, Houston Astros manager Bo Porter pulled his starting pitcher before he got through the first inning. Porter called it 'a bump in the road.' More likely, it's a bad start to what could be a very, very bad season.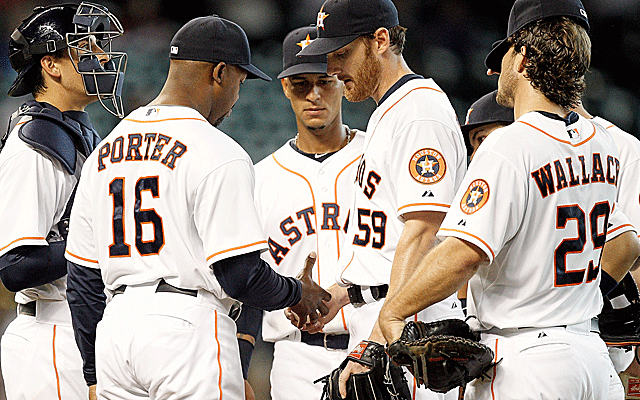 Bud Black has managed 991 games in the big leagues. He's never once removed a starting pitcher before he got three outs.
Astros manager Bo Porter did it three times last week.
This is no commentary on the managing skills of Black or Porter. The three pitchers Porter sent to ultra-early showers combined to face 27 batters and allow 23 of them to reach base.
"This is what you call a bump in the road," Porter told reporters after Phil Humber lasted just one-third of an inning Saturday night against the Indians, according to MLB.com.
This is what you call a bad start for what could be a very, very bad team.
Most teams have one or two games a year where the starter looks so awful that he can't even record three outs. Eight of the other 29 teams have gone at least three years since a starter didn't make it out of the first.
The Red Sox have gone almost 10 years since it last happened, since Grady Little had to remove John Burkett just one out into a 7-3 loss to Mike Hargrove's Orioles on Sept. 24, 2003.
Terry Francona managed the Red Sox for eight seasons without ever removing a pitcher in the first inning. Francona has managed 1,961 games overall, and in just three of them (all with the Phillies, in 1997, 1999 and 2000) has he gone to get the pitcher that early.
Bo Porter has managed 18 games. He's already had to do it three times.
Erik Bedard got one out last Monday in Oakland. Bud Norris (his opening day starter!) got two outs on Wednesday in Oakland. Humber got one out Saturday night against the Indians, one day short of the one-year anniversary of his perfect game.
Not surprisingly, the Astros bullpen leads the major leagues in innings pitched. Not surprisingly, the Astros have already had 15 pitchers appear in games this season (and they just summoned Jose Cisnero, who will become the 16th).
Oh, and one more note about Bud Black, who has never had a week (or even a game) like Bo Porter just had: Black started 296 major-league games himself. In all but two of them, he made it through the first inning.
Show Comments
Hide Comments
Our Latest Stories
The 24-year-old infielder is coming off a breakout 2016 season

A potential base-running blunder by Yankees outfielder Aaron Hicks turns into a master act...

The Detroit slugger will open the season on the disabled list
The Rays signed Wilson Ramos over the winter. Now they've added Derek Norris

Moncada discovered Twinkies at Walmart after leaving Cuba and eats up 85 a week

On this date in 2001, Randy Johnson inadvertently hit a bird with a spring training fastba...