Tigers agree to six-year deal with Justin Upton: Six things to know
The Tigers have agreed to a six-year contract with free agent outfielder Justin Upton, according to a USA Today report. Here are six things to know about the deal.
The Detroit Tigers and free agent outfielder Justin Upton have agreed to a six-year contract, reports Bob Nightengale of USA Today. The deal is worth $132.75 million and includes an opt-out after the second year. The Tigers confirmed the signing on Wednesday.
Upton, our No. 6 free agent coming into the offseason, will step into left field for the Tigers. Detroit currently has J.D. Martinez in right field and an Anthony Gose / Cameron Maybin platoon in center field. Tyler Collins is another outfield candidate.
Last season the 28-year-old Upton hit .251/.336/.454 (121 OPS+) with 26 home runs, 81 RBI, and 19 stolen bases in 150 games for the San Diego Padres . He's averaged a .262/.344/.470 (126 OPS+) batting line with 27 homers, 12 steals and 3.5 WAR over the last three years.
Here are six things to know about the Upton signing.
1. The Tigers only have to give up a third round pick for Upton.
This was a good offseason for the Tigers to spend. Not only was this a tremendous free agent class, but the team also has a protected first round pick because they finished with one of the 10 worst records in baseball in 2015. They own the ninth overall selection in June's draft.
The Tigers already surrendered their second round pick to sign Jordan Zimmermann earlier this offseason, so they now only have to surrender their third round pick to sign Upton. That is currently the 85th overall selection. Giving up a draft pick for a player of Upton's caliber is never a huge concern, but giving up a third rounder is much more preferable to giving up a first rounder.
The Padres, meanwhile, will still receive a supplemental first round pick for Upton. Those usually fall in the 27-35 overall range.
2. The Tigers are very right-handed.
At the moment, Detroit's projected lineup looks something like this:
RHB

Ian Kinsler

, 2B
RHB Justin Upton, LF
RHB

Miguel Cabrera

, 1B
RHB J.D. Martinez, RF
SHB

Victor Martinez

, DH
RHB

Nick Castellanos

, 3B
RHB

James McCann

, C
RHB

Jose Iglesias

, SS
RHB Cameron Maybin/LHB Anthony Gose, CF
The Tigers will have seven righties in the lineup on the days Gose starts. Normally you'd like to see a little more right-left balance, but when three of the seven righties are Upton, Cabrera, and Martinez, it's not really a concern. Lefties of the AL Central: be afraid.
3. Upton could get an even bigger deal in two years.
Upton is still only 28. He won't turn 29 until late August. He'll be a little over 30 when his opt-out clause kids in, which is still young enough to secure a monster contract. Cespedes is 30 right now, for example, and he's headed for a huge contract. Alex Gordon is 32 and he signed for $72 million a few weeks back. Two more typical Justin Upton years will put him in line for one more big contract in two years.
4. The Tigers could use one more starter.
The Tigers have been one of the most active teams this offseason, but they shouldn't stop here. They're not the clear AL Central favorites just yet. Detroit could use one more starting pitcher behind the projected front four of Zimmermann, Justin Verlander , Anibal Sanchez , and Mike Pelfrey .
Right now, the fifth spot will likely go to Daniel Norris , with Matt Boyd , Shane Greene , and Michael Fulmer serving as spring training competition. Yovani Gallardo is the best available free agent starter. Given Verlander's and Sanchez's injury issues in 2015, another arm wouldn't be a bad idea. If not Gallardo, then maybe someone like former Tiger Doug Fister .
5. There are still some pretty good outfielders available.
Even with Upton off the board and spring training only a month away, there are still some quality free agent oufielders available. Both Yoenis Cespedes and Dexter Fowler remain unsigned, as do lower profile free agents like Austin Jackson and Will Venable . Cespedes is reportedly moving closer to a deal, for what it's worth.
6. The Tigers have $141.9 million tied up in seven players ... in 2017.
Tigers owner Mike Ilitch has been very willing to spend the last few years in hopes of winning a World Series title. That has led to some huge contracts, not all of which look great. The team currently has $141.9M tied up in seven players for 2017.
Verlander: $28 million
Cabrera: $28 million
Upton: $22.1 million (based on average annual value)
Zimmermann: $18 million
V. Martinez: $18 million
Sanchez: $16.8 million
Kinsler: $11 million
Detroit's window to win is right now. That has been the case for a few years now. Clearly they're moving forward as if 2015 was a bump in the road and not a sign they need to rebuild.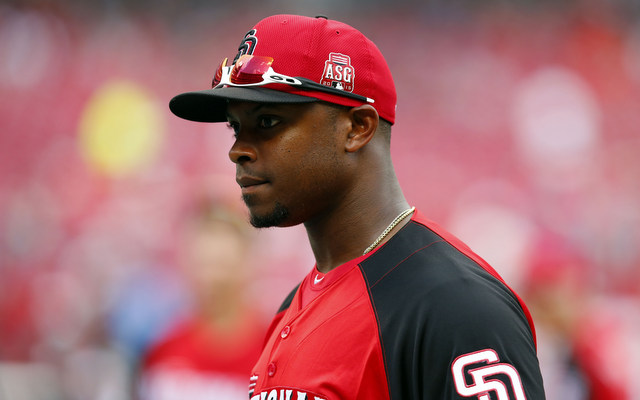 Show Comments
Hide Comments
Our Latest Stories
Say what you will about the D-Backs this year, but this was a nice touch

Farrell had enough and he let the fan have it

For the first time in a long time, the Yankees started looking towards the future
Their season didn't go as planned, but the Astros are well poised for contention

Alonso High School now has its collection of Fernandez jerseys intact

Ground-rule double or not? It's complicated, and so's challenging a play at the end of a g...