Tigers-Athletics ALDS Game 1 starting lineups
The last of the four LDS will finally get underway Friday night between the Tigers and A's. Here are the starting lineups.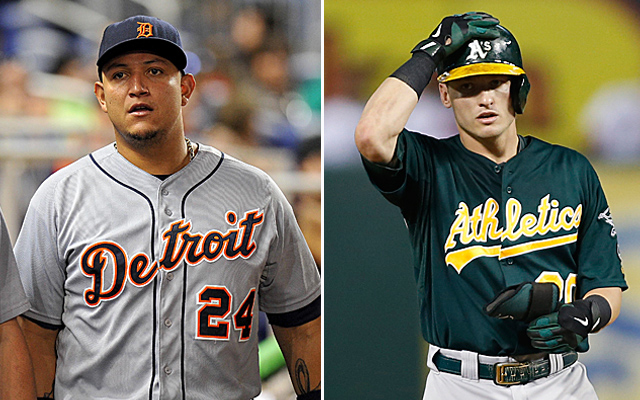 Tigers-Athletics ALDS: Game 1 pitching matchup breakdown | Who has the edge?
Game 1 of the ALDS between the Detroit Tigers and Oakland Athletics is set for 9:37 Tigers time/6:37 A's time in Oakland Friday evening. Here are the starting lineups. 
Visiting Tigers
1. Austin Jackson , CF
2. Torii Hunter , RF
3. Miguel Cabrera , 3B
4. Prince Fielder , 1B
5. Victor Martinez , DH
6. Alex Avila , C
7. Omar Infante , 2B
8. Andy Dirks , LF
9. Jose Iglesias , SS
SP: Max Scherzer
Home A's
1. Coco Crisp , CF
2. Jed Lowrie , SS
3. Josh Donaldson , 3B
4. Brandon Moss , DH
5. Yoenis Cespedes , LF
6. Josh Reddick , RF
7. Stephen Vogt , C
8. Daric Barton , 1B
9. Eric Sogard , 2B
SP: Bartolo Colon
Show Comments
Hide Comments
Our Latest Stories
A storm and slow drainage is to blame for the flooded field

Yoenis Cespedes, Jose Abreu, and Yasiel Puig headline the lineup

Batting practice? We're talking about batting practice?
MLB is working with Rawlings to produce a baseball with natural tact

No, this isn't one big marketing gimmick for the Mets. Why do you ask?

Scherzer has been dealing with a stress fracture in his right ring finger since last seaso...