Tigers-Athletics ALDS Game 4 preview: Fister vs. Straily
The Tigers are one loss away from elimination. Doug Fister will get the ball for them in ALDS Game 4 on Tuesday.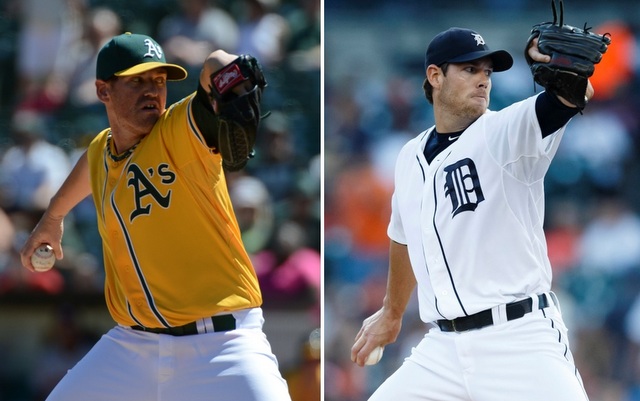 More ALDS: Game 3 quick hits | Snyder: Tigers should start Scherzer in Game 4
Thanks to three home runs against the usually stingy Anibal Sanchez, the Athletics took a two games-to-one lead in their best-of-five ALDS matchup against the Tigers on Monday afternoon. They'll look to advance to the ALCS for the first time since 2006 with a Game 4 win on Tuesday. First pitch is scheduled for 5:07pm ET.
Unlike the Dodgers, neither the A's nor the Tigers will be using their Game 1 starter on three days' rest in Game 4. The visiting Oakland club will send 24-year-old right-hander Dan Straily (10-8, 3.96 ERA, 1.24 WHIP in 152 1/3 innings) to the mound for his first career postseason start while Detroit counters with 29-year-old righty Doug Fister (14-9, 3.67 ERA, 1.31 WHIP in 208 2/3 innings). It'll be his sixth career playoff start.
According to the weather.com hourly forecast, it'll be cool but nice and sunny in Motown for the game this afternoon. No threat of rain, most importantly. The Tigers need a victory to stay alive -- it is a very literal must-win. Let's break down the pitching situation a little further.
Fister vs. Athletics
If you dock Michael Wacha for lack of track record, Fister is probably the best fourth starter in the playoffs. The tall and lanky right-hander -- Fister is listed at 6-foot-8, 210 lbs. on the team's official site -- pitched marginally better at home (3.55 ERA and 1.32 WHIP) than on the road (3.77 ERA and 1.30 WHIP) this summer, so he doesn't figure to benefit too much from Comerica Park.
Fister finished the regular season rather well, with a 3.00 ERA and 1.36 WHIP in five September starts (and one relief appearance). He is a classic pitch-to-contact guy who had a 54.3-percent ground ball rate this year, the fourth highest among qualified starters. Considering how weak the Tigers infield defense is outside of Jose Iglesias, being a ground ball guy isn't necessarily a great thing. He'll give up a lot of base hits.
As a team, the Athletics don't have much experience against Fister. Daric Barton (7-for-26, .653 OPS) and Kurt Suzuki (7-for-25, .680) have seen him the most and chances are neither player will be in the Game 4 starting lineup. Coco Crisp (7-for-19, .947 OPS) and Alberto Callaspo (6-for-17, .918) have had success against Fister, but no other player on the team has faced him more than a dozen times.
Players currently on the Athletics roster have hit .319/.354/.430 in a combined 144 plate appearances against Fister, which is rather good. I caution you not to read too much into pitcher vs. team matchups though, anything can happen in one single game.
Straily vs. Tigers
In his first full season as a big leaguer, Straily enjoyed a bit more success at home (3.76 ERA and 1.15 WHIP) than on the road (4.11 ERA and 1.31 WHIP) in 2013. That's not surprising, the O.co Coliseum is a pretty great place to pitch with all that foul territory.
Straily was pretty darn effective to close out the season, pitching to a 3.10 ERA and 1.28 WHIP in his final nine starts. That includes six innings of one-run ball against the Tigers in Comerica Park on August 28. Of course, the stakes are much higher on October 8 than they are on August 28.
Because he hasn't been around all that long, there isn't much history between Straily and the Tigers hitters. Torii Hunter, who spent last year in the AL West with the Angels, has seven hits in 10 career at-bats (!) against the righty, including three home runs. Other than that, there's just the one game from August.
The two sides aren't going in blind, but Straily and the Tigers aren't all that familiar with each other. Usually that is advantage pitcher, but not always.
Show Comments
Hide Comments
Our Latest Stories
Hosmer is one of many Royals nearing free agency

Niese isn't that far removed from being useful

Your feel-good moment of the college baseball weekend
The Union head weighed in on the ongoing drama between the Yankees and one of their star r...

The Red Sox youngster said he was going deep and he did on the first pitch

Jason Heyward's new swing, the health of the Mets' rotation and more question marks for NL...