Tigers could use Scherzer in relief in Game 4, start Verlander in Game 5
With their backs against the wall in ALDS Game 4, the Tigers could turn to Max Scherzer in relief according to manager Jim Leyland.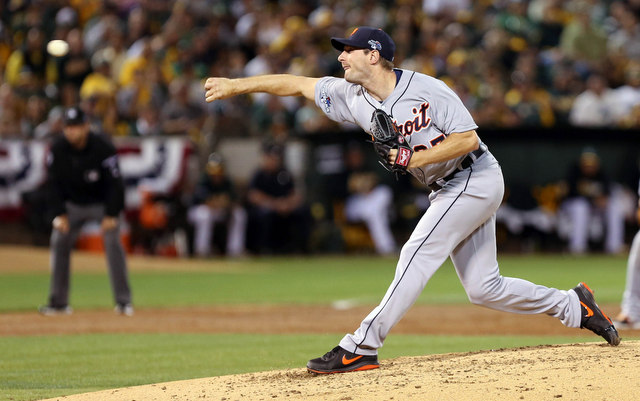 More NLDS: Game 4 starting lineups | Game 4 pitching preview
The Tigers have opted not to bring Game 1 starter and likely AL Cy Young Award winner Max Scherzer back for Game 4 on three days' rest, but they are considering using him out of the bullpen.
"Scherzer will see if his arm is really good before game, then possibly he would pitch. If not, I won't take a chance," said manager Jim Leyland to reporters on Tuesday afternoon. For what it's worth, Scherzer said he's good for a few innings if needed.
If the Tigers do bring Scherzer out of the bullpen on Tuesday, Justin Verlander would then start a potential Game 5 on Thursday. He would be on normal rest in that case. Only Scherzer would have his schedule changed.
Of course, the Tigers have to win Game 4 before there can be a Game 5 -- they're down 2-1 in the best-of-5 ALDS. Detroit has some middle relief questions Scherzer would answer in case scheduled starter Doug Fister doesn't pitch deep into the game.
In a literal must-win game, Leyland has to do whatever it takes to keep his season alive. If that means using Scherzer out of the bullpen, so be it. Having Verlander lined up for Game 5 should make his decision even easier.
Show Comments
Hide Comments