Tigers fans annoy Cubs' Bryan LaHair, comedian Jeff Garland
Cubs first baseman Bryan LaHair complained about the influx of Tigers fans at Chicago's Wrigley Field this week. The series drew a record number of fans to the 99-year-old park for a midweek series.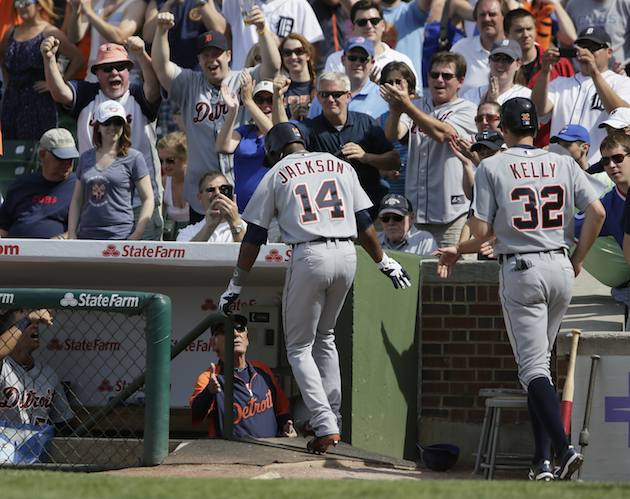 Funny thing about baseball stadiums -- they let just about anyone buy a ticket, whether you're a fan of the home team or not.

You'd think they'd have learned that by now in one of the game's great tourist attractions, Wrigley Field, but there are some who weren't happy with an influx of Tiger fans at Wrigley Field this week.

Among those upset at an audibly pro-Tiger crowd at Wrigley Field was Cubs first baseman Bryan LaHair. On WSCR-AM 670 in Chicago (via the Chicago Tribune), LaHair had this to say:


"It actually bothered me a lot, but at the end of the day I think it's good baseball," LaHair told. "They brought a lot of fans down this series. It's funny, before the game when they announced [Justin] Verlander as the starting pitcher and the crowd went crazy, I looked over at the strength coach and said, 'is he pitching for us today?'

"That was before the game even started, so you oculd tell the atmosphere and the crowd was going to be excited both ways because when we did something good, the crowd was just as loud. I looked over, probably about the eighth inning; you know I even saw some Cubs fans jumping up and down when that big home run was hit for them."
According to the Tribune, there were some estimates that 75 percent of the 42,292 in attendance for the Tigers' 5-3 victory on Thursday.

Thanks to the Tigers, there were 124,782 fans at the three-game series, a record for a weekday series at the park.

Also annoyed was comedian Jeff Garlin, a Chicago native and Cubs fan. After singing "Take Me Out to the Ballgame," Garlin yelled, "Yeah, lemme tell you! You Tigers fans suck!"



Afterward, he apologized -- and then took it back. In the post-singing interview, he explained his comment (from the Detroit News):
"I wanna apologize, by the way, not to Tigers fans, mind you, but for saying at the end there that Tigers fans suck," Garlin said. "Because, A) I draw very well in Detroit, B) I have respect for the Tigers, but C) They're irritating me today, and I don't like using the word suck but they made me angry. There are too many of them!

"I'm not apologizing."
While Garlin was going for a laugh -- you know, since he's a comedian -- this week has gone to prove Tigers fans do anything but suck. Despite the team underperforming with a 30-33 record and third-place in the AL Central, Tigers fans invaded both Wrigley Field and Cincinnati's Great American Ball Park in the past week. In last weekend's three-game series in Cicninnati, GABP often sounded as if it was hosting a Tigers' home game. The three-game series brought in 115,062 to the banks of the Ohio River, including Saturday's crowd of 42,443 -- the largest non-opening day crowd in the park's history. The average attendance in the three-day series was 11,000 higher than the Reds' season average.

The Cubs drew 124,782 (an average of 41,594) for the series against the Tigers. That average crowd was nearly 4,000 more than Chicago's season average attendance at home.

At the same time, I'm certainly not going to blame Cubs fans for not coming out for a team that entered Thursday with a 21-41 record. If you want Cubs fans to pack their home park, give them something to cheer about. And with the Red Sox in town this weekend, LaHair can expect more cheers from the crowd when the visitors do something good.
For more baseball news, rumors and analysis, follow @EyeOnBaseball on Twitter, subscribe to the RSS feed and "like" us on Facebook.