Tigers, Giants and others may view Castillo as a pennant-race plus
Bidding is believed to be hot and heavy for Cuban star Rusney Castillo now. The Tigers and Giants could use him, but other teams are in the mix.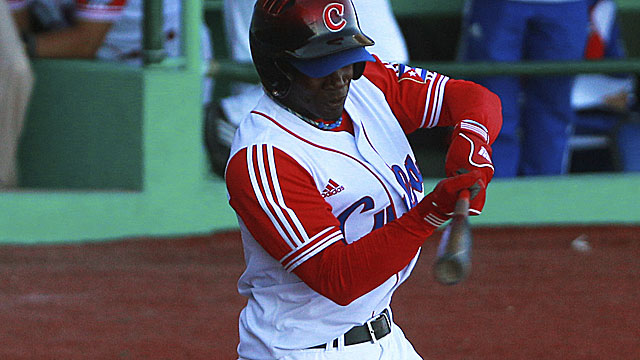 Talks are heating up involving Cuban star Rusney Castillo, and it's a good thing because he has designs on playing in the big leagues this season, according to people familiar with his situation.
There is said to be urgency on the part of some teams involved in talks, especially the Tigers and Giants who could use him in the pennant race. The Tigers have been known to be heavily in the mix, while Ken Rosenthal of Fox Sports first mentioned the Giants as a potential player.
Castillo, who's seen as an impressive blend of speed and surprising power, also has drawn interest from at least the Red Sox, Phillies, Yankees, Cubs and Mariners. There are said to be at least four teams still in the running, with the Red Sox also known to be among those teams, though it isn't certain which of the other teams still is.
It's uncertain how involved the Mariners are,  but they could also use him in their pennant push if they are still involved. The Yankees are still technically in a race, but they may be a bit of a long shot to make it to the playoffs now. The Red Sox, Phillies and Cubs are no longer in the pennant race.
The Yankees are a curious case since they apparently view Castillo as a second baseman, while the other teams appear to view him as an outfielder.
Show Comments
Hide Comments