Tigers land Jose Veras, but Leyland says Benoit 'is my closer'
Joaquin Benoit has pitched so well in the ninth inning that he's going to stay there, even after the Tigers traded for Jose Veras Monday.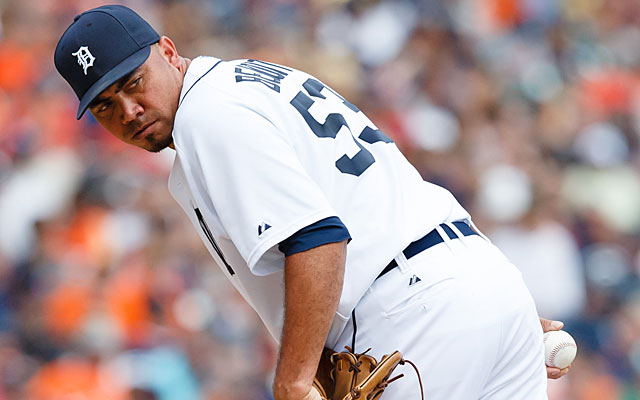 The Tigers have been searching the trade market for a closer since the middle of spring training.
Monday, they got one. And he's not going to close.
"[Joaquin] Benoit is my closer, period," manager Jim Leyland said, a few minutes after the deal for Jose Veras was announced.
That should hardly come as a surprise, given that Benoit has been basically perfect in the ninth inning in the month since the Tigers dumped Jose Valverde for the second time. Benoit has a string of 12 consecutive scoreless appearances (including six saves), and he has allowed just eight hits with three walks and 15 strikeouts in that time.
His success, and his willingness to embrace the role (after first resisting it), allowed the Tigers to shift their trade efforts towards acquiring someone who they could work in with Drew Smyly in a setup role. Leyland said he plans to use Veras "from the seventh inning on."
The 32-year-old Veras was having the best season of his career with the Astros, who deserve credit for signing him as a free agent and then building his value so they could get something back for him. Veras went 19 for 22 in save situations with Houston, with a 1.000 WHIP that is the best of his career.
"He's a pro's pro," Astros pitching coach Doug Brocail said. "He throws his off-speed pitches for strikes, and he's not afraid of anything."
Veras gives Leyland some needed experience, and also another option to close if Benoit falters, gets hurt or simply needs a day off. Leyland has yet to ask Benoit to pitch on three straight days this season, and has done it just three times (including once in the postseason) in Benoit's 2½ seasons with the Tigers.
Even so, the Tigers have to be thrilled that Benoit has been willing and able to handle the ninth inning, because finding a true reliable closer on this market was proving next to impossible.
The Tigers, according to sources, are still open to adding another reliever before the 4 p.m. Wednesday deadline for non-waiver trades. They've had extensive talks with the Padres about Luke Gregerson, but have so far found the price to be prohibitive.
Danry Vasquez, the 19-year-old Class A outfielder who went to the Astros in the Veras deal, had also been sought by other teams talking trade with the Tigers this month.
Show Comments
Hide Comments